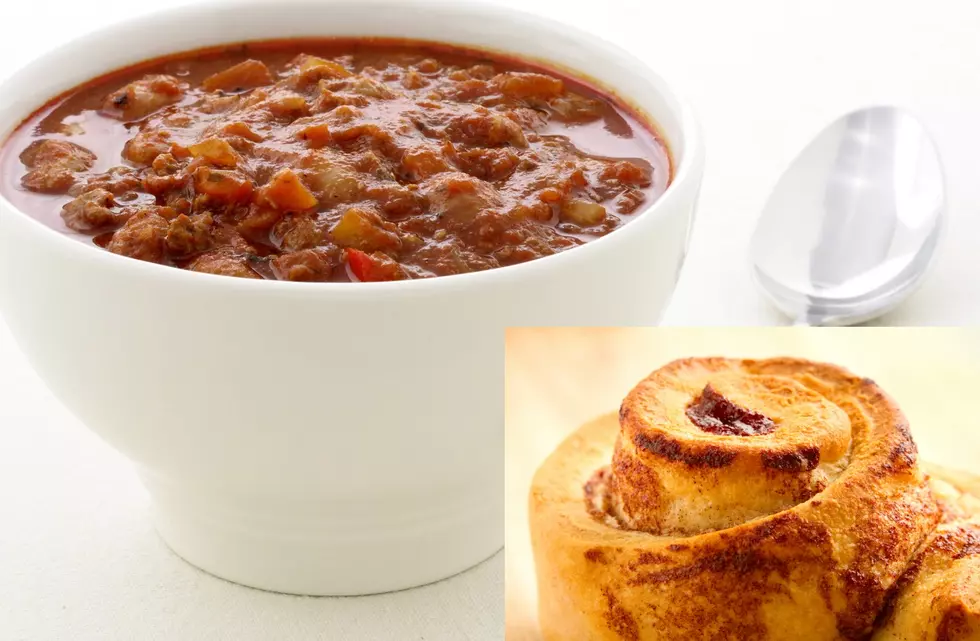 Chili with Cinnamon Rolls? I'm Not Sure, But I'd Try It
Thinkstock
Jack and Jill. Macaroni and cheese. Dan + Shay. Things or people that always go together. Peanut butter and jelly. (And we'll come back to that one.)
This is fall and you know how it is. If tomato soup is on the menu, a grilled cheese sandwich had better ALSO be on that menu. Sonny never had a solo hit. He probably couldn't have without Cher.
Ronnie Dunn had exactly one top ten without Kix Brooks. Okay, okay. On with the point that arose in the headline.
In the Midwest--and yes, half of our audience is IN the Midwest--they have some unusual food choices that just come naturally to them.
For example, in Iowa, loose meat sandwiches are a big deal. I've had one and I have no idea why. The name itself is a turn-off.
I searched "most popular foods in the Midwest" and found a list of the top 50 dishes in the nation's heartland. I've heard of some, some are popular everywhere, and some sound pretty revolting.
Okay, so we're talking about a dessert as a side dish. And in one of those posts on that Instant Pot page, it seems like someone is serving chili OVER the cinnamon roll and debating on whether or not to ice the roll.
DON'T. My gosh, if you're gonna eat it covered in chili, no icing. If it's just on the side, okay, I guess.
If you clicked through to the piece at Better Homes and Gardens, you know it's been somewhat of a staple for more than 75 years.
I have to admit that when I first heard about this, it didn't sound appetizing at all. But the more I thought about it, I remembered that cinnamon is actually a nice ingredient in chili. And I do like my chili to be a little sweet.
Maybe I should give it a whirl. I don't think it will ever top chili and a peanut butter sandwich or chili and a grilled cheese (yes, that one sees other soups). Or even chili and a grilled tuna sandwich.
You know, I've grossed people out with that last one so maybe I have a lot of nerve turning my nose up at chili and a sweet roll or cinnamon roll.
You know what, bring it on! Icing and all. I've talked myself into it.
Enter your number to get our free mobile app
Here are the Top 11 Doughnut Shops in The Tri-State