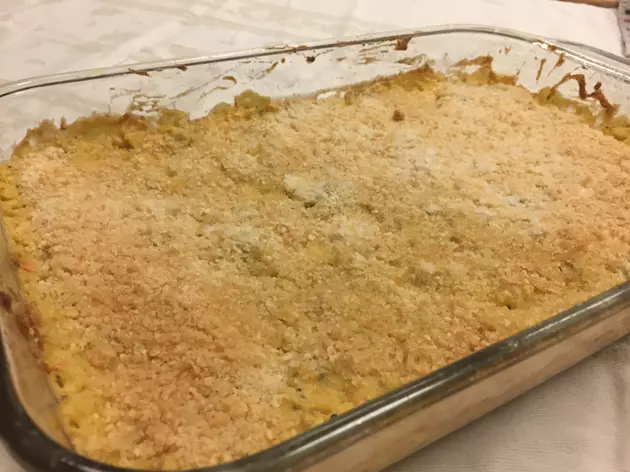 Thanksgiving Side Dish Recipe – Parmesan Broccoli Rice Casserole
(Ryan O'Bryan)
When we had our annual Thanksgiving pot luck lunch at the station recently, I decided to whip up my Mom's Broccoli Rice Casserole, but added my own little twist by topping it off with a mix of bread crumbs and Parmesan Cheese. Here's how you can throw this quick and easy side dish together for your Thanksgiving, or any, get together.
Ingredients
Two cups chopped broccoli, cauliflower, and baby carrot mix (fresh or frozen)
1 can condensed Cream of Mushroom Soup
1 can condensed Cheddar Cheese Soup
1/2 cup milk
3 Tablespoons butter
1 cup Instant Rice
Panko Bread Crumbs
Grated Parmesan Cheese
Directions
If using a fresh mix broccoli, cauliflower, and carrots mix...
Cut broccoli and cauliflower into bite size pieces. Cut baby carrots into quarters length-wise. Cook with two Tablespoons of water in covered microwave safe dish for five minutes.
Cook according to package directions.
Chop cooked vegetable mix into small pieces, and combine in a large bowl with Cream of Mushroom and Cheddar Cheese soups, milk, butter, and rice.
Spread evenly into 9 x 13 baking dish. Cover top with Panko Bread Crumbs and Parmesan Cheese, and bake for 30-35 minutes.