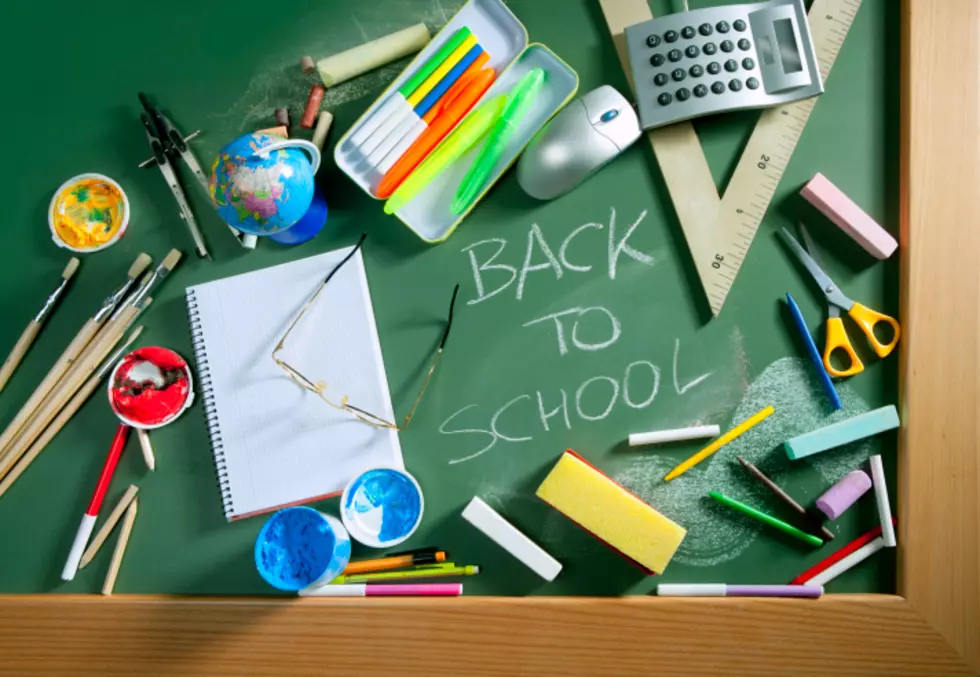 Things Warrick County Parents Need to Know for Back to School
LUNAMARINA
The First day of school for Warrick County Students is Wednesday, August 8th and there are few things parents need to know for the new school year!
Parents of children who plan to attend Full-Day Kindergarten in the Warrick County Schools in the Fall of 2019, are encouraged to attend the "Kindergarten Round-Up" from 9:00 A.M. until 2:00 P.M. on Thursday, April 4, 2019, in the school where their child will attend kindergarten. At that time, preliminary enrollment will take place, and a certified Birth Certificate should be presented for the child. Immunization requirements are available at each school.
REGISTRATION FOR FIRST TIME FIRST GRADERS
In addition to the pre-enrollment of next fall's kindergarten students, we would also like to gather information on the approximate number of new first graders coming to our schools.  Parents of children who have been attending private kindergarten programs this school year, but who will enter one of the Warrick County elementary schools next fall for first grade, are asked to contact the school, which their child will be attending in order to determine enrollment procedures.
When you go to a Warrick County school to register your child, please bring the following information:
Proof of Birth Date
Proof of Immunizations
Proof of Address
Proof of Guardianship / Custody (Where Appropriate)
If your child is coming from a different school beyond the kindergarten level, please bring a copy of a recent report card from the previous school.
Student Immunization and Physical Examinations
Periodic physical examinations by a physician are in the best interest of each student and are recommended, but not required, by the Warrick County School Corporation. Physical examinations may be required before participation in some special school activities such as competitive athletics are required.
When a student enrolls in a school in the Warrick County School Corporation, the parent must show that he/she has been fully immunized.
Middle and High School students will be told what to bring by their teachers. If your school does not have a link, please check your local Walmart, or continue to check back here for updates.
The Transportation Program in Warrick County will always be in a constant state of change due to factors beyond the control of the local school district, such as: Department of Education requirements, changes in State and Federal Laws, Department guideline changes, Commercial Motor Vehicle License requirements, Drug & Alcohol Testing requirements, etc. Therefore, the Warrick County School Corporation Board of Trustees expects the Transportation Plan to be a living document that will change as required to meet the needs of our patrons.
| Grade | Book Rental | Art Fee | Agenda Book | Total |
| --- | --- | --- | --- | --- |
| Kindergarten | 72.00 | 6.00 | 5.00 | 83.00 |
| First Grade | 87.00 | 6.00 | 5.00 | 98.00 |
| Second Grade | 73.00 | 6.00 | 5.00 | 84.00 |
| Third Grade | 81.00 | 6.00 | 5.00 | 92.00 |
| Fourth Grade | 70.00 | 6.00 | 5.00 | 81.00 |
| Fifth Grade | 70.00 | 6.00 | 5.00 | 81.00 |
| Life Skills | 55.00 | 6.00 | 5.00 | 88.00 |
ParentVUE and StudentVUE are websites that offer secure, private access to school and student information, including assignments, grades, attendance, school calendar, and teacher contact details. In ParentVUE, you can see the information for all of your students. To create an account, you need the web address and activation key provided by the school district.
For more information on the upcoming school year, visit the Warrick County School Corporation's Website at www.warrick.k12.in.us .
---