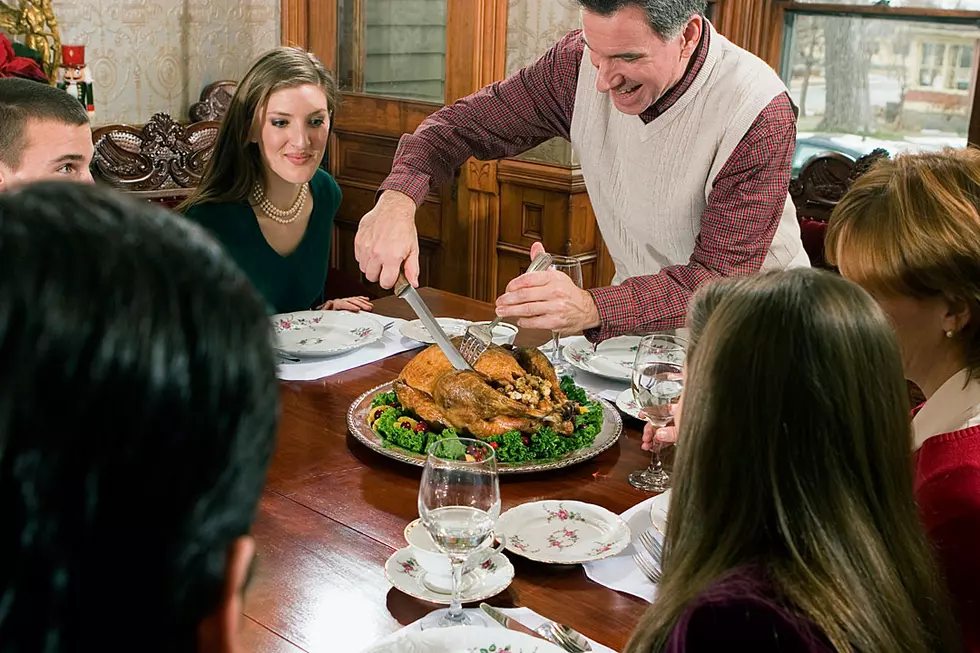 Tri-State Restaurants Serving Thanksgiving Meals 2017
Purestock
"Thanksgiving embodies the most beautiful time of the year through collective gratefulness, crisp fall weather, the love of family and friends, and of course, through delicious Thanksgiving food." - Sunny Richardson, 2016.
I couldn't have put it any better as the new and improved Sunny Richardson of 2017! Let's face it...Thanksgiving can be stressful. Dirty dishes, oven burns, and irritating uncles don't always sound too appealing when it comes to Thanksgiving. Don't fret because Tri-state eateries and Townsquare Media have you covered in the event that you don't really feel like cooking this year.
New Harmony - 11 a.m-8 p.m
A variety of menu items will be available. The Thanksgiving Prix Fixe menu prices include $36.99 per adult and children 12 and under: $19.95. Reservations are required. Please call at 812.682.4431
---
New Harmony – 10:30 a.m to 4:30 p.m
The annual Thanksgiving feast buffet at New Harmony Conference Center prices are as follows: $26.50 per adult and children are $15.95. Children under 5 eat free. Traditional Thanksgiving fare will be served. Reservations are required. Please call at 812.682.4431
---
Evansville's Downtown – 12 p.m – 4 p.m
Walton's is doing a Thanksgiving Buffet this year! Prices include adults at $18 and kids at $12. Reservations are recommended but not required.
---
Poseyville - 7 a.m - 3 p.m
Thanksgiving breakfast and brunch buffet will be served this year at Poseyville's famous Red Wagon Restaurant. Reservations are recommended. Call for reservations at 812.874.2210. For the menu, click here.
---
Evansville - 11 a.m - 7 p.m
---
Owensboro, Henderson, Evansville 11 a.m - Close
Cracker Barrel is offering a home-style Thanksgiving meal in addition to their regular menu. Reservations are recommended 24 hours in advance but are not required.
---
Evansville, Owensboro, Henderson - Hours TBA
Golden Corral buffet is open on Thanksgiving day! A Thanksgiving buffet will be offered in addition to other items.
---
Owensboro, Henderson, Evansville – Open 24 hours
Denny's restaurants all through the tri-state area will be open for business this Thanksgiving Day.
---
Evansville – Thanksgiving Hours TBA/Call Ahead
IHOP in Evansville will be open Thanksgiving day.
---
LOCAL & CHAIN CARRY-OUT CATERING
Mount Vernon – Must order by Nov 18th and pick-up on Nov 22nd
Hawg N Sauce in Mount Vernon, Indiana is offering a fully catered Thanksgiving meal for pickup Wednesday, November 18th! To place your order, call 812.838.5339. Details below!
---
Order a Thanksgiving Farmhouse Feast this Thanksgiving that includes a whole turkey breast, bread & celery dressing, mashed potatoes, sweet corn, green beans with ham, cranberry relish, gravy, rolls, pumpkin pie and a loaf of pumpkin bread (Meal serves 8 people) for $79.99. Other orders can be made for larger or smaller parties at varying prices. Call or order online today!
---
Order your to-go Thanksgiving meal from Cracker Barrel at a minimum of 24 hours in advance either online or calling the location nearest you.
---
Evansville, Henderson, Owensboro - Hours TBA per franchise
Pizza for Thanksgiving is always a great idea when you don't wanna cook and you don't wanna leave the comforts of home! Depending on where you live and which Dominos serves you, Dominos will be open on Thanksgiving Day. Contact your local Dominos to check hours.