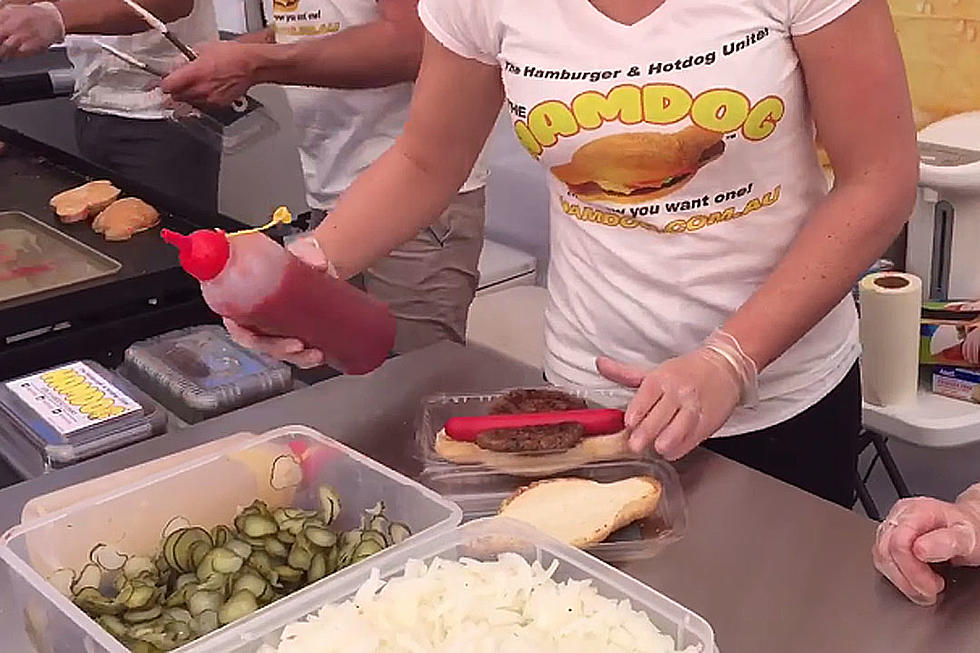 'Hamdog' Is a Brilliant All-in-One Game-Changing Hamburger-Hot Dog Bun
Hamdog, Facebook
You know how when you go to a barbecue and the host asks you "Burger or dog?" Well, much like phone books, Friendster and Brad and Angelina's marriage, that's ancient history.
Ladies and gentlemen of the confused 8-hot-dog-count-in-bag-but-12-in-a-pack-of-Ballpark-franks variety, may we introduce to you the hamdog: a bun that can hold a hot dog and a hamburger. Yeah, it's the best of both worlds.
Inventor Mark Murray came up with the idea way back in 2004 and got a patent in the U.S. for it back in 2009. He unveiled it on the Australian version of Shark Tank last year.
The hamdog is now selling Down Under for $8. It comes with the very Australian-sounding Bunbury beef patty split in half with a dog split right down the middle and topped off with lettuce, tomato, cheese, pickles, mustard, ketchup and mayonnaise.
Like many visionaries, Murray had a dogged determination to see his product succeed. "Everyone told me it wasn't possible, because you'd need a patent lawyer and it would cost millions of dollars," he said, "Even [Shark Tank judge] Janine Allis told me that it was impossible to patent. She'll be eating her words now."
Murray's work is not yet done, however. He's looking to expand his operation -- even getting to the US -- and has at least one other big obstacle to overcome. "At the moment there is a fair bit of labor involved in making the buns because they're made by people, not machines," he said. "We're still developing a way to semi automate production."
Considering he's the guy that married hamburgers and hot dogs, we think he'll find a way.