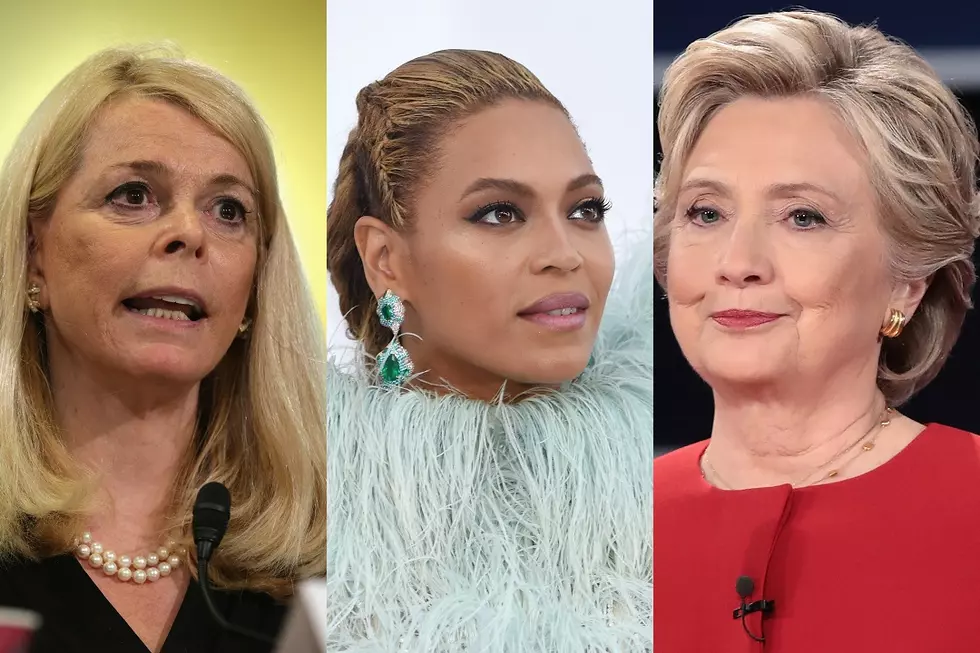 Trump Supporter Unsuccessfully Uses Beyonce Lyrics Against Hillary Clinton, BeyHive Reacts
Chip Somodevilla / Larry Busacca / Drew Angerer,Getty Images
The wrath of Beyonce fans everywhere was invoked Monday night (October 10) when Donald Trump supporter and former New York lieutenant governor Betsy McCaughey—a.k.a. The Girl Who Kicked the BeyHive's Nest—made a very reaching mention of Beyonce's name and referenced her lyrics in a bid to "expose" Hillary Clinton's "hypocritical" reaction to Trump's offensive 2005 video leak.
Appearing on CNN, McCaughey used an excerpt of lyrics from Beyonce's song "Formation" in an attempt to prove that Clinton, who has previously expressed her admiration for the Grammy-winning music icon, is a hypocrite for taking offense over the vulgar, predatory language about women used by Trump in the leaked Access Hollywood video. Because... logic?
"I abhor lewd and bawdy language," the former lieutenant governor began, adding, "I don't listen to rap music. I don't like that kind of thing, but Hillary Clinton, when she expresses...I mentioned rap music because it's full of the f-word, the p-word, the b-word, the a-word..."
McCaughey continued, "Hillary Clinton expresses that she finds the language on that bus [in the leaked video], 'horrific,' but in fact, she likes language like this."
In a surreal moment of televised lunacy, she then proceeded to quote Beyonce's "Formation," reciting without a trace of irony, "I came to slay, b---h / When he f-ed me good I take his ass to Red Lobster."
"That happens to be from Beyonce, [Clinton's] favorite performer...whom she says she idolizes and would like to imitate. There's a lot of hypocrisy, in Hillary Clinton expressing such horror at language on the bus," McCaughey continued.
After McCaughey made her, uh, point, a thoroughly-tickled Don Lemon reminded his guest that not only did Clinton not say those words herself, but that there's a huge difference between a politician liking an artist who uses adult language and one who actually expresses malevolent intentions toward women with that language themselves.
"As much as I like hearing you say [those lyrics]," Lemon said, "Hillary Clinton did not say those words. Donald Trump actually said the words, and as my mom would say, that's the horse of another color."
Let's make one thing very clear: When a music artist uses explicit language to express consensual sexual behaviors and fantasies in their art, it is not the same thing as a would-be world leader admitting to sexually predatory behavior and using explicit language to express his violent, non-consensual desires, such as "grabbing [women] by the p---y."
But sure, Jan Betsy. Whatever you say.
See some choice reactions from Beyonce fans below:
21 Artists Who Banned Politicians From Using Their Music