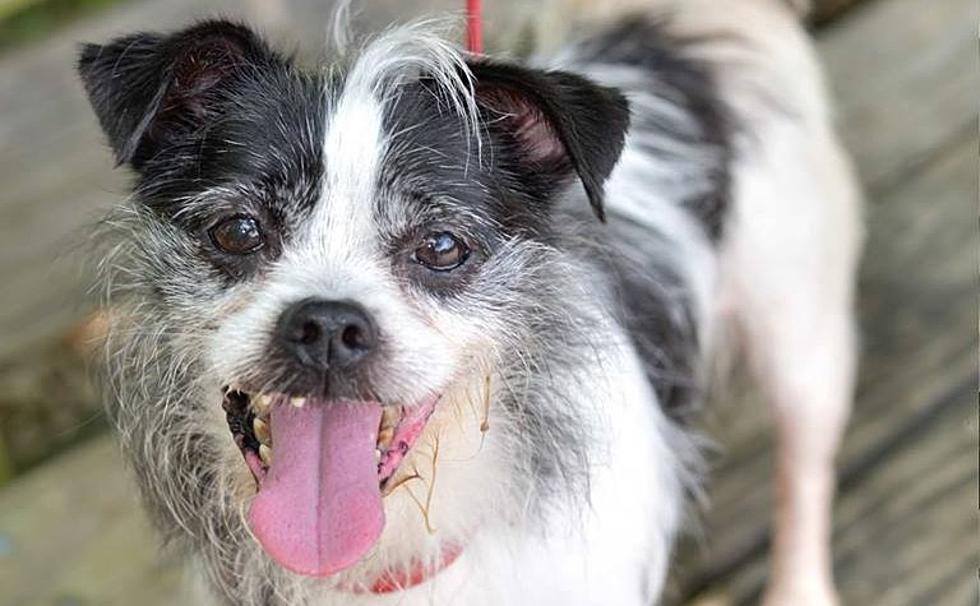 PLEASE HELP – Funky Monkey Has Been Without a Home For 118 Days
Allison Caine-Duce/Warrick Humane Society
I just can't anymore with this poor little guy...
I'm devastated to report that despite all of the shares and pleas last week, we were still unable to find a forever home for our buddy Funky Monkey.  No dog should go without a family to love and care for them, but this sweet boy has been without someone to love him for ONE HUNDRED AND EIGHTEEN DAYS!  Funky Monkey may have a little of a "rough" exterior, but I promise he's endlessly sweet and has A LOT of love to give!
I've included last week's article about my little buddy below.  If you know ANYBODY who might love Funky Monkey, PLEASE share this information!
This is a first for me, and it's breaking my heart.  Every Thursday on The Rob's Radio Show With Maddie West we present a Pet of the Week, an adoptable animal from our friends at the Warrick Humane Society.  Usually getting the word out on the radio and social media helps find those wonderful animals loving forever homes.  About two months ago, Lindsey introduced Liberty (who was filling in for Maddie) and me to a memorable little guy named Funky Monkey.
Funky Monkey was so memorable because of his look, most notably his face.  He's got an adorable under-bite and scruffy disheveled fur, and a personality very much unlike his rough exterior.  He's a friendly six-year-old boy, who is GREAT with all people although may do better as an only dog in a household (but totally child-friendly).  As someone who is a dog-lover and has played with Funky Monkey a few times, I can tell you he's a GREAT dog!
He's a terrier mix, he's small, he's friendly...  Basically he's perfect.  But he can't seem to find his forever home, sadly.  Not only was he our Pet of the Week two months ago, but Funky Monkey had already been at the Warrick Humane Society for two months prior to that, so he's been there for almost FOUR MONTHS!
PLEASE, if you or anyone you know is looking for a pet, PLEASE PLEASE PLEASE go meet Funky Monkey at the Warrick Humane Society!  If you are unable to provide a home for this little guy, please share with your friends so that hopefully we can find this sweet soul a forever home!