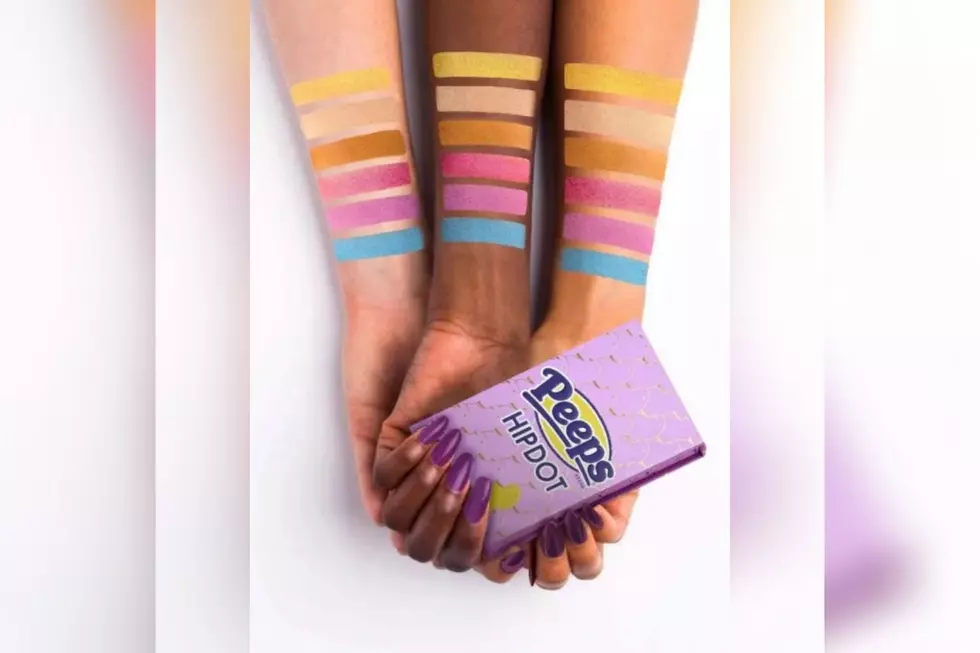 Look Like A Peep This Easter With Limited Edition Make-Up
hipdot.com
You may love Peeps, but do you love Peeps enough to look like a Peep? I don't mean dressing up like a cute little bird. I mean wearing the vibrant, Spring colors of Peeps. How about something like that?
The make-up website hipdot.com has teamed up with Peeps to put out a Limited Edition Peeps Palette and Sponge Set.
Here is a description of the palette colors from hipdot.com,
Bunny - pastel poppy blue. Inspired by the PEEPS Blue Bunny.
Cute - Medium nutty brown.
Marshmallow - Deep matte magenta
Sugar-coated - Matte beige
Chick - Shimmery PEEPS Chick pink
Sweet - Shimmery PEEPS Chick yellow
It's perfect for your make-up-loving Easter basket!
Super-soft, made with latex-free foam to flawlessly blend makeup to a skin-like finish. Use with the complexion product of your choice. When wet, PEEPS expand, returning to normal size when dry.
The full collection with the Limited Edition PEEPS Palette and Sponge Set sells for $40.00. Order the limited edition Peeps collection, HERE. They ask that you allow several days for processing because of high demand. 
Did you know that two billion Peeps are produced each year, with one billion being specifically for Easter?
Peeps have been around since 1953 - meaning Peeps are 66-years-old this year...who knew? If you've ever wondered just how Peeps are made, here you go!
Wanna make them yourself?
Growing up, I have to admit that I wasn't very excited about getting Peeps in my Easter basket. But, that was when there was only one kind. They were different colors, but all tasted the same, marshmallow flavor.
Since then, Peeps and other snack favorites like Oreo and Pringles have broadened their flavor pallets.
If you are into Peeps that are flavored a little different, try these.
If marshmallow Peeps aren't your thing, there are jelly beans.
Peeps are't just for Easter.
You either love Peeps or you hate them. If you loathe those little, colorful, marshmallow boogers, join the club. Take your dislike to the next level with this video.  It will put a HUGE smile on your face. Enjoy! ;-)
LOOK: 22 Places to Get Girl Scout Cookies in Southern Indiana & Western Kentucky