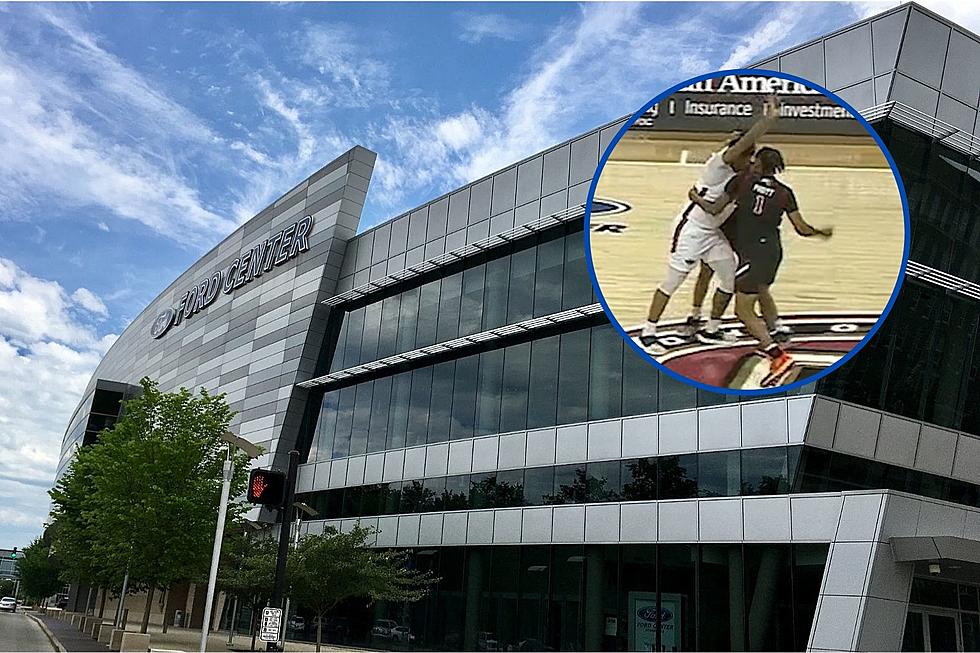 On-Court Fight Breaks Out During OVC Tournament Game in Evansville [VIDEO]
Townsquare Media / ESPN via Twitter / Canva
Emotions ran a little hot during Thursday night's men's game between Southern Illinois University-Edwardsville (SIUE) and the University of Tennesse-Martin (UT-Martin).
Sports are somehow both a great way to bring people together and fiercely divide them at the same time. While we all realize (most of us anyway), at the end of the day, they're just games and don't mean much in the grand scheme of things, they are entertaining and a great escape from the general mess that is the world. With that said, even those of us who understand its place in life typically have a team we will ride or die with and defend until we're blue in the face which is where the divide usually comes in.
The only people who are more passionate about a team than its fans are the men and women who play for them. That's especially true when the chance to win a championship is on the line. It's not uncommon for tempers to flare and emotions getting the better of players, which seems to be what happened during Thursday night's game at the Ohio Valley Conference Championship Tournament.
ESPN shared video from the incident on Twitter late Tuesday night. It's unclear what initially caused the confrontation between SIUE sophomore forward DeeJuan Pruitt and UT-Martin senior forward Rifen Miguel, but 24/7 Sports reports it appeared to start with Miguel taunting Pruitt earlier in the game. As the video below shows, Pruitt obviously had enough and decided to let his right fist reply instead of his mouth.
With where the video picks up, Pruitt in the face of Miguel who has his hands up in the air almost as if he knows what's getting ready to happen and wants the refs to know he didn't start it, I'm guessing the trash talk between these two had been going on for a good chunk of the game up to that point.
Now, I'm not condoning what Pruitt did by any means, and the argument could be made that no matter how much an opposing player runs his or her mouth, you have to be disciplined enough to not let it get in your head. With that said, if the taunting had been going on for a while, it's possible he figured that was the only way to make it stop. Whatever the case, fans who bought tickets ended up not only getting to watch a basketball game, but they also got a free, albeit short, boxing match.
In the end, it was Miguel and his teammates who would get the final word as they eliminated Pruitt and SIUE from the tournament, 81-75.
[Source: ESPN on Twitter]
LOOK: Biggest underdog victories in March Madness
Every spring, legions of sports fans turn their attention to college basketball when
March Madness
takes the national spotlight. Using aggregated Associated Press data, BestOdds has come up with 10 of the biggest—and most unlikely—underdog wins in March Madness history.
30 famous people you might not know were college athletes
Stacker
dug deep to find 30 celebrities who were previously college athletes. There are musicians, politicians, actors, writers, and reality TV stars. For some, an athletic career was a real, promising possibility that ultimately faded away due to injury or an alternate calling. Others scrapped their way onto a team and simply played for fun and the love of the sport. Read on to find out if your favorite actor, singer, or politician once sported a university jersey.