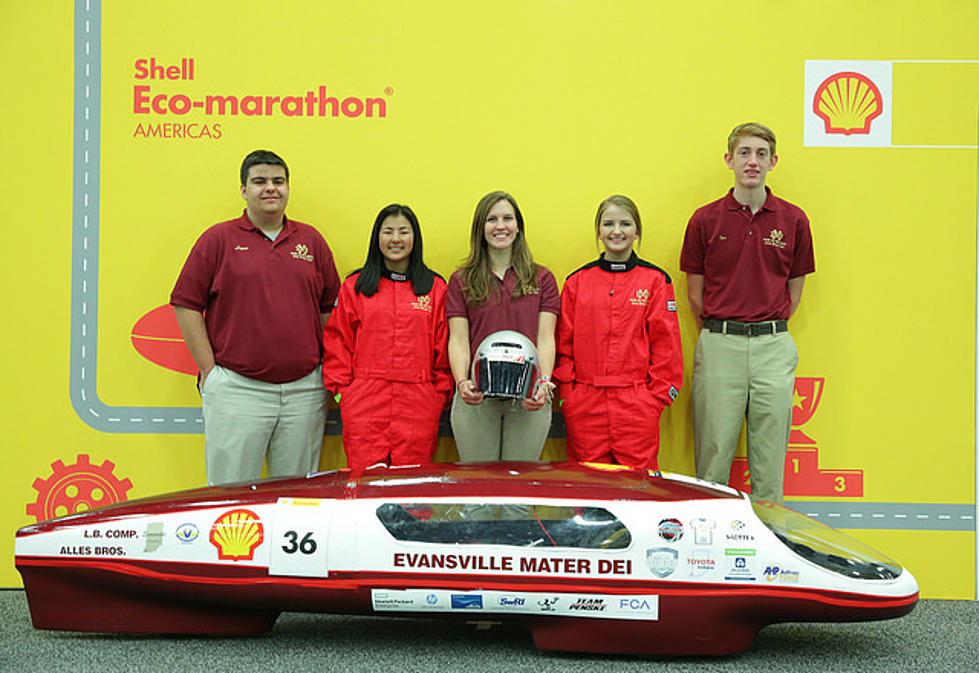 Mater Dei Supermileage Team Claim Trophies at Shell Eco-Marathon
(Photo Courtesy of Shell Oil Company)
After months and months of work, the Mater Dei High School Supermileage Team made their way to Detroit over the weekend to put their fuel-efficient concept vehicles to the test against similar teams from across the country. When all was said and done, the team once again brought home a couple of trophies for their efforts.
The Eco-Marathon competition pits our future engineers (i.e. high school and college students) against one another in an attempt to design and create vehicles that can travel crazy-long distances on the smallest amount of fuel possible.
The Mater Dei team was nice enough to let me get in their way for a little bit earlier this year as they worked on creating their vehicles.
The team entered two vehicles in this year's competition, a Prototype which is looks like something straight out of a science fiction movie (think spaceship with wheels), and a Urban Concept car which, per the rules of the competition, is a more "roadworthy" vehicle designed to meet the needs of the consumer. Within each competition category are sub categories including internal combustion, which is the same type of engine your car has only WAY more fuel efficient, battery/electric, and hydrogen fuel cell.
When the dust settled, Mater Dei's Urban Concept: Internal Combustion took first place recording an astounding 723.4 miles to the gallon! To put that in perspective, that kind of fuel efficiency would allow you to drive from Evansville to Panama City Beach without having to stop and fill up once! And you'd still have fuel to spare!
The team also scored a runner-up trophy for the overall competition behind this year's champion, Université Laval of Quebec.
This isn't the first time Mater Dei has competed in the Eco-Marathon, nor is it the first time they've brought home trophies, having brought home a first place trophy for the fifth time in six years!
As a Mater Dei alum, it makes me proud to see the current crop of Wildcats making their mark on the world in a way that can someday benefit everyone. Great job!