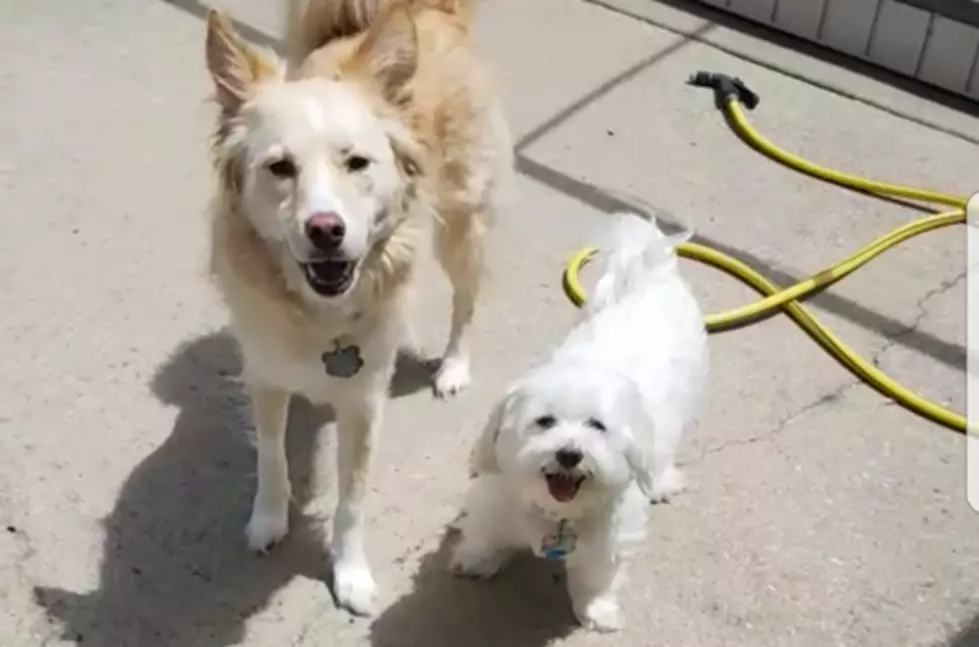 List of Dog-Friendly Restaurants in Evansville
Photo: The Rob Hirschbuhl
As the resident "dog guy" in our office, I have the strong desire to take my dogs with me literally everywhere I go.  Unfortunately, as much as I hate their sad eyes when I leave them, this isn't feasible.  HOWEVER, I did recently learn that there are a large number of RESTAURANTS in the Tri-State that actually welcome my fur-babies!  And more than just a handful, there's a BUNCH!
While researching this, I came across what seems to be the DEFINITIVE list of Tri-State restaurants that are happy to see your canine friends!  It was put together by Brian Buxton, a food journalist and restaurant advocate whose credentials include writing for the Evansville Courier & Press and Evansville Living, as well as co-hosting "Taste Tuesday" on 44 News and managing the Facebook group Fingers, Fork, Knife & Spoon by Brian Buxton, a Tri-State restaurant discussion page.  He's also a fellow animal lover, as well a former board member for It Takes a Village No Kill Rescue.  I have embedded the information below, but I'll summarize it here:
Brian reminds us to take certain precautions and etiquette considerations when dining on porches with our pooches.  For example, dogs should be leashed at all times and should also be reasonably trained.  You should always have bags handy to clean up after your dog if they, um, make a mess as well as water because your four-legged friend gets thirsty, too!  Also, make sure your pet is up to date on all of their shots and vaccines.  He elaborates in his post.
And now, here is your comprehensive list of restaurants that allow dogs on their porches:
Evansville:
Amy's on Franklin (street level back patio)
Angelo's Italian (downtown)
Arazu on Main
Azzip pizza
Backstage Bar & Grill
Baskin Robbins ice Cream
Bokeh Lounge (front and back patio)
Bru Burger
Bud's Rockin' Country Bar and Grille
The Granola Jar @ Café 111
Carson's Brewery
Catfish Willy's
Chipotle
Coldstone Creamery
Comfort by Cross Eyed Cricket
Dapper Pig (now Schymik's Kitchen)
DiLegge's
Dunkin Donuts (locations with patio)
El Patron in North Park
Fool Moon Grille and Bar
Franklin Street Pizza Factory
Franklin Street Tavern
Franco's Tavola Calda
Gerst Haus
Hilltop Inn
Hornets Nest
Just Rennies
KC's Marina Pointe
Lakes Metro Deli
Lamasco Bar & Grill
Lics Ice Cream
Lobo Lounge (formerly Talk of the Town Pizza)
Los Tres Caminos
Lucid Coffee House
Madeleine's Fusion
Maidens Brew Pub
Milanos Italian
Milk and Sugar Ice Cream shop
Mission BBQ
Mod Pizza
Moe's Southwest Grill
Mo's House Cocktail Bar
Myriad Brewing
O'Charlies
Pangea Kitchen
Peephole Bar & Grill
Penny Lane Coffeehouse (downtown)
Planters Cafe and Coffee Bar
Pie Pan
Rafferty's deck
Raffi's Oasis Mediterranean Cafe
Read Street BBQ
River City Coffee & Goods
R'z Cafe (Fort Branch)
Schymik's Kitchen (former Dapper Pig)
Smittys Italian Steakhouse
Sportsmans
Starbucks (locations with patio)
St. Joe Tavern
Stockwell Inn
The Rooftop (entry on exterior staircase)
Tiki Time (Inland Marina)
Qdoba (Burkhardt)
Waltons International Comfort Food
Wayback Burger East
Weinzapfels Tavern
Una Tu Pizza on Governor
Zesto
Newburgh:
Archie & Clyde's
Azzip pizza
Ben & Pennys Ice Cream and Café
Bostons
Café Arazu
Cleo's
Edgewater Grille
Lics Ice Cream
Primetime Pub and Grill (formerly Beef O'Brady's)
Starbucks (locations with patio)
The Refinery
Tin Fish
Wings Etc.
Henderson:
Brown Bag Burgers
Coyote Mexican Restaurant
Farmer & Frenchman
Henderson Brewing Company
Medina's in the Alondra Market
Mr. B's Pizza and Wings
On Deck / Riverside Bar and Grill
Starbucks (locations with patio)
Tacoholics
Owensboro:
Burger Theory
CYO Brewery & Taproom
Famous Bistro
Feta pizza
Lure
Miller House
Starbucks (locations with patio)