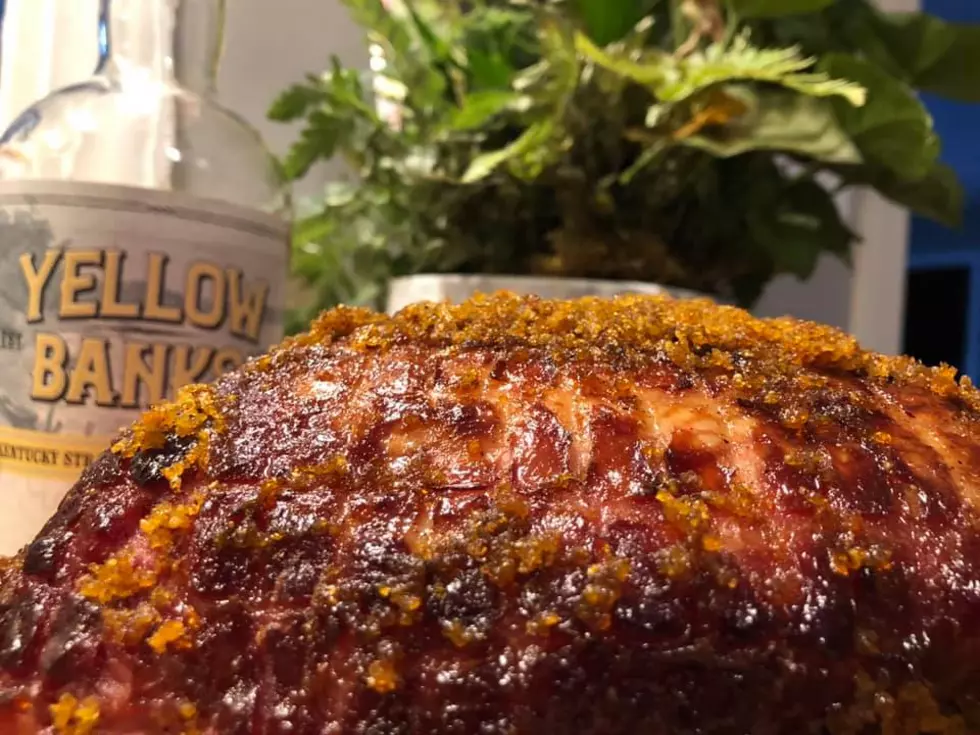 Kentucky Legend's Ham Glazed with Whiskey [Recipe]
WBKR
Last month, Kentucky Legend was the sponsor of the monthly Rooster Booster Breakfast, held virtually by the Greater Owensboro Chamber of Commerce.  I am fortunate to be the emcee for the monthly meeting and, in October, I was exceptionally lucky to get the opportunity to participate in a real-time cooking demo with Brooklyn Maple from Kentucky Legend.  Brooklyn was in her kitchen; I was in mine.  Together, we joined forces to bake up a delicious recipe- Ham Glazed with Whiskey. Here's how to make it!
KENTUCKY LEGEND'S HAM GLAZED w/ WHISKEY
4 to 6 lb Kentucky Legend Half Ham
1/2 cup whiskey (I used Yellow Banks from right here in Owensboro)
1/3 firmly packed up light brown sugar
2 tablespoons finely grated orange peel
1/4 teaspoon ground allspice
1/8 teaspoon ground gloves
orange slices (thinly sliced)
additional cloves for garnish
1. Preheat oven to 325 degrees.
2. On a rack in a roasting pan, roast ham uncovered for about 20 minutes per pound.  **Brooklyn and I cooked ours for two hours.** Use a meat thermometer to ensure the internal temperature gets to 140 degrees.
3. While the ham is roasting, simmer the brown sugar, whiskey, orange peel. cloves and allspice over medium heat for about 15 minutes (until slightly thickened).
4. Brush the glaze over the ham about 20 minutes before the ham is done roasting.
5. Garnish the ham with orange slices, cloves and sauce!
This ham was absolutely delicious.  As I said in our morning show promo for Monday, "It will make you wanna slap a pilgrim."  I carved it up and took plates to several friends (including my friends Candance and Hannah from the Chamber).  Kevin and I polished off the rest.
I personally prefer ham to turkey for Thanksgiving.  If you have folks in your family who feel the same way, I recommend trying this recipe.  It's magnificent.  And, though I used a local brand of bourbon/whiskey, you can easily use your favorite in the recipe.
Enter your number to get our free mobile app
KEEP READING: 3-ingredient recipes you can make right now