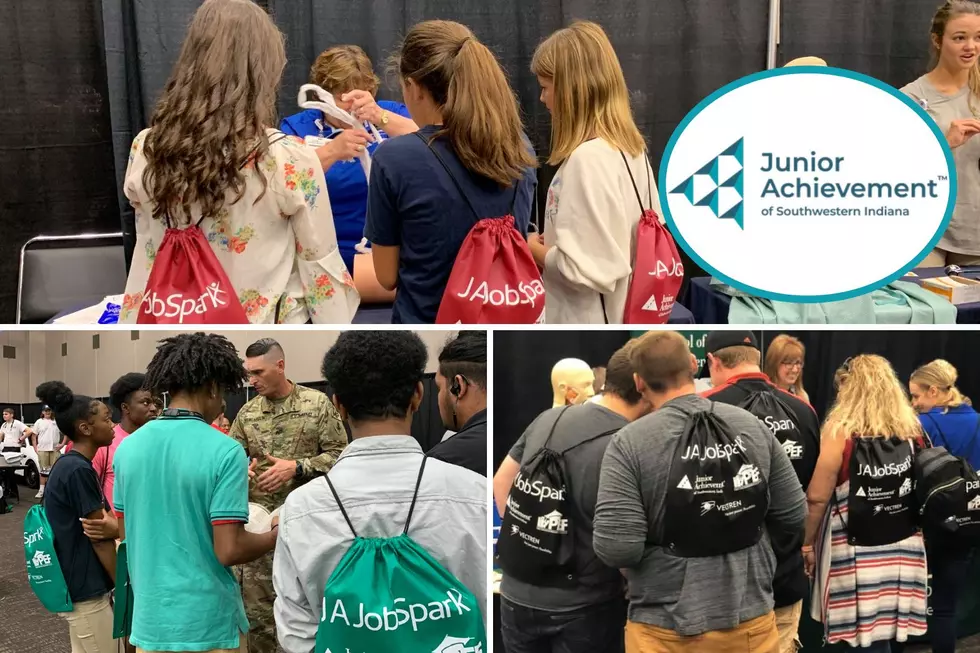 Junior Achievement JobSpark Career Expo Set For October In Evansville
Junior Achievement of Southwestern Indiana via Facebook
For the first time since 2019, the Junior Achievement of Southwestern Indiana JobSpark event will happen in person, giving thousands of 8th grade students the chance to meet with nearly 100 Tri-State employers. Doing events virtually has been a decent band-aid for the past couple of years, considering the circumstances, but there is doubt that a career expo like JobSpark really needs to happen in person, and Junior Achievement couldn't be more excited.
What is Junior Achievement?
Simply put, the purpose of Junior Achievement (JA) is to "inspire and prepare young people to succeed in a global economy." JA's goal is for young students to get the knowledge and skills they will need to succeed in the future. JA programs focus on three important pillars...
Work readiness
Financial literacy
Entrepreneurship
WHAT is JobSpark?
JobSpark is a 2-day career expo where 8th graders from Southwest Indiana and Southeast Illinois meet with dozens of businesses and industries in our area. The goal is to "spark" an interest in these students and to get them fired up for what's to come after school. Students won't just be given some generic handout or a flyer, they will get a hands-on and up close and personal experience.
WHEN and WHERE is JobSpark?
The 2022 JA JobSpark is scheduled for October 25-26 (starting at 9 am both days) at the Old National Events Plaza in downtown Evansville.
Wanna Get Involved?
We had the chance to talk with Crystal Reutter, the Development Manager for JA of Southwestern Indiana, and she says that while there are dozens of businesses already signed up to meet the students, there are a few categories that need to be filled - namely law, hospitality, tourism, and the arts. If you work in one of those areas, Crystal would love to talk to you about being a part of JobSpark. And aside from the employers that will be on hand, JA simply needs more adult volunteers (close to 100 people) to help keep an eye on things and make sure the students have an amazing experience.
If you have any questions or would like to get involved, reach out to Crystal at crystal.reutter@ja.org.You can also call JA at (812) 425-8152.
10 Fun Facts About School to Make You Think
Our kids are heading back to school. That means loading onto the big yellow bus. But do you know why it's yellow? Keep reading to find the answer to that and other fun facts about school.
See How School Cafeteria Meals Have Changed Over the Past 100 Years
Using government and news reports,
Stacker
has traced the history of cafeteria meals from their inception to the present day, with data from news and government reports. Read on to see how various legal acts, food trends, and budget cuts have changed what kids are getting on their trays.