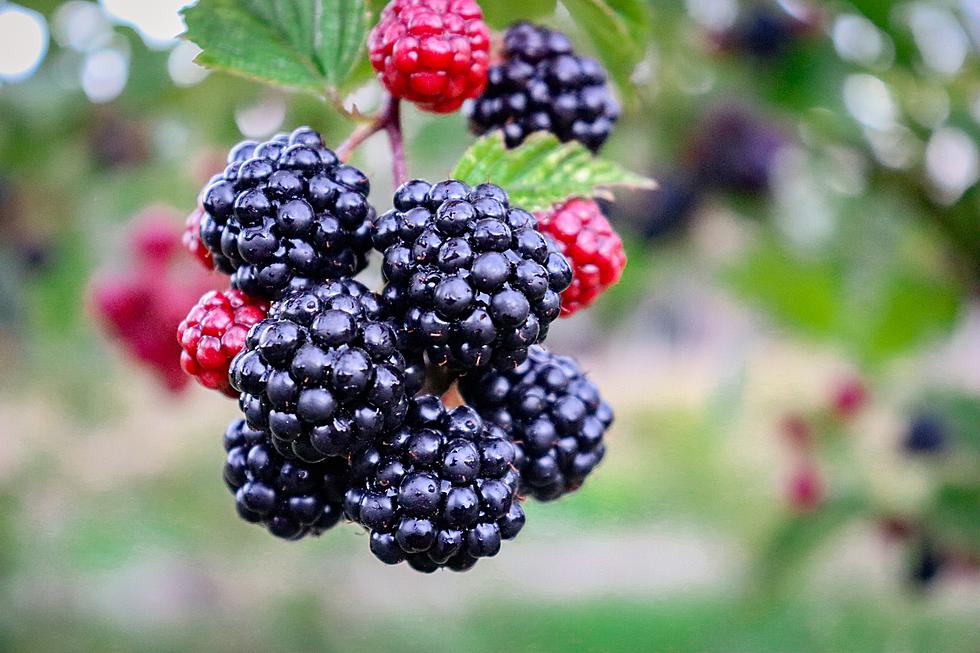 It's Blackberry Season in Kentucky and Here's a 'Cheesy' Way to Celebrate
Amanda Hortiz/Unsplash
It's blackberry season in Kentucky! By the way, if you blink you may miss. Blackberry season doesn't last very long here in the Commonwealth and there are essentially two separate harvests. Thorny blackberries are typically harvested at the end of June through the middle of July. Then, thornless blackberries are in season from the middle of July through the middle of August. In other words, you better get to your nearest farm store or find a patch and get to pickin'.
By the way, if you want to find out where you can pick blackberries here in Kentucky, just enter your location and search for nearby farms HERE!
To celebrate the arrival of blackberry season, my friend Patty Millay is sharing her recipe for Blackberry Cheesecake. Patty is a monthly guest on my radio show's What's Cookin'? segment and she is the queen of coming up with recipes that honor what's new and now.
So, here's her recipe for Blackberry Cheesecake!
From Patty:
I love a no bake dessert and I'm so happy that I tried this one!  This is a fresh and light flavor combination that you just can't beat!  If you are not a blackberry fan, substitute the berry of your choice.  Blueberries or Strawberries would also be excellent in this dish but I don't recommend combining mixed berries on this one.  A single flavor with a splash of lemon stands alone quite well.
This takes less than 20 minutes to pull together and it's well worth the effort.  It sits in the freezer for an hour then is topped and garnished.  Keep refrigerated for up to 48 hours.
BLACKBERRY CHEESECAKE
THE FILLING

13 oz Blackberry Preserves
2 8 oz bars of softened cream cheese
1 Tbl lemon juice
1/2 c sugar
1 pint whole blackberries (reserved for garnish)
8 oz whipped cream to fold into the cheesecake (you can whip heavy whipping cream or use Cool Whip)
8 additional oz of whipped cream to top your cheesecakes as garnish
DIRECTIONS
Mix preserves. cream cheese. lemon juice and sugar until well combined, then gently fold 8 oz whipped cream into blackberry mixture and set it aside.
THE CRUST
1 box Graham crackers (12-16 squares)
3/4 c sugar
1 stick melted butter
Mix crumbs, sugar and butter in a food processor until well combined.
Add 1 Tbl of crust mixture to a silicone muffin tin (so much easier to remove from a silicone pan)
DIRECTIONS PT. 2
If using muffin cups, press 2Tbl crust mix into a flat layer in your container.  Patty used jelly jars and put 1Tbl in the bottom of the pint jars and 1 tsp in the mini jelly jars.
Top crust of muffin cups with an ice cream scoop of blueberry mix. Level your cups and place in the freezer for one hour or in the fridge for four hours to set the mixture.
**In the jelly jars, it takes much less filling, 3 Tbl in the pint jars, 2 Tbl in the mini jelly jars.
You'll need to use a new cheese cloth to make clean lines inside your cups or jars.  You can rinse your cloth between jars to keep your lines clean.  If you don't have cheese cloth, a few paper towels will suffice.  You just need a really clean line inside your serving vehicle.
Put your cups in the freezer for one hour to let your cheesecake set well.  Remove and top with whipped cream, garnish with berries and a sprinkle of lemon zest.
Patty used small Jelly Jars to make individual self-contained servings.  You can use a disposable cup (I'd recommend clear cups as this is so pretty) and you can even attach a disposable spoon if you want to be Fancy Nancy in presentation!
This is just perfect for your July 4th cookout or any summer gathering.
What Are the Signature Drinks From Every State?
LOOK: Here are copycat recipes from 20 of the most popular fast food restaurants in America