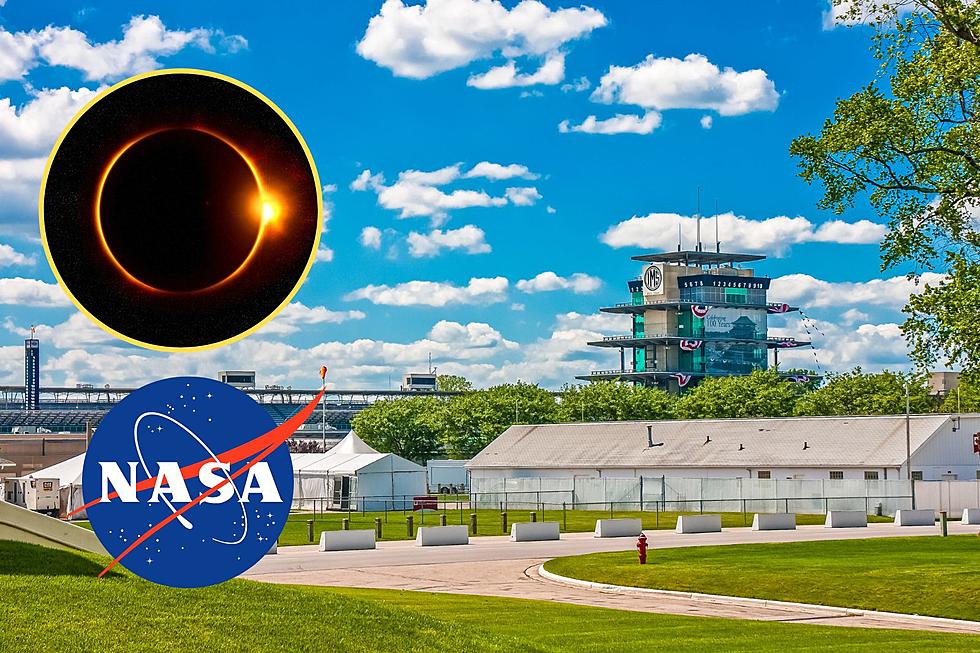 How to Watch the 2024 Eclipse at the Indianapolis Motor Speedway with NASA
Canva
You have the opportunity to watch the 2024 total solar eclipse at the Indianapolis Motor Speedway.
You might remember back on August 21st, 2017, for a brief period of time, some people here in Indiana took a moment to stop and look at the sky. The reason was we were very close to the path of totality of the last solar eclipse so we had a pretty good look at it. I can remember putting those eclipse glasses on to look up. It went from daylight to dusk pretty fast, and then before you knew it, the skies lit back up again. It was truly a sight to see. However, if you thought that was cool, wait until April 8th, 2024, that is when we will get an even better eclipse experience, as a lot of Indiana will be in the path of totality. The day will become night for a few minutes, and it will be something that everyone will be talking about for a while.
2024 Solar Eclipse in Indiana
NASA has a fully interactive map which you can see here, where you can see exactly within the path of totality where Indiana lies. NationalEclipse.com also has some great maps where you can see the duration of totality we can expect in your area, and what time the eclipse will be happening. It's pretty cool that we will be in the path of totality here in the Evansville area, and a lot of Indiana. Here's a quick video to give you an idea of what we can expect from the solar eclipse in Indiana:
2024 Total Solar Eclipse at the Indianapolis Motor Speedway
While you will be able to get a great view of the eclipse in several places throughout the state, if you want a really cool experience, you can view the eclipse at the Indianapolis Motor Speedway. NASA will actually be there to broadcast live from the speedway, and NASA experts will be on-hand to answer questions about the scientific phenomenon that is a total solar eclipse. According to the Indianapolis Motor Speedway:
When the total solar eclipse crosses North America, Indianapolis will be located in the center of the Path of Totality. For 3 minutes and 46 seconds, Indianapolis will experience darkness as the moon passes between the Sun and Earth, completely blocking the face of the Sun.
Just after 3 p.m. (ET) on April 8, 2024, when the Path of Totality begins, it will mark the first time in 819 years that a Total Solar Eclipse has been visible from Indianapolis. Another Total Solar Eclipse will not happen in Indianapolis again until the year 2153, 129 years after next year's occurrence.
IMS will have an exciting day of programming and celebration planned as we partner with NASA as one of just a select few broadcast locations across the country and open our facility to the world for this incredible phenomenon.
If you want to be a part of this unforgettable day, you can sign up by clicking here to be the first to learn more information as it becomes available. The sooner the better because with an event as monumental as this, I can imagine space will fill up fast at the speedway!
Bucket List Things to do in Indianapolis
Here are 10 of the bucket list items you don't want to miss in Indianapolis.
Life's A Beach At This Giant Indoor Ocean Playground In Indianapolis
You don't have to travel to the coast for the family to get a taste of the ocean. There's a little piece of fun ocean paradise in Indianapolis for your kiddos to enjoy.
10 Indiana Laws You Don't Know You're Breaking