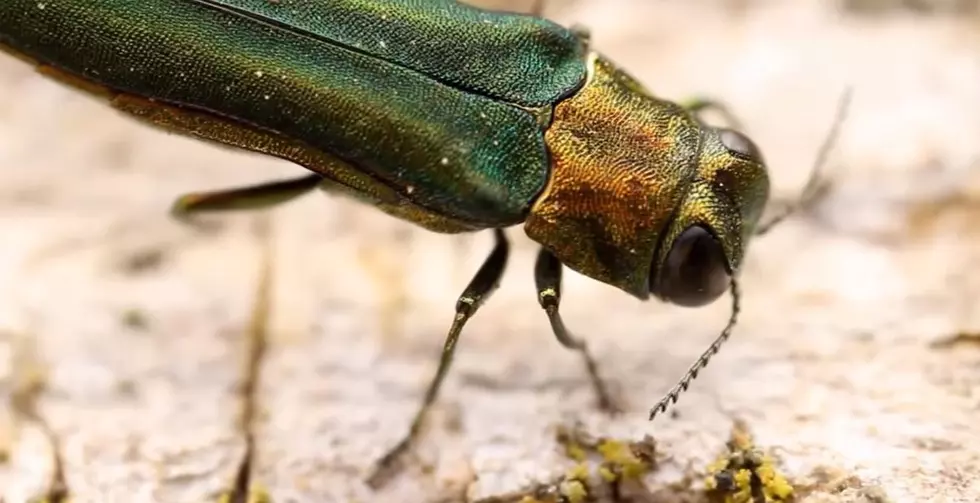 Emerald Ash Borer Becoming Major Threat to the Tri-State
Ryan O'Bryan
The Emerald Ash Borer and its larvae are severely threatening our health and horticulture across the Tri-State. 
The Emerald Ash Borer (EAB) is an exotic beetle that was discovered in Michigan in 2002. Though they're small, these critters can cause serious damage to ash trees across the nation. In 2004, Indiana saw first-hand just what these beetles can do.
According to the Emerald Ash Borer Information Network, the adult beetles nibble on ash foliage but cause little damage. The larvae, however, feed on the inner bark of ash trees, disrupting the tree's ability to transport water and nutrients. This has lead to the death of millions of ash trees across North America. Today, 33 states are battling against the Emerald Ash Borer.
While it might not seem to resonate right away, ash trees are pretty important. Without them, we wouldn't have:
Not only would we not have all these cool things, but the destruction of trees is actually bad for our health. We've all heard that trees help with oxygen, which is true, but it goes much deeper than that.
A website called Science Daily published a report on the effect the Emerald Ash Borer can have on a community - and the loss of pretty trees was just the beginning. 
According to an analysis conducted by the company, researchers found that Americans living in areas infested by the emerald ash borer suffered from an additional 15,000 deaths from cardiovascular disease and 6,000 more deaths from lower respiratory disease when compared to uninfected areas.
Pretty crazy, right? And that's not all.
The loss of trees can even contribute to low birth weight in babies. Seriously. The U.S. Forest Service, along with other researchers, used public health data, crime stats, tax records, and aerial photos to conduct a study. The results showed that women who live in houses with more trees are less likely to have underweight babies.
Luckily, there is something we can do to help try to prevent the Emerald Ash Borer infestation from getting worse. Right here in Evansville, you can 'Adopt an Ash' through the Evansville Parks Foundation. The cost is $79 per tree, but the payoff is well worth it. For a map of local-area trees that need adopted, click here.
The fee helps fund the tree's injection procedure (good for two years), where nutrients and EAB-fighting ingredients are injected into the trees trunk. The cocktail is an effective medicine to help kill off EAB beetles and larvae and restore nutrients to the tree.
Also included in the adoption fee is an acknowledgement tag on the tree that you adopt and recognition on the 'Adopt An Ash' website.