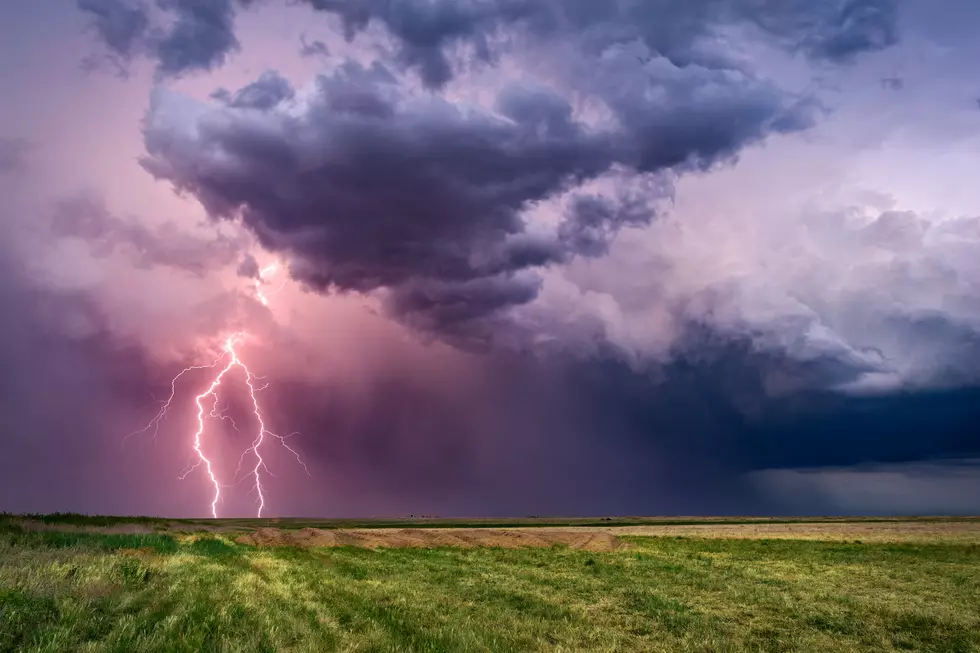 Damaging Wind and Lightning Primary Concern for May 29 Storms
Getty Images/iStockphoto
It has been a wet spring. My yard and flowers look fantastic but, boy, wading through the bogs in my front yard has also become the norm. And if you hadn't noticed, snakes and mosquitos are loving all this rain too. Today, we'll see some thunderstorms with the possibility of damaging wind and small hail. There is a slim chance of tornadoes. So, keep the weather helmet ready and stay safe out there.
Clusters of thunderstorms with very heavy rainfall and frequent lightning will continue to track northeast across portions of southern IL and southwest IN in the I-64 area. Be prepared for rapid reductions in visibility when encountering these storms and ponding of water on the road. Small hail and gusty winds are possible. Some of the storms may produce small hail and gusty winds. We are also watching clusters of storms in Arkansas, which may impact parts of southeast MO over the next few hours. Heavy rainfall and gusty winds are possible.
This Hazardous Weather Outlook is for portions of southern Illinois, southwest Indiana, western Kentucky, and southeast Missouri.
DAY ONE...Today and Tonight
Scattered strong to severe thunderstorms are expected today and tonight. Large hail and damaging Winds are the primary hazards, but a few tornadoes may be possible in the vicinity of frontal boundaries. Locally heavy rain and frequently lightning will also occur with these thunderstorms and may cause localized flooding. The potential for clusters of thunderstorms with damaging wind gusts may increase during the afternoon and early evening hours.
The Storm Prediction Center in Normal Oklahoma has placed most of southeast Missouri and southern Illinois in an Enhanced Risk of Severe Thunderstorms today and tonight. A Marginal to Slight Risk of Severe Thunderstorms covers west Kentucky and part of the
Missouri bootheel, while all of southwest Indiana is a Slight Risk of Severe Thunderstorms.
DAYS TWO THROUGH SEVEN...Thursday through Tuesday
Scattered strong thunderstorms may be possible through midday on Thursday over the Pennyrile region of west Kentucky and southwest Indiana. Damaging wind gusts would be the primary hazard.
Thunderstorms are forecast Saturday and again on Tuesday. It is too early to determine whether these storms may reach severe limits.