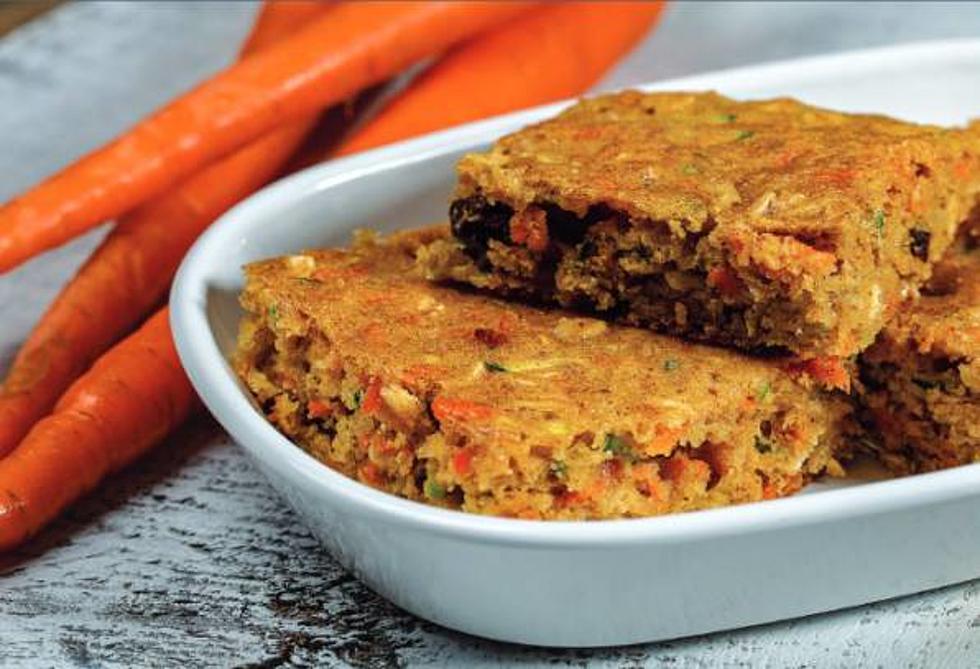 Here's How to Make Some Healthy Veggie Bars That Taste Like Carrot Cake
UK Cooperative Extension
I was recently having a conversation with a friend about restaurants, specifically the quality of restaurant desserts. That friend suggested that the best way to gauge how a restaurant's desserts is to first try their carrot cake.According to said friend, if the carrot cake's on point, chances are highly in your favor that the other desserts will be too.
I love that piece of advice and it's the perfect set up for this week's What's Cookin'? recipe.  Kelly Bland, from the UK Cooperative Extension Office here in Daviess County, is sharing a relatively healthy recipe that she swears tastes just like a good ole piece of carrot cake.
The only catch? This isn't a cake at all.  In fact, this is how you make healthy (and delicious) Carrot and Zucchini Bars.
CARROT AND ZUCCHINI BARS
 2 beaten eggs
1/3 cup oil
1/2 cup unsweetened applesauce
2 teaspoons baking powder
1 teaspoon cinnamon
1 teaspoon vanilla extract
3/4 cup brown sugar
1 1/2 cups shredded carrot
1 cup shredded zucchini
1/2 cup raisins (optional)
1 cup all-purpose flour
1/2 cup rolled or old-fashioned oats
DIRECTIONS:
Preheat oven to 350 degrees F.
Wash hands with warm water and soap, scrubbing for at least 20 seconds.
Scrub carrot and zucchini with a clean vegetable brush under cool running water before preparing.
In a large bowl, combine the eggs, oil, applesauce, baking powder, cinnamon, vanilla, brown sugar, carrot, zucchini, and raisins (if using). Stir with a spoon until mixed well.
Stir in the flour and oats until combined.
Spread batter evenly in ungreased 9-by-13 pan.
Bake for 25 minutes.
Cool completely, and cut into 3 rows by 6 columns to make 18 bars.
Store leftovers in the refrigerator within 2 hours.
Of course, one of the main selling points of a UK Cooperative Extension recipe is the fact that they're designed to feed lots of mouths for cheap.  This recipe yields 18 servings. The entire cost of the recipe is just $4.26. That equates to just $0.24 per serving.
What's Cookin'? is sponsored weekly by Kentucky Legend. If you'd like to see some delicious Kentucky Legend-inspired recipes, CLICK HERE!
See How School Cafeteria Meals Have Changed Over the Past 100 Years
Using government and news reports,
Stacker
has traced the history of cafeteria meals from their inception to the present day, with data from news and government reports. Read on to see how various legal acts, food trends, and budget cuts have changed what kids are getting on their trays.