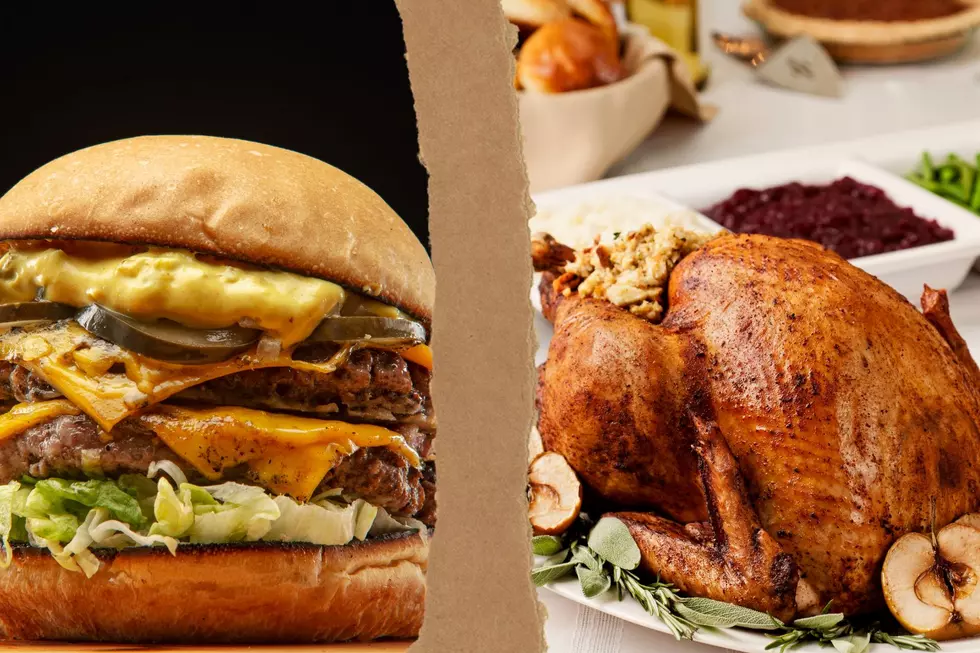 What Are my Thanksgiving Day Fast Food Options Around Indiana?
CANVA
Tired of turkey and dressing already? No need for guilt when turning down that third plate of grandma's sweet potato casserole. I've found out what fast food locations plan to be open on Thanksgiving Day 2022!
But before we dive into this list, let's be clear. When it comes to franchises, individual restaurants are often free to choose if that particular restaurant will be open on holidays. Most of them will be but you have been warned to call ahead, lest you waste a bunch of gas only to find out it's that ONE location that gives their employees the day off.
Want to add a restaurant to the list? Email our editor right here. 
RELATED: WHERE TO ORDER YOUR THANKSGIVING FAMILY MEALS AND DESSERTS FROM AROUND SOUTHERN INDIANA
Dunkin Donuts will more than likely be open as the chain doesn't have any holiday-hours policies. Call ahead to see if they're open for business to grab a great breakfast and coffee starter before your long day with the in-laws.
Firehouse Subs this sandwich shop will have varying hours depending on location, call ahead to see if they're open!
McDonald's that's right, most of those golden arches will be illuminated and open for business on Thanksgiving day. Not to sound like a broken record though, play it safe and secure what hours they're going to be open for business before heading to grab your favorite burger and fountain drink.
Popeye's - just like so many other places, their hours are open-ended, so make sure you know before you go, and ring ahead before enjoying their Cajun-style chicken.
Sonic many locations will be open, check out their holiday hours ahead of time and plan your trip for a cherry limeade accordingly.
Subway not every sandwich shop location will be open on this day but most are expected to be, call ahead if you'd rather enjoy your turkey on a footlong instead!
Starbucks do you just have to have a pumpkin spice latte or a caramel macchiato? The majority of the coffeehouse locations will be open for most of your turkey day!
Applebee's will be open with location-specific hours, call ahead to make sure they'll be open when you get that "fancy like an Oreo shake" craving.
Cracker Barrel will be open at 11 am on Thanksgiving in case you want to get your turkey day fix from someone else's kitchen other than your own. The menu might be limited, however, in order to serve a more traditional Thanksgiving Day fare.
Golden Corral each year this buffet style eatery hosts a great Thanksgiving meal complete with turkey and amazing side dish options and even pie.
Waffle House might be a great way to start a new tradition by swinging by for a  breakfast that doesn't require any cooking on your part. This restaurant chain is open 365 days a year.
T.G.I Friday's Thanksgiving might be held on Thursday every year, but that doesn't mean you can't enjoy Fridays! Most locations are expected to be open, just make sure you contact your nearby location to verify!
Ruby Tuesday is another example of an eating location that is expected to be open on the day of Thanksgiving. Just in case their salad bar sounds more appetizing than green bean casserole. They will be open for both dine-in and to-go orders. If Ruby Tuesday is more appealing than turkey Thursday call ahead to place your order or to make a reservation.
Buffalo Wild Wings many locations around the country will be open to enjoy some wings and turkey day football. Just make sure your neighborhood B-dub's will be open so you can enjoy a great meal, watch the Dallas Cowboys, and drink a pint.
IHOP is another great breakfast option! Most locations in the franchise are expected to be open. Thanksgiving morning might be the perfect time to stop by and enjoy the seasonal menu IHOP is offering with items like cranberry-vanilla pancakes or a frozen hot chocolate shake.
Bob Evans is open for breakfast lunch and dinner hours. They are serving traditional Thanksgiving meals and their all-day breakfast as well.
Denny's is one of those restaurants that are open every day of the year for their patrons. Come in and enjoy a Grand-Slam breakfast on Thanksgiving Day.
Sources: https://www.delish.com/food-news/g24227083/fast-food-open-on-thanksgiving/
https://www.countryliving.com/food-drinks/g4949/restaurants-open-thanksgiving/
25 Most Common Last Names in Indiana
Do you share the same last name as thousands of your fellow Hoosiers?
Forebears
looked at hundreds of names across the state and ranked them based on the number of people who have them. Take a look at the list below to see where (or if) your last name is on the list.