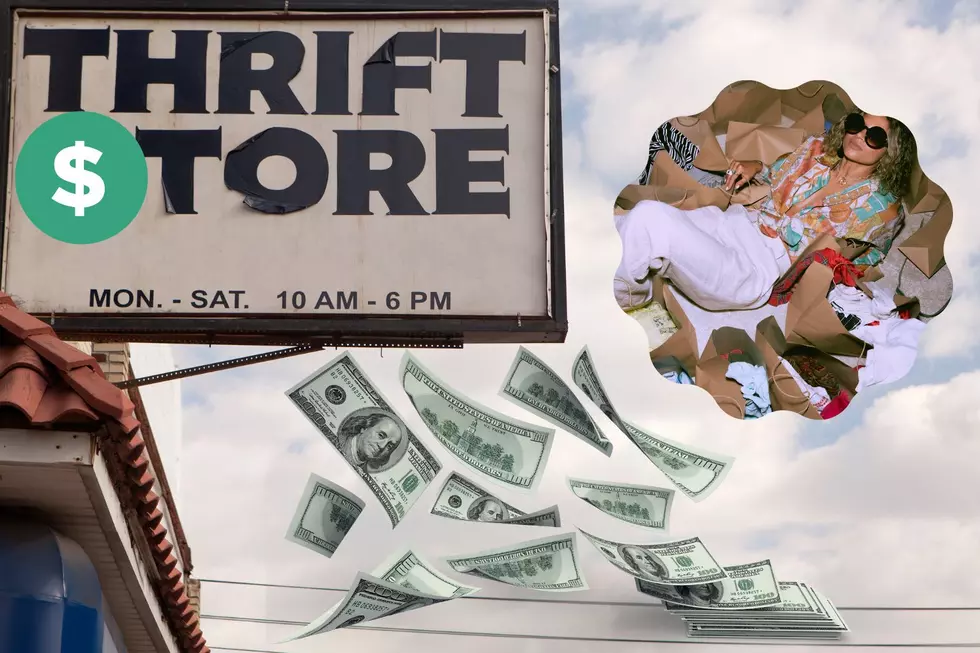 Celebrate National Thrift Store Day-Kentucky Thrift Store 10 Outfits Under $10 [PHOTOS]
CANVA
Happy National Thrift Store Day.  We're Celebrating by sharing 10 outfits for under $10 at a Kentucky Thrift Store.
SOME OF THE BEST THRIFT STORES AROUND
Owensboro has some of the best thrift ever.  In case you didn't know thrift and consignment are two different types of shops but I love them equally the same.  Thrift shops are basically donated goods that are used to make money and help charitable organizations.
BIG OLE' LIST OF THRIFT
THE COMMON GOOD COMMUNITY STORE
The Common Good Community Store is located inside Owensboro Christian Church.  They have clothing, shoes, accessories, furniture, school supplies, and so much more.  They even have summer wear right now and they are marked to sell!
The Common Good Community Store is run strictly by volunteers.  The store hours are Tuesday and Thursday each week from 9 a.m.-Noon.
NEW LIFE THRIFT 1920 W. 4TH STREET
I stumbled upon New Life a few years ago on a Saturday.  They are a thrift store, not a consignment, and run off donations.  A lot of donations come from the community and even some of our other consignment shops.  They use the money made to put it back into the community.
THE THRIFTY DOLLAR 501 CRABTREE AVENUE
The Thrifty Dollar is a sister store of New Life Thrift.  Everything is just $1.  Well, clothing and shoes are a dollar and there are other items that are reasonably priced.  You can find tons of super nice items.
FEED A FRIEND COMMUNITY THRIFT STORE
The Feed A Friend Community Thrift Store is one we just discovered about a month ago.  It is located near downtown Owensboro at 625 Allen Street.  They are open two days a week and the money made from the store goes directly back to the community meal prepared once a week.
All about Feed A Friend from Alan Veach;
Feed a Friend Community Dinner is a twice a week soup kitchen at the fellowship hall of Unity Fellowship UCC 625 Allen Street.  We serve at 5:30 on Wednesday and Friday.  Our doors open at 5:15 so people can come in find a seat, freshen up and get a cold glass of water.   While the main purpose of our thrift store is to help fund the community dinners and Veterans' Food Pantry (we do offer food boxes to vets and families w/ the proper documentation and at least a day's notice.) we do offer limited assistance w/ clothing for individuals.  However, there are certain requirements for those requesting items from the store.
ST. VINCENT DE PAUL THRIFT STORE
I recently shared the newest deals at Owensboro's St. Vincent De Paul Store.  Clothing prices used to depend on the type of clothing and whether or not they were adult or children's clothing.  Now, most clothing items are just $1-$2 depending on the type of item it is.
10 OUTFITS FOR UNDER $10
I decided to pay a visit to St. Vincent this week and see how many outfits I could piece together for under $10.  I didn't have a whole lot of time and in under 30 minutes, I found some really cute stuff.
Celebrate National Thrift Store Day-Kentucky Thrift Store 10 Outfits Under $10
Happy National Thrift Store Day. We're Celebrating by sharing 10 outfits for under $10 at a Kentucky Thrift Store.
FEED A FRIEND COMMUNITY THRIFT STORE HELPING THOSE IN NEED
Owensboro's Feed A Friend Community Meal and Thrift Store is located in downtown Owensboro and always looking for volunteers and folks wanting to give back to the community.