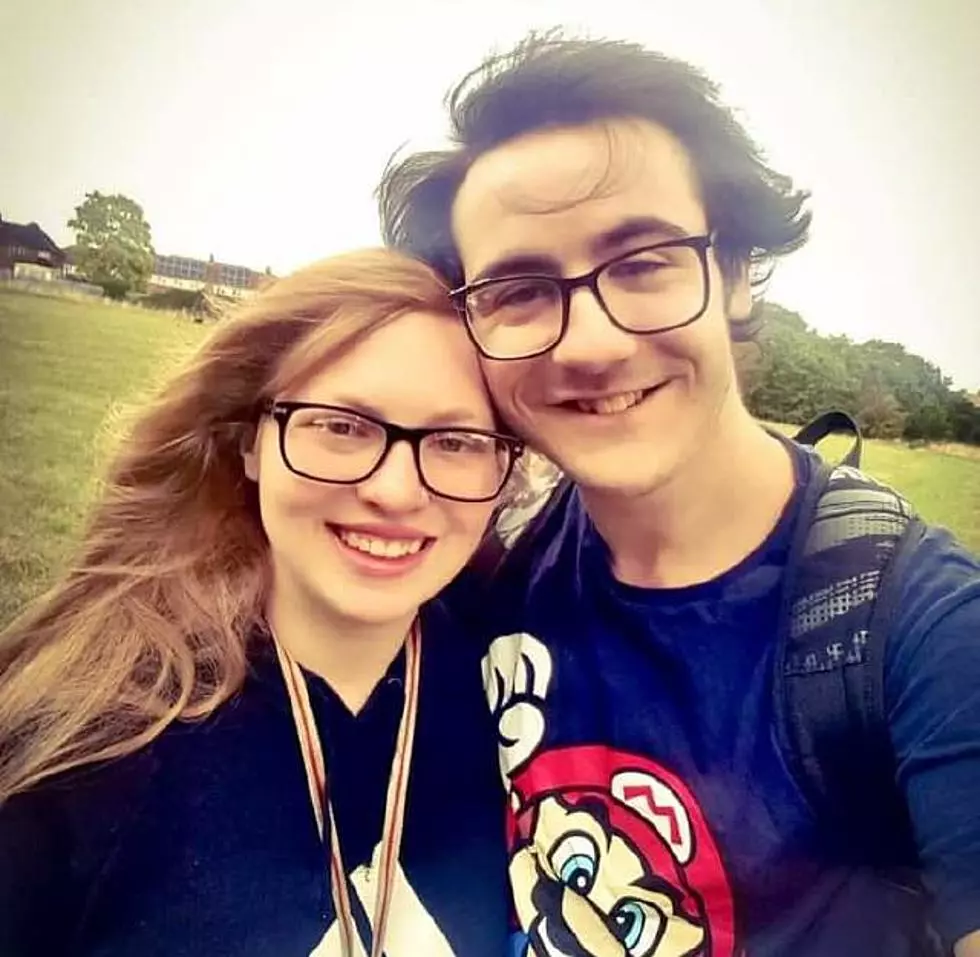 Kentucky Mom Creating a 'Welcome to America' Snack Basket for Daughter's British Boyfriend
Rosemary & Charlie
Nearly two years ago, we shared the story of an Owensboro teenager named Rosemary, who got stuck in England at the onset of the COVID-19 pandemic. Rosemary had traveled to the UK to meet Charlie.  The two met years and years ago through a game of Minecraft.  At the time, Rosemary was 10-years-old; Charlie was 13.
Over the next few years, that friendship blossomed into a long-distance, overseas romance and, in March of 2020, Rosemary flew to England to meet Charlie in person for the very first time. Little did she know, that first meeting would end up lasting half a year.  Because of COVID-19 travel restrictions, Rosemary was essentially stuck in England.
In September of 2020, Rosemary did finally make it back to the United States, but she didn't stay here very long.  She was missing Charlie. Charlie was missing her. And the two wanted to be reunited.  So, in November of 2020, Rosemary flew back to England and hasn't been home since.
This evening, that's going to change. Rosemary is flying home from England today and she's bringing Charlie with her.  The two have officially been a couple for a while now and they have talked about getting married. The only hitch? Charlie hasn't proposed because he wanted to wait until he could come to the United States to ask Rosemary's parents if he could request her hand in marriage.  How freaking sweet is that?
And how freaking sweet is this? Rosemary's mom, Kelly, wants to make sure Charlie is comfortable when he gets here and she wants him to get a true taste of the U.S. I mean, after all, we're the land of plenty, right?
So, she's assembling a "Welcome to America" snack basket!  She polled her Facebook friends and asked them this:
Hey, friends! I need your help! I'm making my daughter's British boyfriend an American themed snack basket. So, tell me, what would you contribute to the basket? (i.e. what is your favorite snack?)
As you can imagine, the responses have been pouring in. Here's what some of her friends have said so far.
I chatted with Kelly Monday and I made a suggestion too. I mean, is there anything more American, specifically southern, than the combo of RC and Moon Pies?
In addition to gathering up a bunch of American snack foods for Charlie's welcome basket, Kelly also hit up the Meijer on Hwy 54 and a Whole Foods and got some British snack foods that will give Charlie some of the comforts of home.
But the primary goal of the basket is to give Charlie a taste of some stuff they just don't have over there. As she explains, "We have a lot more junk food than they do."
Rosemary and Charlie are flying into Nashville Tuesday evening and Kelly will be there to pick them up.  When Charlie gets back to Owensboro he's going to be greeted by the big "Welcome to America" snack basket- that features his very own coffee mug.
And, fun fact, a newly painted living room at Kelly's house.  She said, "This is his first trip to America. I DEEP cleaned my house.  I even painted the living room.  I was going to paint the bathroom too, but I ran out of time!
Charlie's going to be in the U.S. for a couple of months and the plan is to eventually come back and stay. Of course, here in Kentucky, that means he's going to have add a few words to his vocabulary. Like this one!
How Many of These Kentucky Attractions Have You Visited?
Let's see how much you've traveled the Bluegrass State. Go through the list and see which attractions you've visited and which you still have on a "to-do" list. I need to get busy, too.