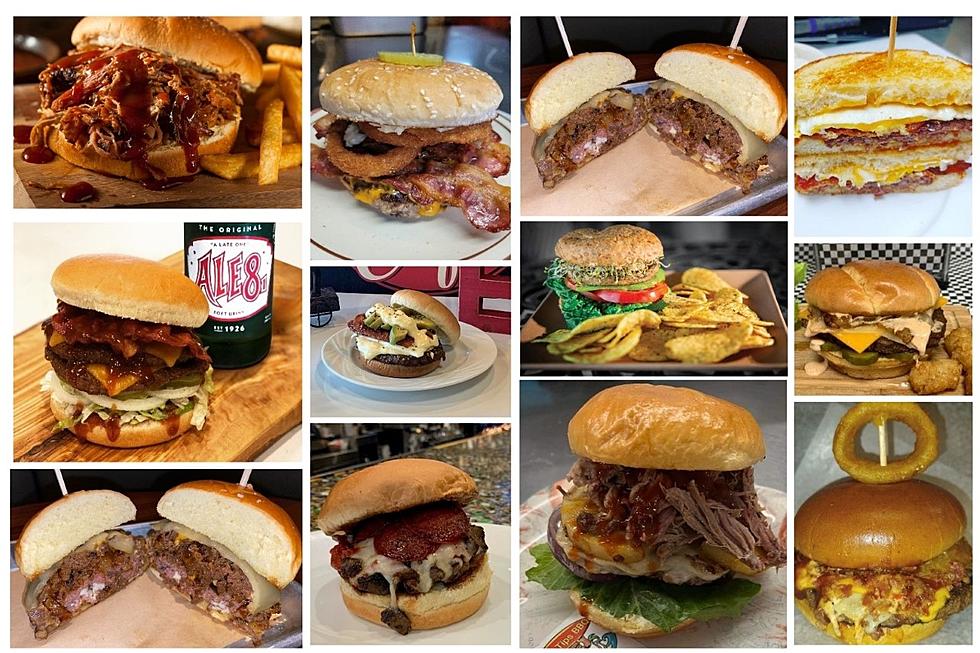 You Can Eat These Hamburgers and Win Prizes During Owensboro's Burger Week
Visit Owensboro
Owensboro's Burger Week is officially underway and the 2022 edition promises to be bigger, better and, yes, beefier!  Over 30 local restaurants have signed on to compete for the title of Owensboro's Best Burger.  By the end of the week, one of those restaurants will win the bragging rights.  But, there's a chance for YOU to win prizes as well.
Here's how it works!  Visit Owensboro is encouraging everyone who eats a $7 Burger Week burger to share a photo on social media.  If you share photos of you eating three or more of our Burger Week selections and you use the hashtag #OwensboroBurgerWeek, you could win one of two incredible prizes from our sponsors.
By the way, if you need some inspiration, take a look at these.  Here are some fun photos from last year's inaugural Burger Week.
Here's a familiar face. It's our buddy Ron Rhodes from Eyewitness News.  He posed for this pic at Wonder Whip, who finished in the Top 3 last year!
Here's my friend Denise!  She loved Burger Week last year and even compiled her own Top 4 list.  This photo is juicy and classic- just like a good burger!
And, I absolutely love this.  Local realtor Jason Bellamy got a jump start on the action this year.  Jason, who works for the Blake Hayden Group here in Owensboro, is doing what a lot of burger fans are doing.  He's been hard at work surveying the $7 burgers that are up for grabs and mapping his plan of attack.  I mean, THIS is commitment.
WBKR's Barb Birgy and her husband Chris spent a bunch of time Monday planning their week too.  They even rank-ordered their destinations.
I have to be honest.  Even though I am judging again this year and will already be eating my fair share of the burgers, Kevin and I plan to hit up a new restaurant each night to truly celebrate Burger Week!
By the way, if you want to do what Jason's doing, take a look at this.  Here are photos of all the special burgers being served up this year.
The Delicious $7 Burgers Featured in Owensboro's Burger Week 2022
Visit Owensboro just unveiled the 34 burgers set to compete in Owensboro's Burger Week, which is March 1st through 5th.
Now that you have seen the photos, we want to know . . .
And, remember, share photos of you eating at least three Burger Week burgers and use the #OwensboroBurgerWeek on social media and you'll be in the running to win some cool prizes.  1st Place wins a Mini Green Egg from Green River Appliance.  2nd Place wins a meat package from Hillview Farms Meats.
Owensboro Burger Week is presented by Visit Owensboro, the City of Owensboro, Independence Bank and the Kentucky Beef Council.