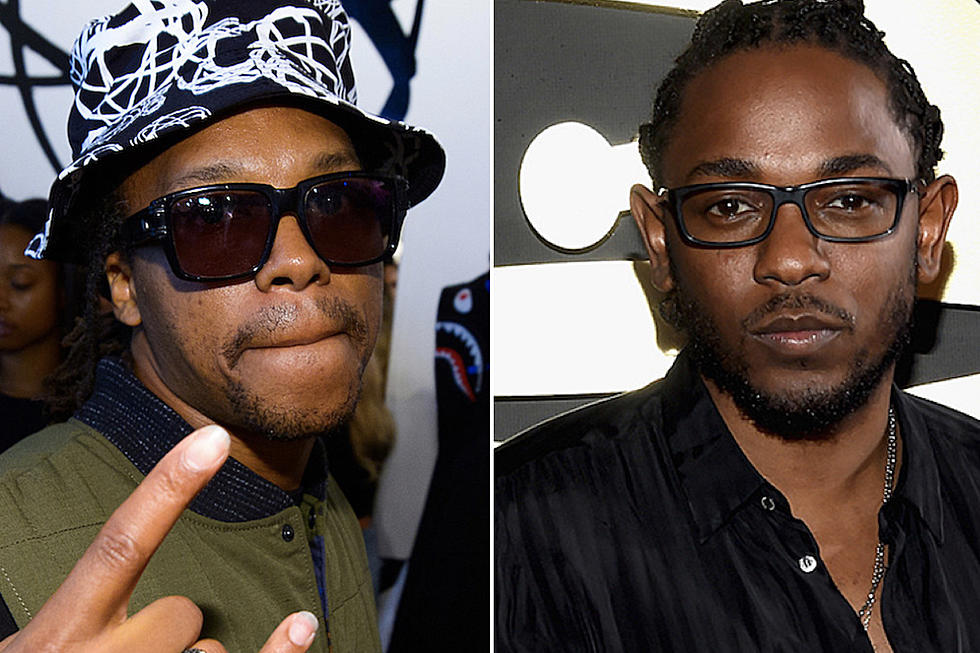 Lupe Fiasco Says Kendrick Lamar Is 'Not a Top Tier Lyricist'
Noel Vasquez / Larry Busacca, Getty Images
Lupe Fiasco has ignited a Twitter debate over Kendrick Lamar's lyrical abilities. On Saturday (Jan. 6), the Chicago rapper suggested that K.Dot lyrical skills were overrated.
In a series of tweets, which have now been deleted, Fiasco wrote that he didn't consider the Compton rapper as a top-tier lyricist.
"I'll put it to you like this. K. Dot is not a top tier lyricist to me and my standards when it comes to punchlines and bars," he reportedly tweeted, according to Consequence of Sound. "His overall lyrics are good, his stories phenomenal, but punchline entendre lyrically I don't see it."
Fiasco further elaborated when a fan chimed in and said that Lamar's "Look Out For Detox" song "destroys" all of his tracks.
"I've never been destroyed," wrote Fiasco. "Also the only issue that the world thinks I have with K. Dot and I actually do is that I think his 'Control' verse was wack and super overhyped to be a verse claiming you are the best rapper. It was very weird. I was told it was just bait, but still."
Fiasco's comments has sparked a debate on whether or not Lamar is a top lyricist in the rap game. The "Hip-Hop Saved My Life" creator has also been blocking attacks from people who think he's trolling.
On Sunday (Jan. 7), Fiasco went on his Twitter account to quell some of the hysteria over his remarks about Lamar. He tweeted:
As we previously reported, Fiasco accused Lamar of copying his artwork for his upcoming Drogas Wave album for his cover art for "All the Stars." In now since-deleted tweets, the Chicago rapper posted the two artworks for comparison. "Even I admit this is a little too close for comfort," he tweeted. "Damn now I guess I need a new album cover...thanx @theblackpanther."
Fiasco also claimed that he was into ninja and martial arts way before Kendrick introduced his Kung Fu Kenny alter ego.
25 Best Rap Albums of 2017