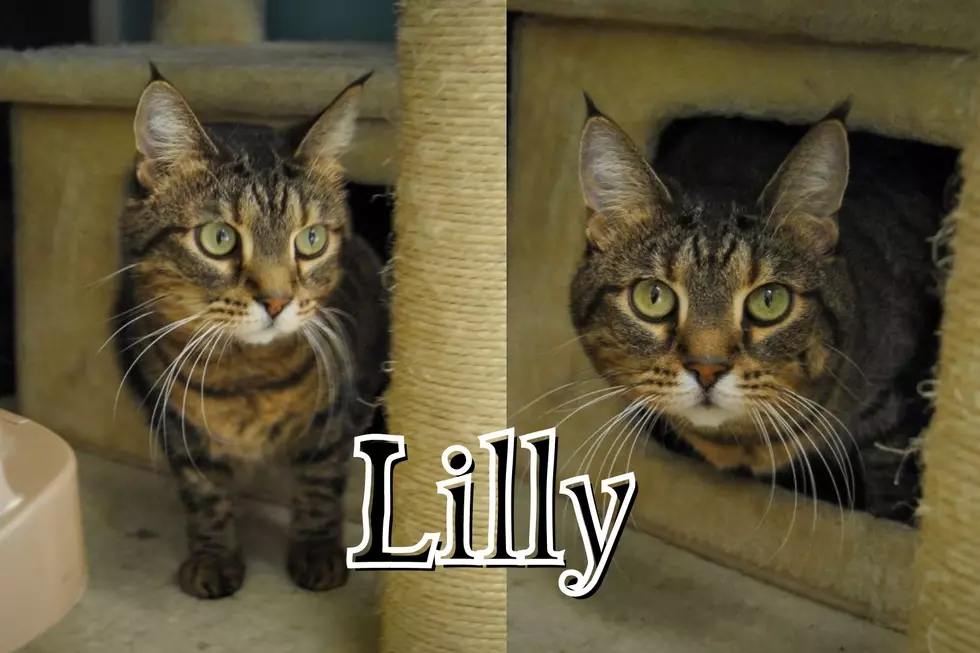 Lilly Looks Like a Mini Bobcat and is Adoptable in Newburgh IN
WHS canva
Every week, I look through the animals at Warrick Humane Society to see who I should feature. Today, I ran across Little Miss Lilly. Those adorable points on her ears popped right off the computer screen.
Meet Lilly
Lilly is housetrained and the director Lindsey told me that she's very scared at the shelter and needs a home soon. Lilly is seven years old and weighs just a little over 11 lbs. She would be happy with a family or a single person who is looking for a sweet companion.
Mini Bobcat or Maine Coon
Lilly is a domestic shorthair so though she is considered a feline like a Bobcat or Lynx, she probably got her little ear tufts from a closer relative that is a Maine Coon. In any event, she's just super cute all the way around.
How to Adopt Lilly
If you are interested in adopting Lilly, fill out an adoption application or stop in and visit her.
GET DIRECTIONS
Phone: (812) 858-1132
HOURS
Mon: Closed to the public
Tue: Closed to the public
Wed: 12:00PM - 4:00PM
Thu: 12:00PM - 7:00PM
Fri: 12:00PM - 4:00PM
Sat: 12:00PM - 4:00PM
Sun: 12:00PM - 4:00PM
MORE ADOPTABLE PETS AT WHS
More Happening at WHS
Fall Fundraiser
On Saturday, Sept 15, WHS supporters will be selling pumpkins with all proceeds going to the shelter! They will be set up in the parking lot of Living Word Christian Church located at 3888 HWY 261 in Newburgh (the old Buy-Low) from 9am - NOON. Awesome selection of small to large!
Low-Cost Vaccine Clinic
Do you have a dog or cat due for vaccines? The WHS is excited to announce that they received another grant from Walmart Giving to host a low-cost vaccination clinic open to the public on Tuesday, September 20. The clinic is from 11AM -2PM (or later if pets are still being seen). Registration begins at 10AM and ends at 1PM. Registration is limited to the first 50 dogs or cats, and registration for the clinic is first come, first serve.
Please expect a potentially long wait, and plan your day accordingly. They can only see domesticated dogs and cats. No feral animals. For the safety of your pet, all dogs MUST be on a leash and cats MUST be in a carrier to be seen.
Brews for WHS Rescues
Join Warrick Humane Society at Jennings Street Public House for Brews for WHS Rescues! 10% of all drink purchases will be donated to WHS. Well-behaved dogs are allowed on the patio, and minors are allowed in the grassy area by the picnic tables. Jennings Street Public house offers food for sale such as sandwiches and soft pretzels, or you may bring your own food. Brews for WHS Rescues is scheduled from 2PM - 7PM the last Saturday of each month May - October at Jennings Street Public House located at 300 W Jennings St. Newburgh, IN 47630.
Miles for Mutts
Join WHS on October 22nd for this year's annual
Miles for Mutts 5K benefiting Warrick Humane Society
! The race begins and ends at our shelter, with a 3.1 mile run/walk on the beautiful Warrick Trails. Overflow parking is located just east of us at 5622 Vann Road.
Well-behaved pets are welcome to join you! Registration includes a t-shirt and goodie bag.
7 Invasive Insects in Indiana You Should Kill Immediately If You See Them
In an effort to inform the public on the types of invasive species that are known to be found in their state, the USDA offers a "
Pest Tracker
" on their website, where you simply click the name of your state from the drop-down menu provided to see pictures of the different insects and weeds, along with descriptions of the type of plant life they target and the damage they can do if they're not dealt with.
15 Movies You May Not Have Known Take Place In Indiana
Just to be clear, these movies were not necessarily filmed in Indiana, although some were - all of these movies are set, or take place in Indiana.