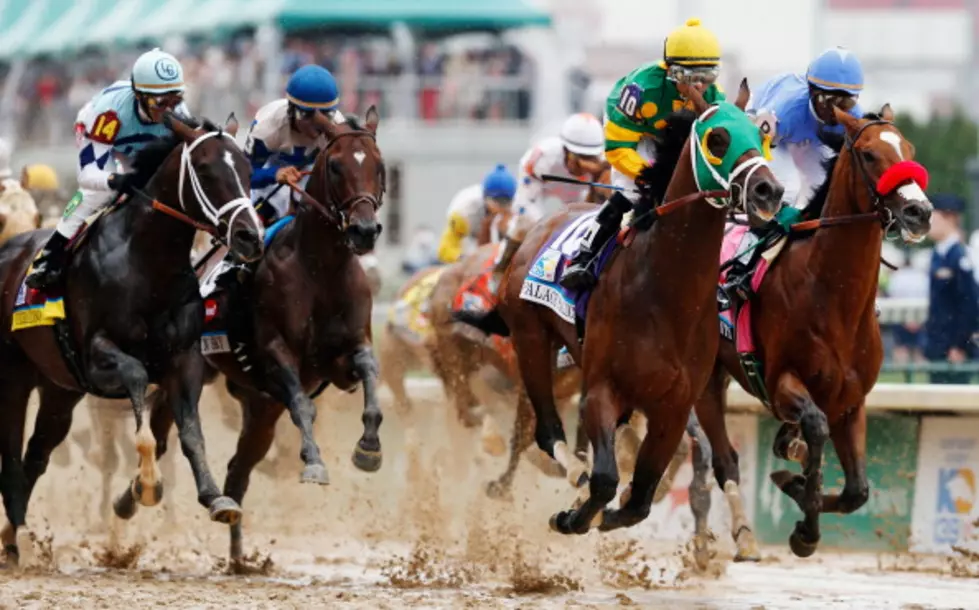 Online Name Generator Reveals Your Kentucky Derby Horse Name
(Photo by Rob Carr/Getty Images)
There's no shortage of crafty names in the sport of horse racing, and thanks to the Louisville Courier-Journal, now you can see what your name would be if you were a four-legged beast running in "the fastest two minutes in sports".
The 141st running of the Kentucky Derby will take place just under two hours east of Evansville at Churchill Downs in Louisville on Saturday afternoon with coverage beginning at 3:00 p.m. on 14 WFIE.
This year's field includes a few creative names such as American Pharoah, Firing Line Danzig Moon, and Ocho Ocho Ocho. How each trainer, owner, jockey, or whoever is responsible for naming their horse comes up with these wacky monikers, I don't know. Nor do I know why they don't give them a normal name like, "Steve", which I think would be hilarious to hear called by the race announcer — "And heeerrrreee they come, down the final stretch, Steve is on the inside rail, but coming up quick on the outside is Rick, while Paul brings up the rear!"
However they do it, I'm pretty sure they're not using the Horse Name Generator created by the Louisville Courier-Journal's website. It's a simple formula. Input the first letter of your first name and the date you were born, and the generator does the rest.
For example, I selected 'R' as my first initial, and 7 at my birth date since I was born on November 7th, and the the generator decided that my name, if I were a horse, would be "Gentleman Rebel" which sounds like I'm a lover with just a touch of fighter in me. Just for fun I input my wife and kids info and got "Dynamite Feather" for my wife, "Fiery Glory" for my son, and "Wildcat Julep" for my daughter.
If you have a few minutes to kill, or just don't feel like doing anything productive right this minute, jump over to the Courier-Journal website and give it a shot. Feel free to enter your results in the comments below so we can all have a good laugh.