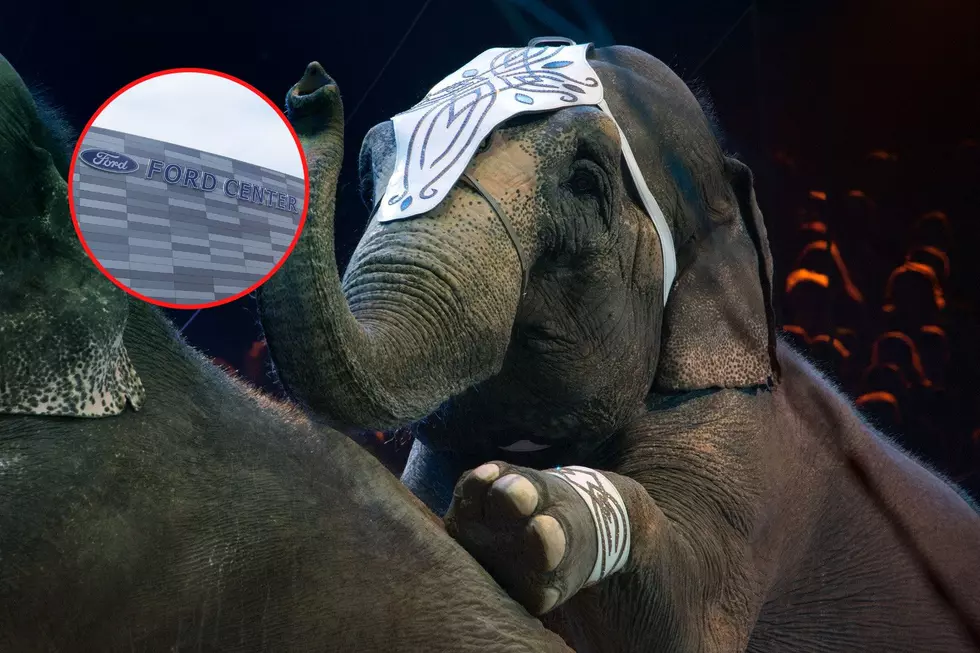 How Active Duty Military Members Can Get Free Tickets to the 2023 Hadi Shrine Circus in Evansville
Thinkstock / TSM / Canva
The Thanksgiving Weekend tradition will return to the Ford Center in downtown Evansville when the 89th Hadi Shrine Circus kicks off on Thanksgiving evening. As they've done for the past several years, the Shriners are saying thanks to all active duty members of the military by giving them the opportunity to take in a performance absolutely free.
The Growth of the Hadi Shrine Circus
The Circus has evolved into quite the spectacle since it first began in 1933 at the Evansville Coliseum on Court Street downtown. As you can see from the photo below from the Willard Library Archive, there wasn't a ton of floor space in the Coliseum compared to what the Ford Center provides, or Roberts Stadium before that. But they made it work.
Of course, the show back then likely didn't have the same types of acts today's version does. Elephants were part of the show and based on the four poles on either side of the ring, and the rope ladder seen on the left side of the photo, I'm guessing there was either a trapeze act, a high-wire act, or both. But even those classic acts have become bigger and more death-defying for today's audiences which require more space to execute.
2023 Hadi Shrine Circus Acts
This year's Circus will feature a few of those acts, but it will also feature several that people in 1936 likely would have never imagined. For example, Troupe Zola, known for their world record breaking human stacking and springboard acrobatics will be a part of this year's show, as will Bobo and Lucky who will defy death with daring jumps and flips on the appropriately named, "Wheel of Death."
This year's featured act is one you'll recognize if you're a regular viewer of America's Got Talent on NBC. Known as Deadly Games, husband and wife Alfredo and Anna Silva reached the semifinals of season 11 with their pulse-pounding, sweat-inducing knife-throwing act.
Free Tickets for Active Duty Military Members and Their Families
Tickets for any of the eight performances of the Hadi Shrine Circus are available now at the Hadi Shrine Ticket Office in the parking lot across from the Hadi Shrine Temple on the corner of Riverside Drive and Walnut Street in downtown Evansville. You can also purchase your tickets online through the Circus website.
However, if you're an active duty member of the military or the immediate family member of one who is currently deployed somewhere other than the Evansville area, the Shriners don't want your money. Instead, they want to thank you for your service by giving you as many tickets as you need for any one of the performances of this year's Circus.
To take them up on the offer, stop by the Hadi Temple on Wednesday, November 15th between 4:00 and 7:00 PM during our live broadcast and present your military ID. In the event you are one of the members stationed somewhere that isn't the Tri-State, an immediate family member, such as a spouse, can stop by and get tickets. All they'll need to do is present their government-issued military ID.
2023 Hadi Shrine Circus Schedule
This year's Circus will perform at the following dates and times:
Thanksgiving Day – 5:00 p.m.
Friday, November 24 – 9:30 a.m., 2:00 p.m., 7:00 p.m.
Saturday, November 25 – 9:30 a.m., 2:00 p.m., 7:00 p.m.
Sunday, November 26 – 3:00 p.m.
[Source: Hadi Shrine Circus]
Evansville Restaurants Open Thanksgiving Day 2023
Not everyone has the time or energy to cook an elaborate Thanksgiving meal. Others may just prefer to leave the cooking and the cleanup to someone else. Whatever the reason you choose to eat out on Thanksgiving, these Evansville restaurants will be open and ready to serve you.
Gallery Credit: Kat Mykals