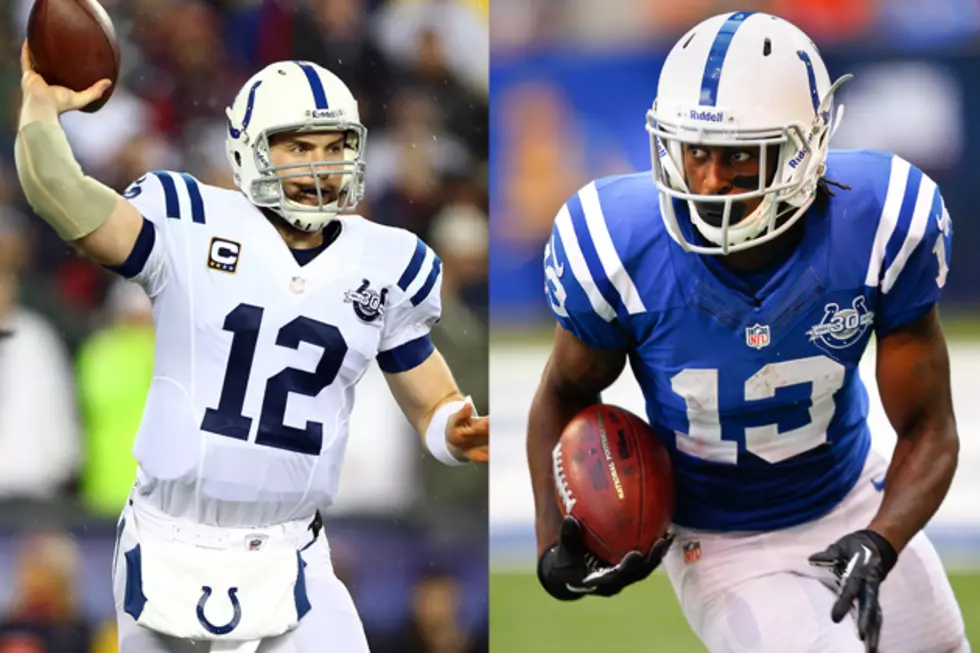 Indianapolis Colts Andrew Luck and T.Y. Hilton Competing for Madden NFL 15 Cover
(Getty Images / Elsa / Michael Hickey)
Your vote will help determine who graces the cover of the next installment of the hugely popular video game series.
On the field, they are a formidable offensive force that cause fits for defenses across the NFL. But for the next few weeks, Colts franchise quarterback, Andrew Luck, and one of his favorite targets, wide receiver T.Y. Hilton are competing against each other for the honor of being the next NFL star to adorn the cover of the 26th edition of the Madden NFL Football franchise.
Voting began last night in conjunction with the start of the annual NFL Draft on the ESPN website, and features 14 other stars competing for the honor including Seahawks defensive back, Richard Sherman, Panthers QB Cam Newton, and Saints tight end, Jimmy Graham.
Both Luck and Hilton have tough first round match ups with Luck taking on Eagles stud running back, LeSean McCoy, and Hilton up against Redskins running back, Alfred Morris. If both are to win, they will face each other in the second round which begins May 15th.
There is one caveat to appearing on the cover, and that is the famed "Madden Curse." You see more times than not, players who have appeared on the cover over the past 10-plus years have followed that appearance with sub-par performances the following season. So while it would be awesome for the Colts to be represented on the famed franchise, use caution before casting your vote. Unless your not a superstitious person, in that case, vote away!
Madden NFL 15 will be available for the Playstation 3, Playstation 4, X-Box 360, and X-Box One gaming consoles on August 26th.