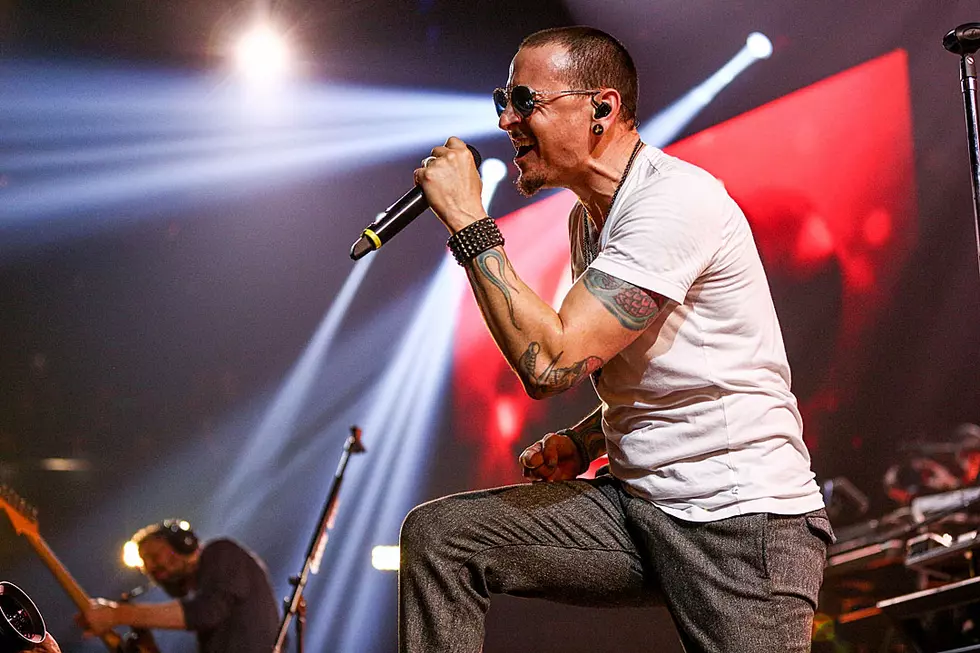 How Chester Bennington and LINKIN PARK Helped Me Through My First Break-Up
Rich Fury, Getty Images
Today as I was writing at my computer I received the devastating news that the lead singer from LINKIN PARK, Chester Bennington, had sadly passed away.  Currently, it's being reported that Chester committed suicide.  Tragically another beautiful musical mind has taken their lives and left us too soon.  Immediately after a wave of sadness washed over me and thus subsided I was poignantly reminded that it was Chester Bennington's powerful, emotional vocals along with LINKIN PARK that helped me through my first ever break up.
Yep.  It's true.  The year was 2005 and I'd met the most wonderful young man.  Bright, funny, quiet, and gorgeous with piercing blue eyes.  Unbelievably I was somewhat shy in those days regardless of my current personality.  Before I knew it, this young man had swept me off of my feet (as much as I hate to admit it still), and I embarked on my first high-school sweetheart romance at age 17.  Don't judge me!  I was a late bloomer.
Time went on and everything was perfect.  You know, the kind of perfect only teenagers can invent in their dumb love-struck minds.  Only a few months pass and we're in full blown young 'love'.  What I do still cherish even today about that relationship is the ease at which we could converse together.  We'd talk for hours and hours about anything and everything.  Music is and was my heart and soul.  He had an affinity for music as well, but not in the same way.  However, we'd share our favorite bands with one another frequently and allow for the rhythm and lyrics to stimulate our naive minds and conversations.  Of course, it took no time at all to find out that his favorite band was LINKIN PARK and mine, of course, I shared was Van Halen (Sammy Hagar ONLY! Thank you.).  Weeks wore on and then the day came.
One day out of the blue he broke up with me.  It was late fall/winter.  I wanted answers and an explanation.  He wouldn't say and continued to ignore me for over a week.  It was only natural that I would be completely devastated that my one true love and high school sweetie abandoned me.  (I was a little dramatic back then.)  So I did the only thing I knew how to do; resort to my music.
As a teenager I was a very dedicated vocalist, practicing up to four hours a day, five days a week, outside of the school's Honor's Choir class, rehearsals, and concerts. Thus, I did what any teenage girl does when their boyfriend breaks up with them.  I went to my room and blasted a little album called 'Hybrid Theory' by LINKIN PARK.   I then later ate lots of sweets and had a few late night cappuccinos at Denny's because that's just what you did back then.
During this time I realized I missed the simplest things and that's why I played his favorite band on repeat to remind me of those things; the laughs, the simple conversations, just enjoying sharing our passion for music together. As it turned out, after listening to the band thoroughly they became a favorite of mine.  The unique sounds, the lyrics, but most of all Chester Bennington's powerful and emotional delivery stuck with me.  To this day I remember almost all of the lyrics to 'Hybrid Theory', but it was Chester Bennington particularly that mesmerized me.  For weeks I'd head to my room after school and do my best to emulate Chester's powerful, screaming vocals, dumping my teenage angst and pain into the performance that was meant for no one. No one except for me.  Screaming the lyrics with Chester provided me an emotional outlet that I could thoroughly immerse my heart, soul, and pain into.
After a while, my ex-boyfriend divulged the reason for breaking up with me and it turned out to be something ridiculously out of left field.  I won't share it here because it's not really my reason to share, but none-the-less he asked if I'd be willing to take him back and of course, I obliged.
The relationship was solid for about a year after that and then rocky for a long while until it finally went down the drain in 2008.  While I'm the first to say we were not good for each other then, we both learned a great deal about life and love through one another and I wish him nothing but the best.

(The above photo was taken of us together by me on a disposable camera on the day we were moving in together. It's absolutely absurd and a miserable failure for a selfie. I was laughing so hard at something that I shook the camera and I look like a donkey. It was too funny not to share. Out of respect for his privacy, I have omitted his name and likeness/picture from this article. That is his arm/leg, though.)
Though the relationship ultimately ended, my love affair with LINKIN PARK and extreme admiration for Chester Bennington remained and still remains.  Had it not been for this one man's incredible voice I probably would have spent my time sulking about and crying, thinking I would never find love again and that my life was effectively over. Dumb teenage self!
I'm forever grateful for that experience in my life and grateful that LINKIN PARK's music was there for me in a time that I needed something to help me effectively cope.  I'm especially grateful for Chester Bennington's voice that allowed me to scream my little heart out, attempting to sing along with him in my heartbreak.
Even celebrities who we regard as icons and legends struggle with thoughts of suicide and the human condition.  Unfortunately, some of these individuals succumb to their thoughts, emotions, and pain just as many of us tragically end up doing.
If you or someone you know is struggling with emotional issues, mental health issues, depression, anxiety, or thoughts of suicide, PLEASE seek out help or encourage them to seek help.  I promise that there are people out there who will listen and be willing to help: a friend, a family member, a professional, therapist, counselor, neighbor, support group...  There are endless people walking among you struggling with the same things you are.
The National Suicide Prevention Hotline is available 24 hours a day, 7 days a week at 1-800-273-8255
Rest in peace Chester Bennington, father, husband, front-man, vocal God, and inspiration.  Thank you for giving me and your many millions of fans music that we can enjoy, find comfort in and relate to for generations to come.