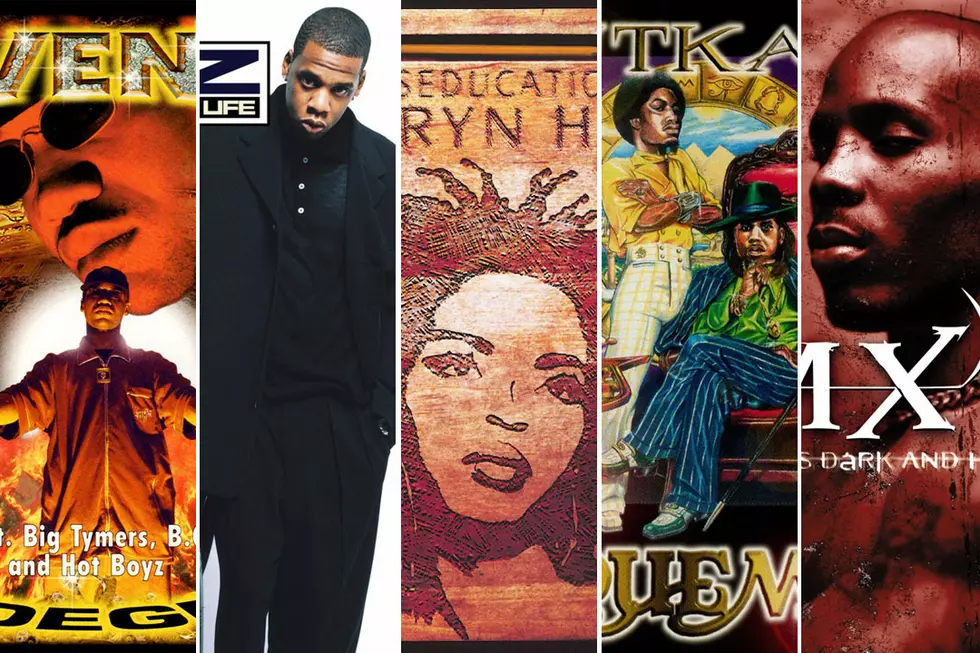 60 Hip-Hop Albums Turning 20 in 2018
Cash Money/S. Carter Enterprises/ LaFace
1998 was a progressive year for hip-hop. During the last half of 1996 and the beginning of the following year, the genre suffered tremendous losses from both coasts with the deaths of Tupac Shakur and The Notorious B.I.G., respectively, and with that came the end of an unneeded rivalry in the rap game as we know it.
Following the tragic years came rap's hugest turning point to date. Music from future legends sprouted from all across the board, as they debuted with classics and broke history with chart-topping numbers. After disbanding with The Fugees, Lauryn Hill's "Doo Wop (That Thing)" off her definitive solo album, The Miseducation of Lauryn Hill, became the tenth song to ever debut at No.1 on the Billboard Hot 100. The album—which held the Billboard 200 No. 1 spot for two weeks—went on to win five Grammy Awards the following year. Up until 2017, Lauryn was the only female rapper to have a solo single hold the title for as long as it did, until Cardi B's "Bodak Yellow (Money Moves)" held the historic spot for three weeks.
Then, of course, no one can forget 1998 was the year JAY-Z released Vol. 2... Hard Knock Life, a pivotal project for the mogul in the making. His lyricism, combined with a solid stack of songs still classified as anthems 'til this day, made for one of Hov's most ingenious pieces of work. "Hard Knock Life (Ghetto Anthem)," "Can I Get A…," and "Nigga What, Nigga Who (Originator 99)" all broke the Billboard Hot 100 chart, with the former two peaking in the Top 20 at No. 15 and No.19, respectively.
1998 was also the year hip-hop received OutKast's Aquemini, the album that solidified the Atlanta duo as some of the genre's best storytellers. With hits like "Rosa Parks," "Da Art of Storytellin'" parts one and two, as well as "SpottieOttieDopaliscious," Andre 3000 and Big Boi's third studio album is arguably their best.
These albums also housed singles that, in 2018, are still considered jams. Who can forget timeless cuts like Noreaga's "Superthug" off N.O.R.E, or Lil' Kim's verse on "Money, Power & Respect" on The Lox's album of the same name, which was considered one of the best hip-hop tracks of 1997?
Take a look at 60 of the year's best below.
See 60 Hip-Hop Albums Turning 20 in 2018