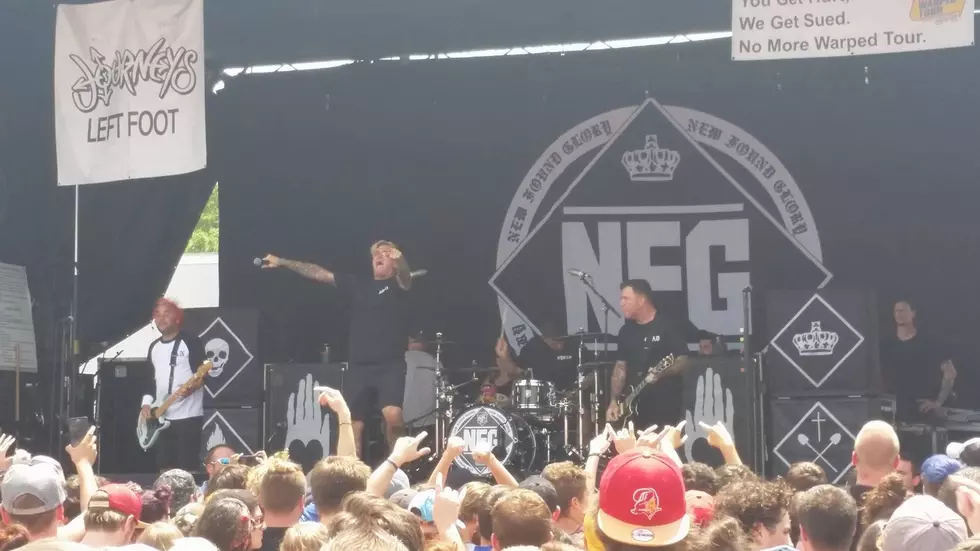 Gavin Went to the 2016 Vans Warped Tour! (Review)
Gavin Eddings
As a teenager in the early to mid-2000's, pop-punk was my favorite genre of music. To celebrate the Van's Warped Tour turning 21, the tour brought back the biggest acts ever to perform for an amazing day of rock goodness!
Below are some pics and a short review of the bands that I saw at the Noblesville, IN stop of the Warped Tour.
I made a point to see Yellowcard because they are breaking up after their new album in September and the subsequent farewell tour. They played a song from their upcoming album and a few hits from their 10+ year discography before pleasing the crowd with 4 songs from their breakthrough album Ocean Avenue. Sidenote: I ran into a friend while Yellowcard was performing. Due to the heat, she almost passed out so I got to flag a stranger down for water and help a girl from collapsing in a sea of people. Yellowcard will always have a place in my heart as "That band that was playing when I saved someone's life."
I've been a fan of New Found Glory since 2001 when I first saw them on a "First Looks" show on MTV and their song "Hit or Miss" was featured. I remember looking forward to each of their albums as they were released and was rarely disappointed by the band. This was definitely one of my favorite performances of the day and it's good to see the band still has the same energy 15 years later.
The Maine are a band that I've always enjoyed but didn't know it was The Maine. It's like when you put your Pandora on a station of another band and you keep hearing songs you like but are too lazy to see who the band is. The Maine is that band for me (also an ex was super into them so I enjoyed them by osmosis). Of the day, the band had the best stage presence and interaction with the crowd (aside from the lead singer of Atreyu giving me a high-five). I thoroughly enjoyed their set and would see them again.
As a 29 year old man, the sentence "I saw Good Charlotte live and was just as excited to seem as I would have been when I was 15," was a phrase I didn't think I'd type this year. But I totally geek'd out to seeing Good Charlotte live in 2016. Also, Joel favorited a tweet I made about being depressed back in May:
Sum 41 wrapped things up for the day and they were well worth the wait! The came out blasting with "The Hell Song" and didn't let up. The only downside to seeing Sum 41 was EVERYONE was there to watch them. Things got out of hand pretty quickly with 5 or 6 crowd surfers going at a time. It became less about enjoying the show and more about not getting kicked in the head by the guy Snapchatting his crowd surfing journey. Still, I got to see Sum 41 so getting demolished by a large individual being hoisted by the hands of people is a small price to pay.
Obviously, I saw a ton of other bands yesterday but these were the main bands that I had to see. If you get a chance to see Warped Tour this year, do it!