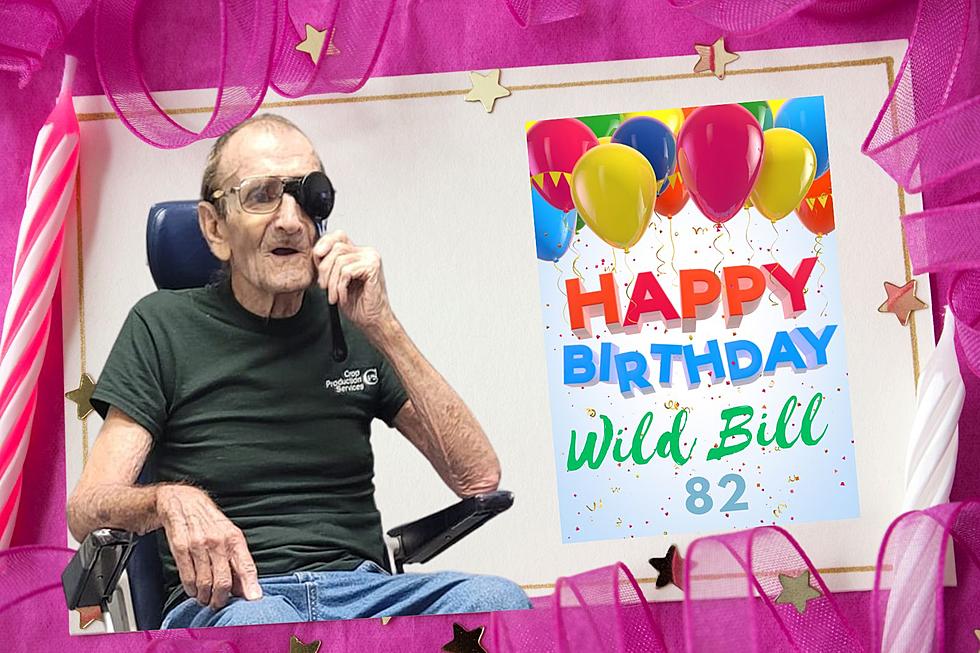 Friends Ask for Birthday Cards for Beloved Kentucky Army Veteran
Summer Lynn/CANVA
Army veteran Nolan "Wild Bill" Sadler has led a difficult life, so friends are requesting to help him celebrate his 82nd birthday with 82 birthday cards. Let's flood his mailbox!
HOW TO SEND BIRTHDAY CARDS TO WILD BILL
He was a Boilermaker/Pipefitter with TVA Shawnee for 43 years before things got rough for Wild Bill. He was living in deplorable conditions and needed a friend. That's when coworker Summer Lynn took him in. After working together for many years, she grew to love him like a Grandpa. With very little family by his side, she knew something needed to be done. He's been described as kind, gentle, and onery to the core.
"Most people know him as Wild Bill, for me he's my adopted Pappy! He goes to the mailbox every day looking for some kind of mail from his family. His birthday is September 24th. He will be 82. Y'all, I never ask for anything but if you feel it in your heart can you please send him a birthday card? I'm trying to get 82 cards for him, at least!", Summer shared on social media
My high school seniors are making him cards! - Katie Bartlett Pagan
Happy early birthday! We just put his cards in the mail today. - Onie Freeze Bowers
It's important to honor our veterans. Whether you attend a parade, spend time with a veteran, or learn about their service and sacrifice, there are many ways we all can become connected. You can connect with Wild Bill simply by mailing him a birthday card.
This is awesome! Albeit sad also! I'm a Steamfitter out of Local Union 110 Norfolk VA... I will be sending cards as well. - Ricky Johnston Jr.
Please wish Wild Bill a Happy Birthday from myself and Joe. We are in Canada on Vancouver Island and will send a card. Hopefully, it will arrive in time for his Birthday. - Denise Robertson-Smith
WHERE TO SEND BIRTHDAY CARDS & GIFTS
Nolan Wild Bill Sadler
6045 Woodville Rd
Kevil, KY 42053
I'll send that young man a card from Big Island, Hawaii. - Josh Miller
Summer also made this request: And if anyone knows a pipefitter, boilermaker, or someone still at TVA that I could acquire a shirt, hat, or coffee cup that would be awesome! I will pay for it. For 43 years that was his whole life! And he still talks about it!!
If you want to send a gift of warmth as we head into the cooler season, Summer shares his size. Wild Bill wears a medium shirt or sweatshirt. Large is okay too! He layers! He freezes! I have the air on and he has the heater on! Any color is OK!
So far the response has been overwhelming with birthday wishes coming from all over the country.
We are sending a card from the Oklahoma City area. - MelodySpears Frank Schell
My 1st grandson in the family is having his birthday party on September 23, he will be #1. His name is Nolan in New York. I will be sending your Nolan a birthday as well. - Tammy Hooley
I'm a steamfitter with LU464 in Omaha. Also, run a company signatory to local 83 boilermakers. We'll make sure Wild Bill gets hooked up with some gear for his birthday. - Schuyler Hewitt
We are indeed the "Land of the Free.....Because of the Brave". Brave men like this heroic veteran! This is a simple way to pay it forward. Happy birthday, and thank you for your service.
LOOK: 100 years of American military history