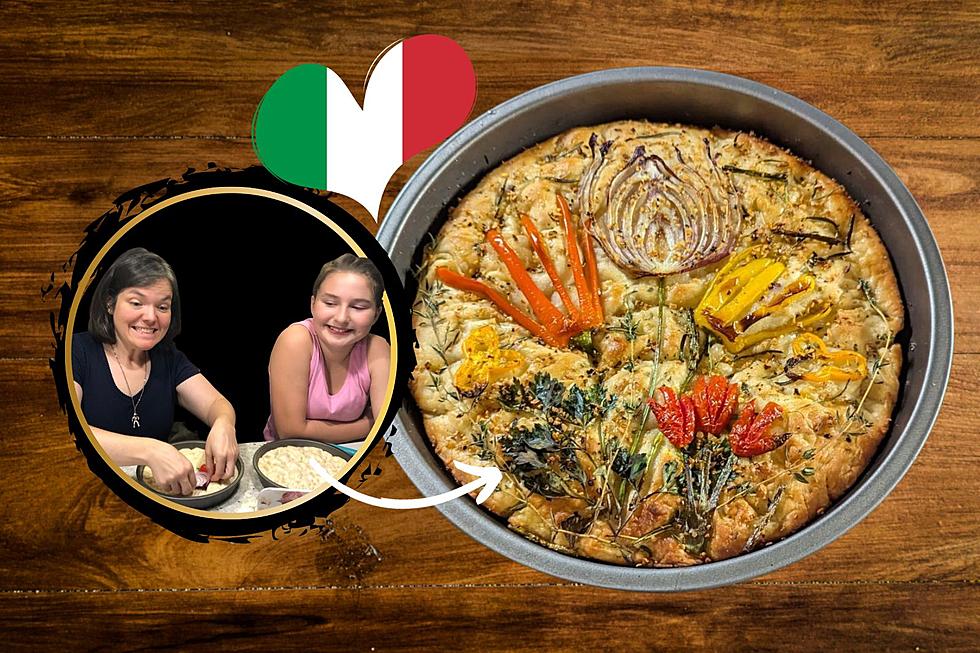 Friends and Focaccia: How We Turned Baking Bread into a Creative Masterpiece
ASHLEY S CANVA
Last Friday night, I got to celebrate my childhood best friend's birthday with her. We've been friends since 5th grade and I won't tell you how old we are now. Let's just say it has been a long time!
For her birthday, I wanted to do something fun and different. We try to get together every couple of months and hang out. We've done painting, seen movies, gone to dinner, and even gone to plays. But when I saw that a local kitchen store hosted a focaccia bread decorating class, I thought, we could totally do this. There were no open upcoming classes, so, I got to work researching.
I don't mean to brag but it was a smashing success.
According to Allrecipes,
Focaccia is a type of Italian bread made with yeast and a strong, high-gluten flour (like bread flour) and baked in flat sheet pans. Unlike pizza dough, it's left to rise after being rolled out before going in the oven. The use of olive oil (coating it thoroughly) is key with this bread, and after it's risen, fingertips are pressed into the dough from top to bottom, giving the bread its signature dimples and allowing that silky oil to pool in the indentations. From there it might be topped with coarse salt and herbs, vegetables, or even cheese before being baked in an extremely hot oven or hearth.
Day One
The Recipe
So my first task was to find an easy but really yummy recipe. I landed on this easy no-knead recipe from bonapitite.com. It was really easy but you have to start it the day before.
The Directions
I mixed a packet of yeast with  2½ cups lukewarm and 2 tsp of honey and let it get fizzy.
Then I mixed in five cups of flour until the got shaggy and started to form into a ball. I put a little olive oil on the dough and let it sit overnight in the fridge.
Day Two
Preheat/Let Rise
The next day when she came over, the first thing I did was briefly preheat my oven to 150 degrees. I only heated it for about 3-5 minutes so that it was warm.
Then we took the dough out and divided it into three pans. She and my daughter chose 8.5" round pans and I did an 8x8 square pan. We sprayed olive oil in the pans and then smeared them with a generous coating of butter. We smushed the dough to the sides of the pan (without beating it down too much) and covered each one with a cloth. We placed each pan into the warm oven and had dinner.
Decorating
After dinner, it was time to get the dough out and decorate. It had risen so this is the time you take your fingers and make little indentions in the dough and top with a little EVOO.
Here's what we had available to decorate the bread with:
Fresh Rosemary
Fresh Thyme
Fresh Parsley
Dried Herbs de Providence
Dried garlic
Fresh Bell Peppers
Canned Olives
Fresh Grape Tomatoes
Fresh Garlic
Fresh Red Onion
One of the things we learned is to make sure everything is dry and that you cut things into thin strips. Too much water on the dough can ruin it.
This is also the time to preheat your oven to 400 degrees.
You can decorate your bread any way you like. I did black-eyed susans. Katie did tulips. My daughter made a horse. Go wild! And don't worry about getting too much decoration on the bread. It shrinks.
After we decorated, we did a dusting of dried herbs and garlic, freshly ground sea salt and pepper.
Bake
Then we baked the bread for 25 minutes. I have a convection oven so make sure you check it for golden brownness. It might take you a little longer.
Enjoy!
It was wonderful! It tasted a lot like Pizza Hut crust. So delicious and it mopped up the butter and olive oil in the pan for a crispy rich crust.