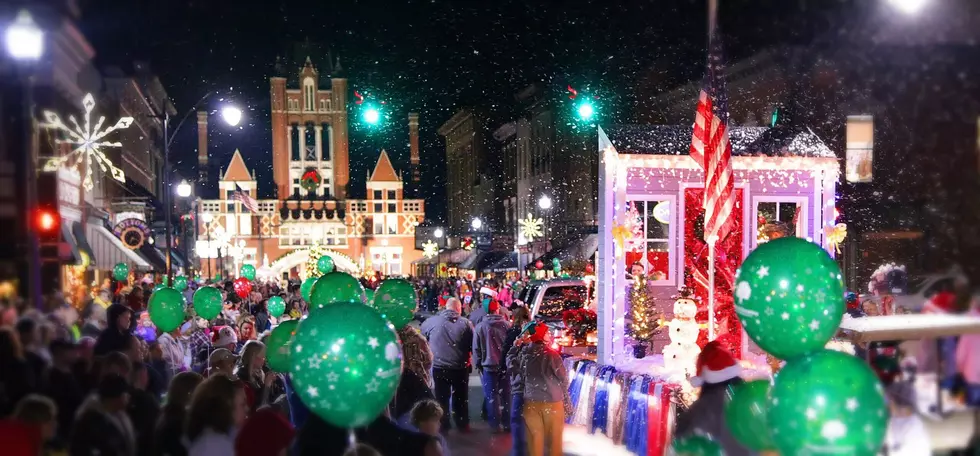 Experience Christmas Magic at these Quaint Kentucky Towns this Holiday Season
Visit Bardstown
Kentucky is famous for barbeque, bourbon, and bluegrass music, but what about towns to visit while on holiday break? Here are some top recommendations if you're looking to enjoy what country music group Alabama would call a "Christmas in Dixie."
Bardstown, Kentucky
Bardstown is an iconic city that turns into a Christmas village with each holiday season. Making for the perfect day trip from the tristate, being only one hour and 45 minutes away from Owensboro, these locations are some stops to make while in the area.
Christmas Meets Halloween: The ghost of Jacob Marley has been spotted in the mansion. He's been heard talking about An Old Kentucky Home Christmas Carol where you can see ghosts on Dec 3, 9, 10, 16 & 17. Tickets at MOKHshop.com.
Winter may very well be the best time to visit, a blanket of freshly fallen snow makes the Homeplace even more photogenic. Regular tour hours and ticket prices can be found on their website.
My Old Kentucky Dinner Train has a couple of different excursion experiences this holiday season for both Christmas and New Year's.
Christmas
You're invited to join in on an adventure on The North Pole Express! This is a 2-hour outing where you will join Santa and Mrs. Claus. Enjoy the treat of a three-course meal and hot cocoa while on board. There will be many activities and sing-a-longs during your journey to the North Pole, right here in the heart of Bluegrass country. Kids of all ages are welcome to come out and enjoy this Christmas-themed excursion.
New Year's Eve
The New Year's Eve celebration takes place on December 31st at 6 pm eastern time. This excursion is a 21 & up event and is 3 hours in length and will entail a gourmet 5- course meal, Champaign, and live music at the depot. Considered a semi-formal event, there will be a prize for the best dressed of the evening.
For more details on prices, excursion information, and to purchase tickets, visit their website.
A historic Kentucky landmark that has been open for tours for many generations offers up ways to enjoy the holiday season at the village.
Illuminated Evenings return for the 2022 Christmas season on Saturday, December 3rd. Take a step back in time to enjoy the Christmas of a bygone era and simpler times. This holiday event will include music, warm fires, and the twinkling of Christmas lights throughout the village. This will be a weekly occurrence on each Saturday during December from 4 to 7 pm.
Children's tea time with Mrs. Claus kicks off on Saturdays in December and has been a holiday favorite for years. There will be tea sandwiches, sweets, and apple cider. Mrs. Claus will be having story time for the kiddos as well. Tickets for this event sell out, so visit their website to secure this Christmas tradition for your child.
Franklin, Kentucky
Located just 30 minutes south of Bowling Green on I-65. The small and historic town transforms every year. Magically creating a winter wonderland to be enjoyed throughout the holiday season for locals and out-of-town guests alike. Here is an event program for the day.
Franklin has many shops and boutiques situated on the square, which presents a perfect opportunity for Christmas shopping. There are also some great antique stores in the area, such as Bright's Antique World located off exit 2 in Franklin.
On December 15, the BGWC is hosting its 28th annual Christmas Home Tour. Beautifully decorated homes (plus one business) will be on display for your enjoyment.
SEE MORE KENTUCKY AND INDIANA TRAVEL DESTINATIONS
Grand Rivers, Kentucky
In Grand Rivers, Kentucky Pattie's continues to be a highly loved year-round place to visit. Known for its downhome cooking, meringue pies, and unique shopping, Pattie's also offers a means for out-of-town guests to enjoy a long layover in the village. Visitors can stay at the hotel, the bed & breakfast, or on the campgrounds, all within just a few minutes' drive from the settlement.
Pattie's 1880s settlement is also famous for its Christmas lights, making it a great choice for a day trip or a weekend stay this time of year. Pattie's Festival of Lights was previously featured on the show The Great Christmas Light Fight on the ABC channel. Pattie's is a great family destination and a wonderful holiday experience. 
Dinner reservations must be made in advance, please visit their website for further details.
See Inside the Ark Encounter in Kentucky
If you've ever heard the story about Noah's Ark or read the book of Genesis, you probably wondered how Noah could fit all of the animals on the ark? Or, better yet, how did he feed and care for all of them?
The massive seven-story timber ark replica is full of amazing exhibits aimed at not only wowing its visitors but also serving as an educational experience that may answer questions surrounding the story of Noah's ark and the Flood. Visitors may even leave feeling inspired or thinking differently about this well-known Biblical account.
You can purchase tickets in advance for the Ark Encounter and the Creation Museum on their
website
. For the remainder of 2022, kids that are 10 and under recieve free admission. Also, be sure to check out their
hours
. If you plan to visit during evening hours, you will catch the ark completely lit up in rainbow LED lights.
See Inside the Kentucky Horse Park in Lexington, KY
This summer, we visited the Kentucky Horse Park in Lexington, KY, and we had an absolute blast. The world's only "Equine Theme Park" you can enjoy a horse-drawn trolley ride, meet world-champion horses, see horses "dance," and learn about all the ways horses have enriched the human experience throughout time. Here's a sneak peek in the park. Visit
kyhorsepark.com
for more info!