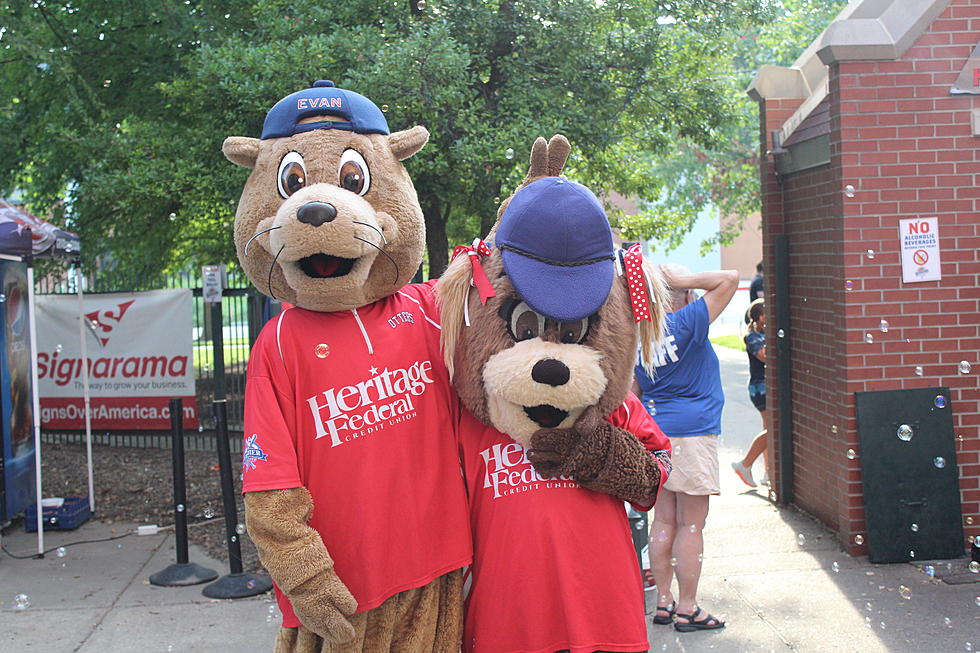 Evansville Otters Hosting Mascot Auditions for 2022 Season
Evansville Otters
It's easy to write off the mascot as an important part of any sporting event. They're often cartoonish in the way they look, and they're not on the field or court attempting to try and help their team win the game. While both are true, I'll argue a team's mascot is a very important part of any game. Sure, they can't score a goal, catch a touchdown pass, or hit a home run, but they do help keep fans engaged in the action by interacting with them either one-on-one or as a whole by firing off a few t-shirts from the always popular t-shirt cannon, performing some type of stunt, or just simply encouraging them to "make some noise" when their team finds themselves in a crucial position within the game. As the physical embodiment of the team's name, they literally serve as the team's ambassador to its fans. It's a role you or someone you know could take on this summer with the Evansville Otters.
Evansville Otters Mascot Auditions
Fun Fact: I served as Mater Dei High School's mascot, Willy the Wildcat for football and basketball games my senior year over 25 years ago, and it was a blast. The energy you feel getting the crowd hyped up or leading the infamous wave is pretty incredible.
The Otters are currently looking for individuals interested in working as the team's mascots, Eva and Evan Otter, for the upcoming season. Specifically, people who fit the following criteria:
Have a fun personality, connecting with fans of all ages
Be able to walk on their feet for considerable amounts of time between breaks
Properly take care of their health and stay hydrated during warm, summer months
When it comes to the last condition, I can tell you from my experience standing on a high school track during football games in August and September, you will sweat. A lot. Without getting too gross (and hopefully not turning you off from auditioning), there were some nights after games where it looked like I had just jumped in a pool. My air was wet and I had sweated so much, that it soaked through my clothes. If you land the gig, I highly recommend bringing a change of clothes for after the game.
What's going on inside every mascot costume. via GIPHY
The position is open to anyone 18 years of age or older, and while not required, the team strongly encourages, "any interested candidates with a height of 5'10" or slightly taller to especially audition, as the mascot costumes would be the perfect fit for you!"
How to Apply to be the Otters' Mascot
The team did not specify how many people will land the job, or a deadline to apply. However, with the season getting ready to start in May, if you're interested, you'll want to reach out to them sooner rather than later.
If you would like to audition, email bskinner@evansvilleotters.com and share a little about yourself. Resumes are encouraged but not necessary.
Bonus: Not only will you get to entertain fans throughout the season if you get the job, this would also be your office for the summer. Not a bad way to spend a few months if you ask me.
[Source: Evansville Otters]
Top Evansville Restaurants According to Yelp
Here's the Evansville restaurants that were rated highly on Yelp.
Evansville Area Ice Cream Shops
As the weather warms up, nothing sounds better than ice cream! Here's where to get your delicious sweet tooth fix in the Evansville area.
LOOK: MLB history from the year you were born
Stacker
compiled key moments from Major League Baseball's history over the past 100 years. Using a variety of sources from Major League Baseball (MLB) record books, the Baseball Hall of Fame, and audio and video from events, we've listed the iconic moments that shaped a sport and a nation. Read through to find out what happened in MLB history the year you were born.