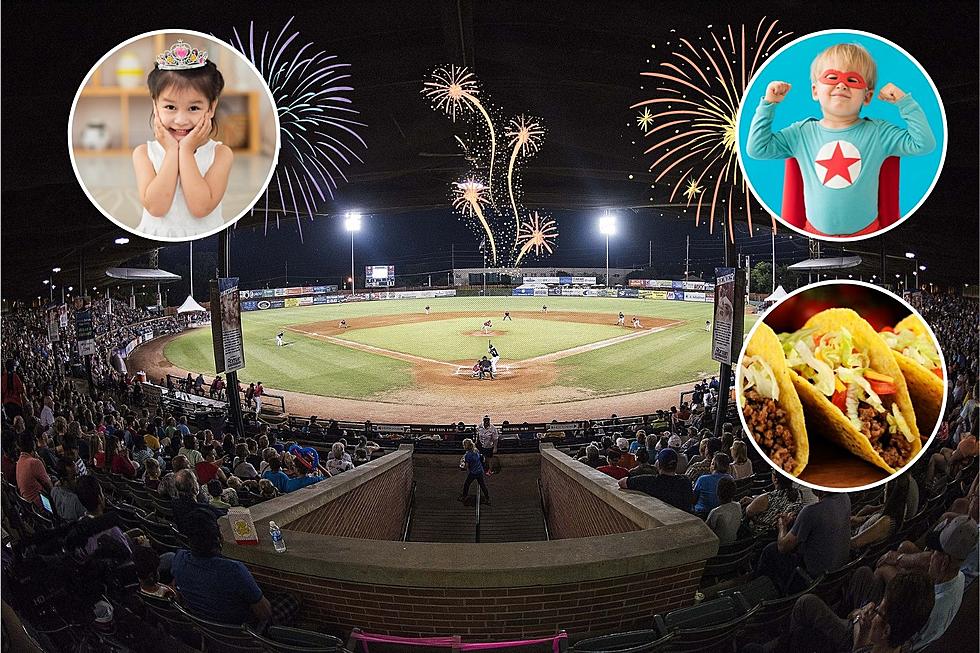 Tacos and Tiara's Among Highlights During the 2022 Evansville Otters Season
Alex Morgan Imaging / Canva
Temperatures are warming up and that means Spring is back in the Tri-State. Before you know it, Summer will be here and the Evansville Otters will be back at Bosse Field to make a run at another Frontier League Championship. As they do every year, the team offers far more than nine innings of baseball on any given night. They also like to sprinkle in fun theme nights throughout the season to enhance the gameday experience, and recently announced what they have planned for the 2022 season.
Evansville Otters 2022 Promotional Schedule
The idea of theme nights is nothing new. Teams from nearly every sport imaginable incorporate them into games throughout the season in an effort to draw more fans to the ballpark, arena, or stadium. Themes will often incorporate current pop culture trends, or be centered around bringing awareness and raising funds for a specific cause.
According to a press release from the team announcing this year's schedule, all 51 home games will feature some type of theme. Some will repeat at multiple games throughout the season, while others will be one-time-only events. Let's take a look at a few of those nights to find out what the team has in store.
Dog Days of Summer
What: Why should we humans have all the fun? Let your dog enjoy a day at the ballpark too during the team's "Dog Days of Summer." On these days, your four-legged family member will be allowed in the ballpark to enjoy the game with you. Plus, the team will offer a special price on hot dogs at the concession stands.
When: The promotion will take place on the following nine Sundays; May 15th, May 22, June 12, June 19, July 10, July 17, July 31, Aug. 7, and Aug. 28.
Taco Tuesdays
What: What's better than a day or night at the ballpark with an ice-cold beer in your hand while you watch the game? A day or night at the ballpark with an ice-cold beer in one hand and a taco in the other while you watch the game. Taco Tuesdays will not only feature tacos at the concession stands but discounted prices on popular Mexican beers, as well as nachos and frozen margaritas. "¡Viva Baseball!"
When: The promotion will happen over the course of the following eight Tuesdays; May 17th, May 31, June 7, June 28, July 5, July 26, Aug. 16, and Aug. 23.
Superhero Night
What: Fun fact I completely made up just now: When not putting bad guys in their place and keeping the world safe from alien invasions, superheroes like to relax by taking in a baseball game. The slower pace of the game is a welcome break from the fast-paced life of fighting evil. Kids are welcome to enjoy the game dressed as their favorite superhero, and superhero music will be featured throughout the game.
When: Saturday, May 21st
Princess Night
What: Princesses can like baseball too. It's not all fancy gowns and tiaras. Kids are encouraged to dress up as princesses or princes, and a few "fan-favorite" princesses will be in attendance for the kids to meet and take pictures with.
When: Saturday, June 11th
Fireworks, Fireworks, Fireworks!
What: The fan-favorite fireworks shows will return once again during the 2022 season and will take place following selected games.
When: Thursday, June 30th and Saturday, July 9th
Other Theme Nights
That's just a few of the theme night highlights the team has planned. Others include Star Wars Night, College Night, and Girls Night Out to name a few. You can see the complete theme night schedule on the team's website.
Evansville Area Ice Cream Shops
As the weather warms up, nothing sounds better than ice cream! Here's where to get your delicious sweet tooth fix in the Evansville area.
Your Evansville Guide to Locally Owned Pizza
There's many places to grab a delicious pizza in Evansville, here's where you can grab a 'za from a locally owned shop!
Top Evansville Restaurants According to Yelp
Here's the Evansville restaurants that were rated highly on Yelp.