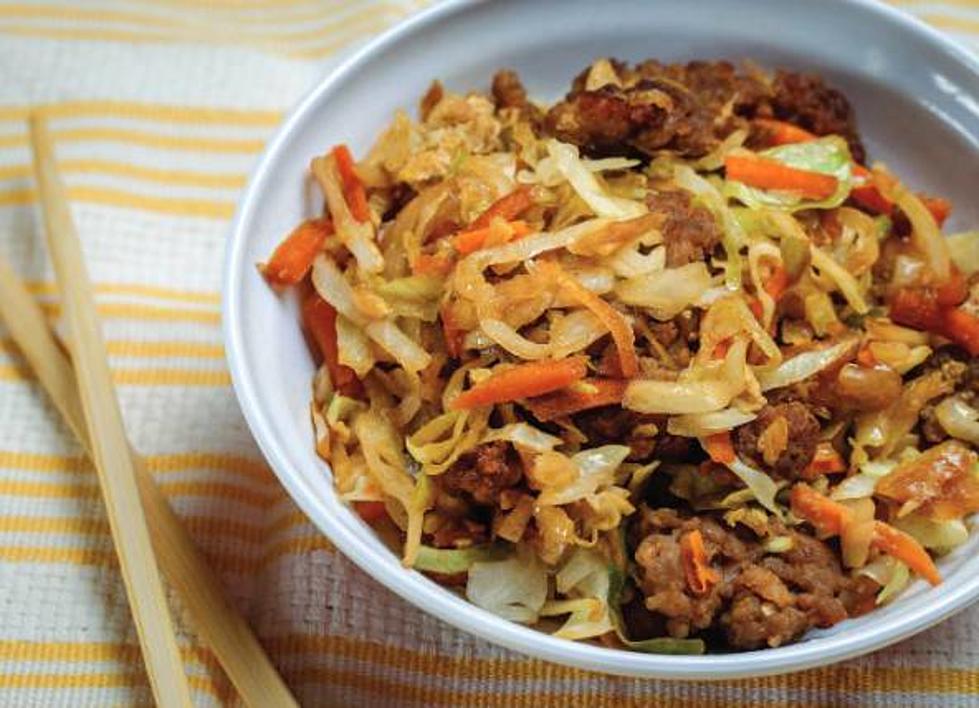 If You Love Chinese Food, You're Going to Love This Eggroll in a Bowl
UK Cooperative Extension
I absolutely love Asian cuisine.  Anytime I head over to Hong Kong (over by Kroger on Starlite Drive here in Owensboro), I always order an extra egg roll.  I think they're delicious.
So, today on our What's Cookin'? segment, our friend Kelly Bland, from the UK Cooperative Extension Office, is sharing a really unique twist on that classic Asian favorite. This recipe essentially takes away the "roll" and puts it all in a bowl.
Here's how to make it!
EGGROLL IN A BOWL
1 tablespoon oil
1 pound ground turkey or pork
2 teaspoons garlic powder
1 teaspoon ground ginger
1/4 cup low-sodium soy sauce
1 bag coleslaw mix (with carrots)
1 whole egg
DIRECTIONS:
Wash hands with warm water and soap, scrubbing for at least 20 seconds.
Heat oil in a large skillet over medium heat.
Add the ground meat to the skillet and break it up until it is cooked through and has reached an internal temperature of 165 degrees F on a food thermometer. Drain any fat from the meat.
Add garlic, ginger, and soy sauce to the meat, and stir to combine.
Add coleslaw mix to the cooked meat. Cook until vegetables are tender.
Push mixture in the skillet to make a hole. Crack the egg in the open area, and scramble it until it is cooked through.
Stir all ingredients together and serve.
Store leftovers in the refrigerator within 2 hours.
Of course, Kelly joins us on What's Cookin'? the fourth Monday of each month. Each time she does, she fulfills the UK Cooperative Extension Office's mission- which is to provide families easy, cost-effective recipes that will feed a lot of mouths in a healthy way.
Each time Kelly shares a recipe with us, we like to share with you the cost breakdown.  This Eggroll in a Bowl recipe makes six servings.  The total cost of the ingredients for the recipe is estimated at $6.99.  That makes the cost per serving just $1.17.
LOOK: Here are copycat recipes from 20 of the most popular fast food restaurants in America
KEEP READING: 3-ingredient recipes you can make right now