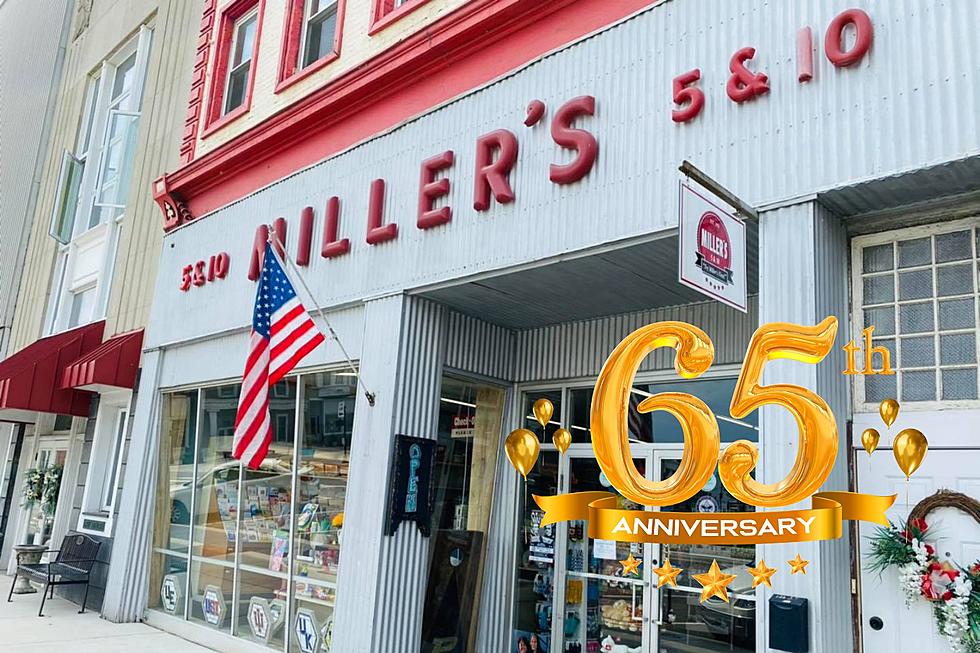 Boonville, IN Store Hosting 65th Anniversary Celebration
Miller's 5 & 10 Facebook/Canva
Since 1958, the town of Boonville has enjoyed shopping at Miller's 5 & 10, and this year they will be hosting their 65th Anniversary Celebration.
Miller's 5 & 10 has been a staple in my hometown of Boonville, Indiana for 65 years now. It continues to be a favorite shop for my family, as we regularly go there to get some of their delicious bottled sodas and other nick snacks. The kids love going there. It's their weekly highlight that they do with their mom after school. The store itself has been offering great service and products for generations in Warrick County to enjoy. Everything from snacks, and drinks to seasonal home decor and toys. This store has so much to offer the community, and if you have never been before, you are missing out.
The History of Miller's 5 & 10
According to their website, here is a brief history of this popular Boonville store:
Miller's 5 & 10 was founded in 1958 by Leonard H. Miller and his son James W. (Jim "5 & 10") Miller, Sr. Leonard had vast experience in the retail business in his home state of Ohio and managing retail outlets in various locations in Southern Indiana. After graduating from Indiana University and serving in the United States Marine Corps, Jim, Sr. returned to his hometown to work in the retail world. He started with S.S. Kresge, but both he and his father soon put a plan in motion that culminated in the opening of Miller's 5 & 10.
Miller's Five and Dime strives to be your old fashioned shopping experience, specializing in hard to find items and other products that you don't see everywhere.  Our departments range from hardware to toys, so you can always find something you need at Miller's.
Miller's 5 & 10 is currently owned and operated by Jim Sr's. grandson and wife, J.D.  and Jenny Campbell, and his children Gale Campbell and Jim Jr. making this the fourth generation of a tradition in shopping.
Miller's 5 & 10 65th Anniversary Celebration
In honor of the store's 65th anniversary, Miller's 5 & 10 will be hosting a celebration event on Saturday, March 18th, from 9 a.m. until 4 p.m. at the store located on the Square in Boonville. The celebration will include:
Cake cutting and refreshments at noon
Free balloon animals for kids happening 11-1
Custom Miller's bags with every purchase
Several giveaways
and shopping, of course
So don't miss out on this historic event in Boonville. It will surely be something that everyone in the community will enjoy. Not only that, but it's shopping local!
15 of the Most Beautiful County Courthouses in Indiana
There are a total of 92 county courthouses in the state of Indiana. I have determined (it's just my opinion) that these 15 are the most beautiful. There is no way I could or would rank them, so here they are in alphabetical order.
15 Things You'll Find in Every Southern Indiana Grandma's House
Whether you call her Grandma, Memaw, Nana, or something else you know that there are some things that they all have in common. The items you'll find in your grandma's house never seem to age, they are just always there. If your nana isn't around anymore, these photos will definitely bring back some memories for you.
25 Most Common Last Names in Indiana
Do you share the same last name as thousands of your fellow Hoosiers?
Forebears
looked at hundreds of names across the state and ranked them based on the number of people who have them. Take a look at the list below to see where (or if) your last name is on the list.