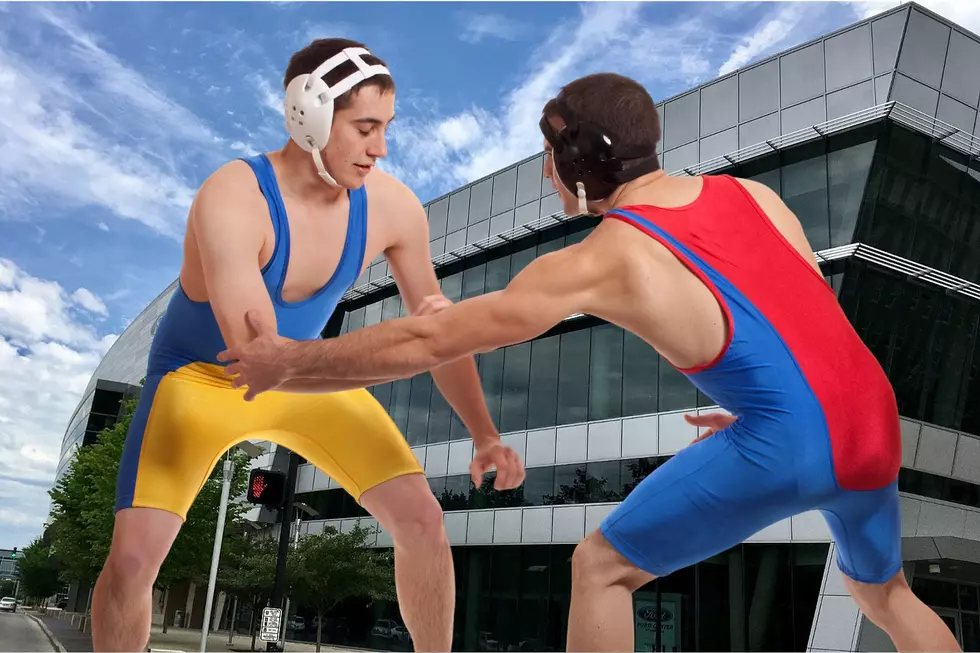 Could the 2024 Indiana High School Wrestling State Finals Be Held in Evansville?
Townsquare Media Evansville / Canva
High School wrestling isn't just a sport in the Evansville area, it is a lifestyle. Many students who wrestle for area schools usually aren't the first in their families to do so. They either had a parent, older siblings, cousins, or uncles precede them on the mat at some point in time. For those in our area good enough to advance to the state finals in 2024, it's possible they won't have to travel to Indianapolis to compete for the gold.
Evansville May Be Considered to Host 2024 IHSAA State Wrestling Finals
With the exception of the 1985 finals that were pushed back a week and hosted in New Castle due to a snowstorm, the IHSAA State Wrestling Finals have always been held in Indianapolis, which makes sense for a number of reasons. 1) It's the state capital. 2) It's the largest city in the state. And 3), its central location makes it at most a three-hour drive for anyone in the state. However, it's possible that may not be the case next year thanks to a scheduling conflict with the NBA.
Like the NFL does with the Super Bowl, the NBA selects a neutral site to host its annual All-Star game. That honor falls on Gainbridge Fieldhouse in Indianapolis in 2024 which is also the site for the wrestling state finals. The All-Star game is scheduled to be played on Sunday, February 18th, and is the final event of the league's "All-Star Weekend." It is preceded by two days of activities that include the popular Slam Dunk and 3-Point Contests along with media day and the all-star celebrity game which will happen on February 16th and 17th. Guess what two days the 2024 state wrestling finals are scheduled for.
In a recent interview with Kyle Neddenriep of the Indy Star, former Central High School and EVSC Athletic Director, Paul Neidig, who took over as the IHSAA Commissioner in August of 2020, said the association is looking at all options when it comes to how to pull off next year's tournament. He said it is the understanding of the Association that Lucas Oil Stadium is unavailable that weekend and colleges around the area will likely not be available either due to basketball season. When Neddenriep asked if moving it to another city like Fort Wayne or Evansville was one of those options, Neidig replied, "Everything is on the table."
While it is entirely possible next year's tournament will stay in the Indianapolis region, Neidig said he wants people to understand that the IHSAA may determine they have no other choice but to move the tournament and specifically mentioned that the Ford Center could be where it lands.
In terms of size, the Ford Center has a seating capacity of 10,000. That's half of the capacity of Gainbridge. However, the venue is the logical choice since it's the only one in the city designed to host sporting events like this.
As a graduate of Mater Dei, which is known across Indiana for having one of the best wrestling programs in the state, I've seen how much work wrestlers put in during the season. Even though I never wrestled, I have several friends who did with a number of them making it to the state finals in their weight class on more than one occasion.
While I imagine there is something special about making the trip to Indy to compete for a state title, I also imagine that if the finals make their way here next year, it might make victory that much sweeter for area wrestlers who get the chance to prove themselves as the best in the state in their weight class.
Check out the rest of Paul Neidig's conversation with Kyle Neddenriep on the Indy Star website.
[Source: Kyle Neddenriep, Indy Star]
30 Bizarre (and Real) Indiana High School Mascots
According to
High School.com
, there are 682 high schools in Indiana. 555 of those are public schools, while the remaining 127 are private. A majority of those schools have chosen typical mascots to represent them, like eagles, tigers, lions, jets, patriots, and so on and so forth. But, these 30 schools decided to go, well, a different direction.