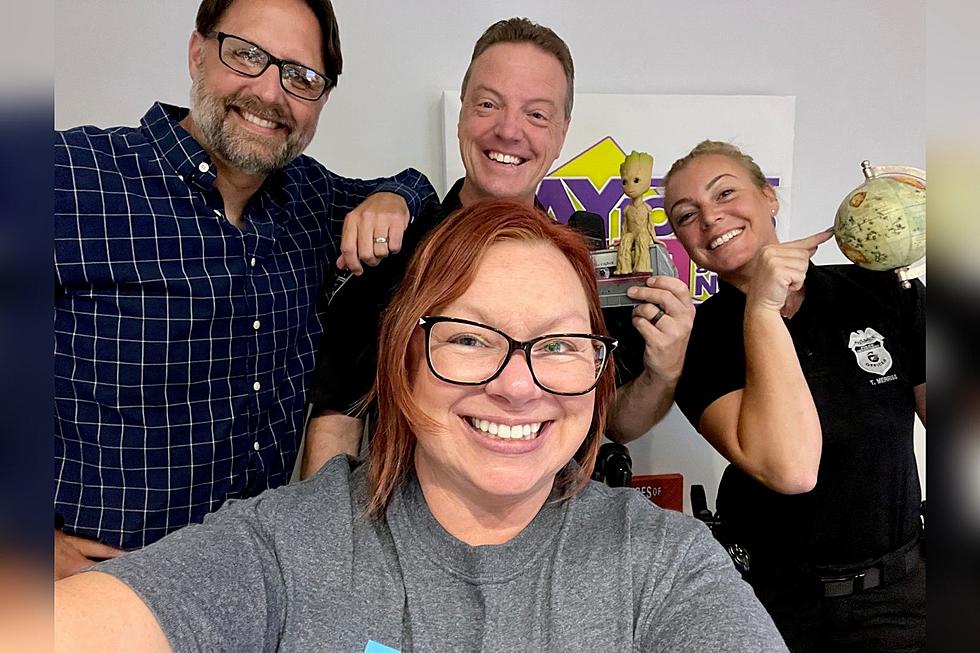 2021 National Night Out – New Location, Same Great Community Event [Video]
L-R: Bobby, Officer Krogman, Liberty, Officer Merriss
It's been a full two years since we've had a chance to attend Evansville's National Night Out - but now we're less than a week away and ain't nothing gonna stop us now. The 2021 National Night Out is coming up on Tuesday, August 3rd from 6pm-8:30pm. Now, for the past several years this event was held at Wesselman Park, but we've also had some problems with the weather in the past - so this year it's being moved to the C.K. Newsome Center on Walnut Street. Now Mother Nature can do as she pleases and it won't affect us at all.
What Is National Night Out?
According to natw.org, National Night Out is "an annual community-building campaign that promotes police-community partnerships and neighborhood camaraderie." Here in Evansville, though, it's not limited to just cops - our event includes firefighters and other first responders and all the cool things they have to offer.
When the EPD's Taylor Merriss (Special Projects Coordinator) stopped by for our weekly edition of You Down With EPD?, she brought with her an old friend of the MY Morning Show, EPD Officer Eric Krogman. They gave us the lowdown on everything that's happening at our National Night Out - all of which, by the way, is 100% FREE. Watch the video below.
EPD's Walking Wednesday
The Evansville Police Department has started a new thing in the last couple of weeks called Walking Wednesday. It's a pretty simple concept, really - ditch the cruiser and walk a beat like they use to back in the day. A group of officers will visit different neighborhoods and just walk around for a bit, meeting and greeting anyone who might happen to be out. The response so far has been pretty amazing, and Eric and Taylor tell more about that too in this video.
Unbeknownst to me, there is also some 'bonus' footage, which includes a brief discussion about my hair. I assumed Liberty was going to edit that out. I was wrong. Haha!
25 Hidden Evansville Secrets That May Blow Your Mind
An Evansville resident recently posted a question in the "I Grew Up in Evansville, Indiana"
Facebook group
asking other members to share any hidden or little-known facts about our city not many residents would know. The answers were wide-ranging, covering everything from our manufacturing history to our place in Civil War, to a couple of popular landmarks still standing today that were the first in the entire state of Indiana. No matter how long you've lived here, chances are there will be a few things on this list you didn't know about the city we call home.
Evansville Police and Animal Control Rescue Ducklings from Lloyd Expressway Storm Drain
With a storm drain too deep to simply reach in and grab the wayward ducklings, two EPD officers and a representative from Evansville Animal Control go "all in" to reunite the baby ducks with their mother.