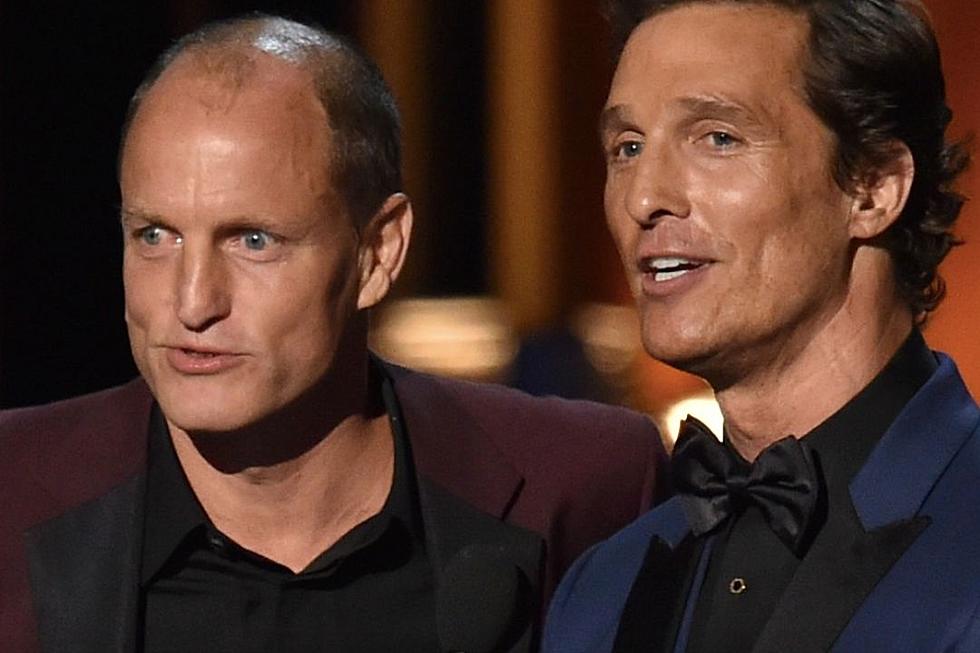 Are Woody Harrelson and Matthew McConaughey Related?
Kevin Winter, Getty Images
Are Woody Harrelson and Matthew McConaughey related? The pair may be longtime co-stars on screen, but it's possible the two could actually be biological brothers in real life.
During an appearing on the Let's Talk Off Camera podcast, McConaughey revealed his belief that his mom, Mary Kathlene McCabe, might have had an affair with Harrelson's father, Charles Harrelson.
"In Greece a few years ago, we're sitting around talking about how close we are and our families. And my mom is there. And she says, 'Woody, I knew your dad,'" McConaughey shared.
"Oh, everyone was aware of the ellipses that my mom left after 'knew.' It was a lovely 'k-n-e-w.' Well, we went on to unpack what this 'knew' meant. And [we] did some math and found out that his dad was on furlough at the same time that my mom and dad were on their second divorce. Then, there's possible receipts in a place that's out in West Texas where there might have been … a meeting or a 'knew' moment," the actor continued.
Are Woody Harrelson and Matthew McConaughey Family?
It's not currently known if Woody Harrelson, 61, and Matthew McConaughey, 53, are actually related by blood. But they might as well be!
In an appearance on The Late Show with Stephen Colbert, Harrelson confirmed the "veracity" of the possibility and even said he wants to do a DNA test to determine if he and McConaughey are brothers by blood.
"We want to go for a [DNA] test, but for him, it's a much more big deal. I mean, he feels like he is losing a father. But I'm like, no, you're gaining a different father and a brother," Harrelson explained.
However, McConaughey is apprehensive about doing a DNA test.
"Look, it's a little easier for Woody to say, 'Come on, let's do [DNA tests],' because what's the skin in it for him? It's a little harder for me because he's asking me to take a chance to go, 'Wait a minute, you're trying to tell me my dad may not be my dad after 53 years of believing that?' I got a little more skin in the game," the How to Lose a Guy in 10 Days actor shared.
Are Woody Harrelson and Matthew McConaughey Friends?
Woody Harrelson and Matthew McConaughey are longtime friends who have worked together since the '90s, starring in films together such as EDtv and series such as True Detective.
Speaking on the Let's Talk Off Camera podcast, McConaughey shared that his kids even call Harrelson "Uncle Woody."
"You know, where I start and where he ends, and where he starts and I end, has always been like a murky line. And that's part of our bromance, right? My kids call him Uncle Woody. His kids call me Uncle Matthew. And you see pictures of us and my family thinks a lot of pictures of him are me. His family thinks a lot of pictures of me are him," McConaughey shared.
Does Woody Harrelson Have a Brother?
Woody Harrelson has two brothers, Jordan and Brett, who are both actors.
READ MORE: This Adorable Baby Looks Just Like Woody Harrelson
Brett Harrelson has starred in movies such as 1999's Inferno and 1996's The People vs. Larry Flynt, in which he played the role of Jimmy Flynt. His last credited film appearance was in 2003's Go Further.
Does Matthew McConaughey Have a Brother?
Matthew McConaughey has two brothers.
His older brother Patrick McConaughey was adopted.
The actor's other brother, Michael McConaughey, a.k.a. "Rooster," starred in the reality docu-series West Texas Investors Club. He also appeared in the 2018 reality TV show Rooster & Butch.
Celebrity Siblings Who've Co-Starred On-Screen