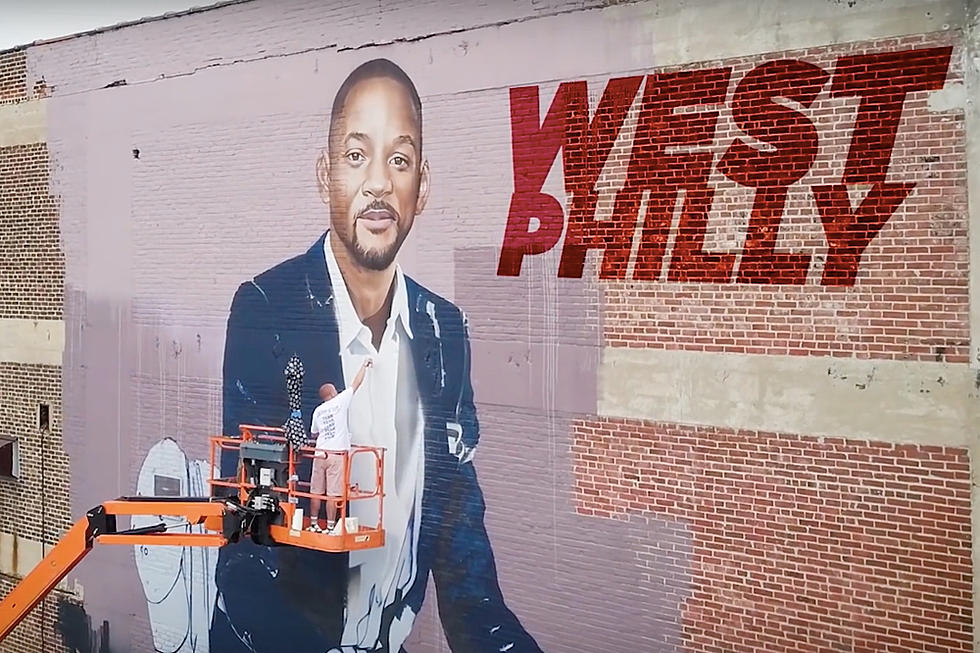 Watch Will Smith's Touching Reaction to Seeing a Huge Mural of His Face in West Philadelphia
Will Smith via YouTube
Making his way to Hollywood and rap history by way of West Philadelphia, Will Smith is a certified hometown hero. Recently, he was treated like one when a British artist by the name of Richard Wilson painted a special Will Smith mural on the wall of Gevurtz Furniture at 4545 W. Girard Ave in West Philly.
In a video titled after his iconic rap lyrics on the Smith-starring Fresh Prince of Bel-Air theme song ("West Philadelphia, born and raised"), Smith spoke on his appreciation of the new mural created in his likeness.
"Growing up, my mother and father and grandmother demanded no less of me than to represent the family every time I stepped out in a way that was helpful to others," says Smith, who recently teamed up with his son Jaden Smith and Nicky Jam for their "Icon (Remix)." "To see my mother's face when she looked at the mural... that was profoundly moving for me," he adds.
In Smith's video, Wilson, who is an artist responsible for murals of soccer superstar Cristiano Ronaldo and music legend Stevie Wonder, gets plenty of props from Smith's mother Carolyn.
"You couldn't have done any better if you tried," Mrs. Smith tells Wilson. "It's perfect. There's nothing that you left out.
Perparing to paint his Will Smith Mural some while back, Wilson worked with West Philly's Mural Arts Philadelphia and Global Leadership Academy Charter to secure the right to paint the mural on the side of Gevurtz Furniture.
In an effort to do some good for his native Philly and Wilson, Smith ends the video by encouraging folks to visit a website selling some Will Smith mural merch. According to him, 100 percent of the proceeds will go to West Philadelphia's Global Leadership Academy Charter School and Wilson.
Watch Will Smith talk about his special mural in the video below.
Check Out the 2018 Hip-Hop Music Festivals You Need to See