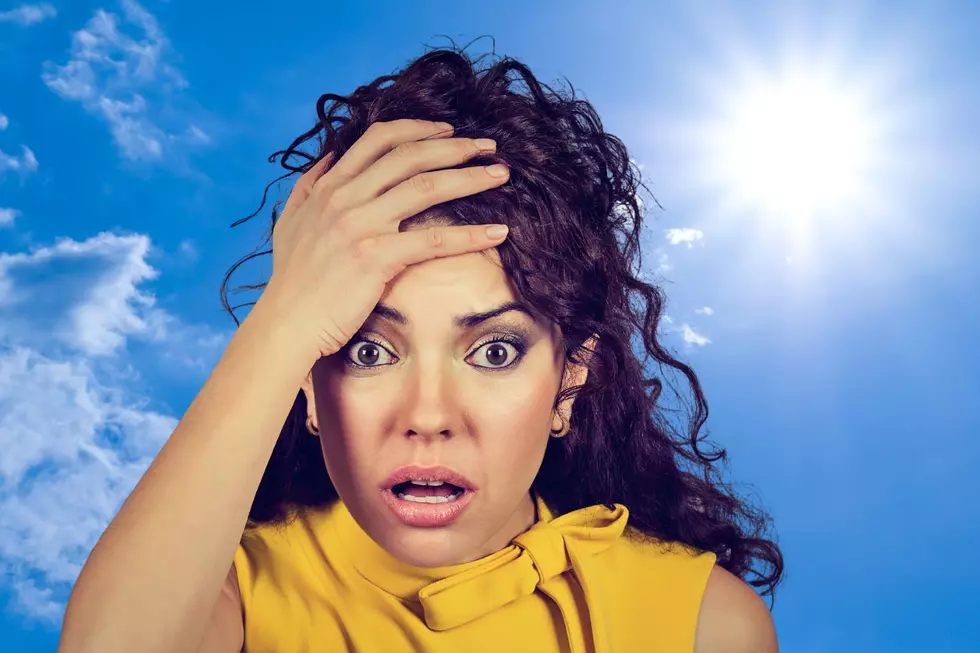 Extreme Heat Forecasted in IN, KY, & IL – And It Can Cause Your Body to Do Some Weird Things
Canva
Summer is the absolute worst time of year for me. I've never liked the extreme heat the midwest and Tristate have to deal with every single year.
As I get older, the heat is sometimes almost unbearable. It seems like we are having more record-breaking hot days than we did in years past.
The globe wrapped up May 2022 as another warm one in the record books, with the month ranking as the ninth-warmest May in 143 years. Last month's heat added to a very warm year, as 2022 so far ranked sixth warmest.
Does extreme heat do weird things to my body?
With any kind of change in temperature, comes changes in our bodies. Whether it's cold or hot, some things happen to our bodies, on the outside and inside that, we can literally blame on the temperatures.
Many times we have no idea that the heat is the reason that some very weird things that happen. It's not weird that they happen just a surprise that the heat is the reason.
Obviously, extremely hot weather can lead to very serious medical conditions like heat exhaustion and heat stroke. But, there are some not quite as serious things your body does because of the heat, too.
Here are 8 weird things your body does in hot weather.
1. Swelling of hands and feet
According to Fit for Travel,
Swelling occurs when the blood supply to the skin increases which also radiates heat; fluid moves out of the blood vessels and into the tissues causing swelling.
They go on to say that this is more common in females, but can also happen in men. There are many things you can do to help with heat swelling. Find ten tips, HERE.
2. Headaches and migraines
Healthline says,
When you're exposed to higher temperatures, your body needs more water to make up for what's being lost as your body sweats. Dehydration can trigger both a headache and a migraine. Weather conditions can also cause changes in your serotonin levels.
So, stay as hydrated as you possibly can. Any time you think about it, take a drink of water.
3. Nosebleed
Medicover Hospitals say that this is the reason for heat-induced nose bleeds.
Nosebleeds occur for many reasons and they indicate a serious medical condition. But they are more common during summers. The hot and dry air during summers can rupture the tiny blood vessels in the nose. This results in nosebleeds and makes people panic.
Get nosebleed prevention tips and remedies, HERE.
4. Fungal infection
The reason for the increased risk of a fungal infection, according to Healthline,
...microscopic organisms on your skin typically don't cause any problem, unless they multiply faster than normal or penetrate your skin through a cut or lesion. Since fungi thrive in warm, moist environments, fungal skin infections can often develop in sweaty or damp areas that don't get much airflow.
To avoid an increased risk of fungal infections, here are some prevention tips to follow during the extreme heat of the summer months.
5. Tiredness and fatigue
Why does the heat make you so tired? Right As Rain explains the reason like this,
When it's hot, your body sends fluid and blood to the surface of your body to cool down. This depletes some of your body's resources and can leave you feeling fatigued.
6. Increased sex drive
If you are feeling extra frisky in the summer of extreme heat, there is a reason. The Healthy describes the reason this way...
The body's feel-good neurochemicals such as serotonin are increased due to more time in the sun, increased activity, etc. These factors contribute to an increased sex drive." Another advantage of sunlight is an energy boost because when the sun is blazing, our body produces less melatonin.
7. Lower appetite
According to doctor.ndtv.com, it has to do with your body trying to keep cool.
Appetite decreases with heat partly because the body is trying to keep cool. All of the body's functions, including digestion, create heat within the body. A body working hard to keep cool will suppress appetite in an attempt to lessen its workload. Additionally, with heat comes perspiration.
8. Diarrhea
I can remember laying in the sun as a teenager and feeling stomach pains almost immediately after I started. Sometimes, I would also start having mild diarrhea. I never knew why, until now.
...diarrhea cases seem to surge during the summer season. Due to dehydration, there's insufficient water in the digestive system. This condition gives rise to extra bloating, gas, or stomach pains. Another reason for an upset stomach is that during summer times we prefer cold raw foods.
Now you know, the heat can do some things to your body that you had no idea it could do. The key with most of these is to stay hydrated and enjoy the warm summer months in the Tristate for the short time they last.
Goosebumps and other bodily reactions, explained
KEEP READING: See 25 natural ways to boost your immune system