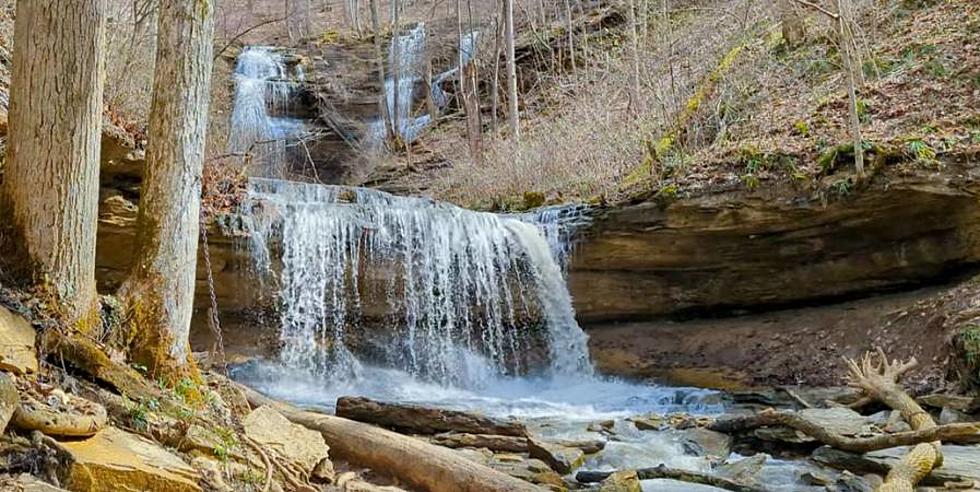 Volume Up! Listen to 'Five Minutes of Falls' Near Fort Knox, KY
Chad Gesser via YouTube
Remember the chorus of the TLC song "Waterfalls"? The lyrics say, "Don't go chasing waterfalls. Please stick to the rivers and the lakes that you're used to." Well, if you live in Kentucky, waterfalls don't necessarily come to mind that often.  Well, one does. Cumberland Falls!
Cumberland Falls, nicknamed the "Niagra of the South," is situated near Corbin, Kentucky.  It's massive, beautiful and one of just a handful of places on the planet where you can witness a moonbow.
Most folks here in Kentucky, and many who visit our state, are familiar with Cumberland Falls.  That's pretty much a given. However, we have other waterfalls around the Commonwealth too.
Just ask my good friend, Chad Gesser. Chad's been working on an Earth Day installation in conjunction with the Owensboro Museum of Science and History.  For that project (which is set for April 22nd), he's been doing some field research and that led him to Tioga Falls near Fort Knox.
As Chad explains, "I've been listening more closely to the Earth and visiting and doing some audio field recordings at a few locations." Tioga Falls was one of those locations.  Chad's footage of it and the audio capture are stunning and peaceful.
Take a listen!
Now that he's gotten a taste of nature's beauty, Chad plans to visit additional waterfalls and turn his Five Minutes of Falls into a series.
And he encourages you to check out his videos. "While you might not be able to visit in person, take the opportunity to slow down and enjoy."
So, don't go chasing waterfalls. Chad Gesser will bring them right to you!
And, if you'd like to check out the videos Chad put together for the Earth Day installation and you'd like more info, CLICK HERE!
LOOK: Must-do activities at every national park
Stacker
lists the must-do activities at every national park ranked by the annual number of visitors.