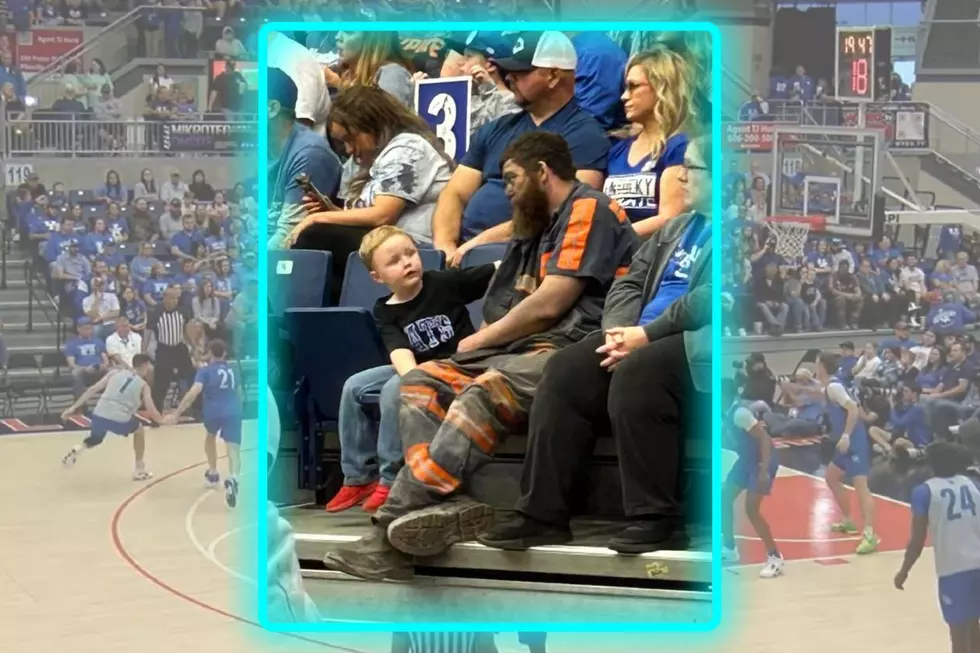 KY Coal Miner and Son Go Viral at UK Scrimmage Held in Pikeville for Flood Relief
John Calipari/Twitter; Matthew Loves Ball via YouTube
The annual University of Kentucky Blue-White Game is how Wildcat fans can get a good look at how the team plays without worrying about any serious ramifications. The subsequent exhibitions provide the same service, except with an opponent.
THE UK BLUE WHITE SCRIMMAGE MOVES TO PIKEVILLE FOR FLOOD RELIEF
This year, John Calipari and the university decided to move the traditional scrimmage match to Pikeville in order to raise money for eastern Kentucky flood victims. Governor Andy Beshear was also on hand.
THE ANNUAL UK BLUE-WHITE SCRIMMAGE HAD TO BE SHORTENED
It was kind of a weird Blue-White Game, actually, as it didn't even last the full, regulation 40 minutes. Because returning stars Oscar Tshiebwe, Sahvir Wheeler, and Lance Ware were all sitting out nursing minor injuries, the 'Cats were without a full compliment of players, so the second half only lasted 10 game minutes. And, by the way, it was the White team that emerged with the 70-67 victory.
Despite the abbreviated contest and the lack of players, it was still not a game to be missed. I'm not sure the Blue-White game has ever moved away from Lexington, but this year it clearly made perfect sense. And it gave folks--who might not have had another opportunity--a chance to see the team play.
NEW UNIVERSITY OF KENTUCKY BASKETBALL SHIRTS
They also got to see new "Appalachia Men's Basketball" shirts. You'll notice lots of folks in the comment section begging for these to be sold.
THE NOW-VIRAL KY COAL MINER WHO 'RACED' TO THE GAME WITH HIS SON
One man, in particular, and his son are featured in a now-viral photo from the game. Calipari posted it and noted that the coal miner photographed came straight from work because he didn't want his son and him to miss anything. And look what the coach is going to do for this man:
And whatever game he attends, I bet SOMEONE gets an interview with the man, and maybe his son.
But the main thing here is not the score. The main thing is more proof that Kentuckians will give when asked. And, of course, we don't need to be asked when we're dealing with something as monumental as the catastrophic flooding that plagued the Commonwealth this summer. Yes, the main thing is $162,450 for flood relief.
That's huge.
Boundless generosity is a great way to kick off a season.
NOTE: If you'd like to donate, visit the Team Eastern Kentucky Flood Relief Fund web page.
Top 10 Facts About Kentucky That You Probably Didn't Know
Do you know the craziest facts about Kentucky? From the official state fossil to the world's largest baseball bat, learn all about it here!
The Smallest Kentucky Towns Based on the Latest Census
With the 2020 census completed, let's take a look at the 15 smallest towns in Kentucky.