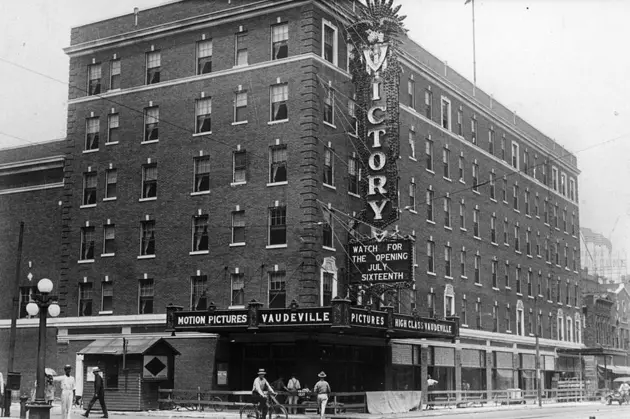 Join in the Grand Lighting of the New Victory Theatre Marquee in Evansville Indiana
Victory Theatre via Facebook
The wait is finally over! After years of planning and hard work, the new Victory Theatre marquee is complete and ready for installation. This iconic symbol of Evansville's history will once again light up Main Street, welcoming visitors and residents alike. To mark this momentous occasion, a grand lighting ceremony will take place on the night of August 11th, 2023.
A Live Lighting of the Victory Theatre Marquee
The lighting ceremony promises to be a spectacular event, captivating all who attend. Starting at 7:30 PM, witness the live lighting of the majestic Victory Theatre marquee. Be part of the magic as the lights flicker on, illuminating the night sky and restoring the theater's former glory.
A Live Concert Too
But the excitement doesn't stop there! Following the lighting ceremony, the Victory Theatre will host a concert featuring Rumours, a renowned Fleetwood Mac tribute band. Get ready to sway to timeless tunes and experience the thrill of live music. The concert starts at 8:00 PM, ensuring a night filled with unforgettable entertainment.
Celebrate Inside or Out
Don't worry if you can't make it inside the theater. A viewing area will be set up outside, allowing everyone to witness the stunning marquee and enjoy the music from the comfort of the street. It's a perfect opportunity to gather with friends and family and be part of this historic moment.
Tickets Start at $20
Tickets for the concert are available now at the Ford Center Ticket Office and Ticketmaster.com, starting at just $20 each. Secure your spot and immerse yourself in an evening of outstanding music and community spirit.
Sponsorship Donors to Receive VIP Treatment
As a token of gratitude, an exclusive VIP event will be held for the sponsorship donors, who have played an integral role in bringing this dream to life. It's a special occasion to celebrate their support and dedication to preserving the Victory Theatre's historical significance.
Downtown Evansville's Night Market on Main Too
Adding to the excitement of the evening, Downtown Evansville's Night Market on Main will take place on 6th Street starting at 5:00 PM. Explore the vibrant atmosphere, discover unique local vendors, and indulge in delicious food and drinks. It's the perfect prelude to the main event.
Contribute to the Victory Theatre Preservation
If you'd like to contribute to the preservation efforts of the Victory Theatre, you can participate in the Friends of Victory charity auction. Visit here to browse and bid on exclusive items such as autographed tour posters from renowned artists like Kenny Chesney, Eric Church, and Jason Aldean. Your support will help fund future projects and ensure the theater's continued splendor.
Don't miss this incredible opportunity to be part of history and witness the rebirth of the Victory Theatre marquee. Mark your calendars for August 11th, 2023, and join in for a night of awe-inspiring moments, captivating music, and community celebration.
Tour This Breathtaking $8 Million Evansville, Indiana Mansion
According to
Zillow
, the monthly payment for this
West Side beauty
would be $51,000. We can look at the property for free and daydream about how the other half lives.