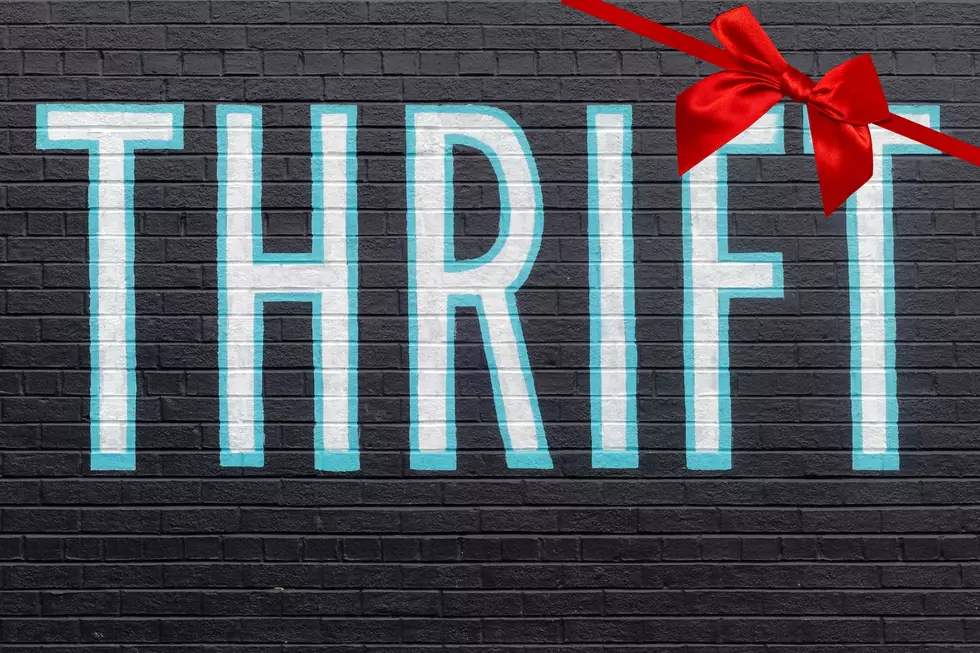 Thrift Gifters – Here are 10 Thrift Stores in the Evansville Area to Shop this Holiday Season
canva
Momma Knows Best
Growing up, we never had a lot of money, making bargain shopping a necessity. However, my mom always showed me how much fun it could be to go thrifting. Anytime we went clothes shopping or on the hunt for a specific item we needed, her excitement over a great find was nothing short of contagious. How can you not share the sentiment when your 5'6" momma is standing in the middle of an aisle holding the next best thing exclaiming "Look what I found!"
That rush of searching for an uncovered treasure definitely followed me into my adult years. In fact, I prefer to look for a unique vintage item over buying from a box store any day. Nothing beats the hunt for that seemingly impossible-to-find item and the burst of joy once it's finally in your hands. No wonder my mom did so much jumping and hollering in the middle of thrift stores.
Who Doesn't Like Saving Money?
Luckily, Evansville has a wide variety of thrift shops for your own search for that thing that will have you jumping in a Goodwill aisle. Whether it is clothing, furniture, or that weird knick-knack that will make the perfect conversation piece when people visit, the Evansville area has you covered. Here is a list of 10 thrift stores where you can score your next new-to-you item.
His N Hers Flea Market
This is one of my favorite thrift shops in Evansville. This place is HUGE with such a variety of booths and items to explore. Even if you aren't looking for something specific, this place is great for a day of window shopping and finding really unique pieces. They also run sales pretty frequently.
Website/Facebook: https://www.facebook.com/hisnhersfleamarket
Phone: (812) 422-6568
Abyssco.
Although this shop is tucked away behind Exotica, you can't miss checking out this hidden gem. If you're interested in DIY, pop culture, and other miscellaneous items, Abyssco has lots to offer.
Website/Facebook: https://www.facebook.com/profile.php?id=100050883597104
Phone: (812) 491-6661
Happy Tails Resale
What if I told you that you can have fun thrifting while helping a good cause? Since 2014, Happy Tails has raised $150,000 a year which all goes towards helping shelter animals. Not only are you walking away with the next greatest find, but you can feel good knowing that your money is helping homeless animals in need.
Website/Facebook: https://www.facebook.com/happytailsresale
Phone: (812) 426-2563
Traderbaker Flea Market
Just a hop, skip and jump away from Evansville, this vendor mall is located right off of the Lloyd in Newburgh. Traderbakers is the perfect spot to find vintage items, bargains, and handmade local decor.
Website/Facebook: https://www.facebook.com/Traderbakervendormall/
Phone: (812) 853-8679
The Thrift Store by Evansville Rescue Mission
For 100 years, the Evansville Rescue Mission has been a vital organization helping those in need throughout the tristate. This long-standing charity also provides a thrift located in Washington Square Mall that carries clothing, appliances, furniture, and knick-knacks. Not only is it staffed by volunteers from the Rescue Mission's own program, but the proceeds raised from purchases are to directly benefit their various ministries. While shopping, don't forget to also stop for caffeine at their coffee shop, Mission Grounds, located right next door.
Website/Facebook: https://evansvillerescuemission.org/what-we-do/erm-thrift-stores/
Phone: 812-421-3811
American Pride Thrift Store and More
When I say this veteran-owned shop has loads of stuff, I mean you may need a rescue team to drag you out of here. This place is FULL of vintage items, furniture pieces, and they even make custom flower arrangements.
Website/Facebook: https://www.facebook.com/profile.php?id=100063593799747
Phone: (812) 228-1150
Goodwill
Of course, no thrift shop list is complete without mentioning Goodwill. No doubt one o the most popular organizations to shop secondhand on clothing, furniture, household items, and more. It is my mom's personal favorite and my first stop when I indulge in some retail therapy shopping for used books. With the abundance of Goodwill haul videos on Youtube, it's no surprise why these thrift stores are frequently visited.
Website/Facebook: https://evvgoodwill.org/
Phone: (812) 474-2222
Petunia's Resale
Another hidden gem, this non-profit shop sells discount clothes, jewelry, and home decor. Proceeds earned from purchases go to local animal rescues. Aside from the awesome items that you can find here, the shop also features adoptable animals in need of homes.
Website/Facebook: https://www.facebook.com/PetuniasResaleForRescue
Phone: (812) 303-8004
Habitat for Humanity Restore
Whenever you hear the words "Habitat for Humanity," do you automatically think of building houses? Well, the non-profit organization also owns thrift stores where you can find home decor and furniture galore including items like cabinetry, appliances, and bathroom sinks. They also love to run sales on their Facebook page saving you even more money. Whether you are in search of an item for your own home or love to refinish furniture for others, this is definitely a place to shop. Even better, all proceeds go towards the charity's work for the community.
Website/Facebook: https://www.facebook.com/evansvillerestore
Phone: (812) 602-3460
World Wide Missions
Website/Facebook: https://www.facebook.com/worldwidemissionsconsignmentstore
Phone: (812) 471-3466
SEE INSIDE: The House and Filming Location from 'A Christmas Story'
The classic Christmas film is set in fictional Hohman, Indiana (which doubled for Hammond) but was filmed in Cleveland. The tour was a blast. Hey, I love visiting movie sets.