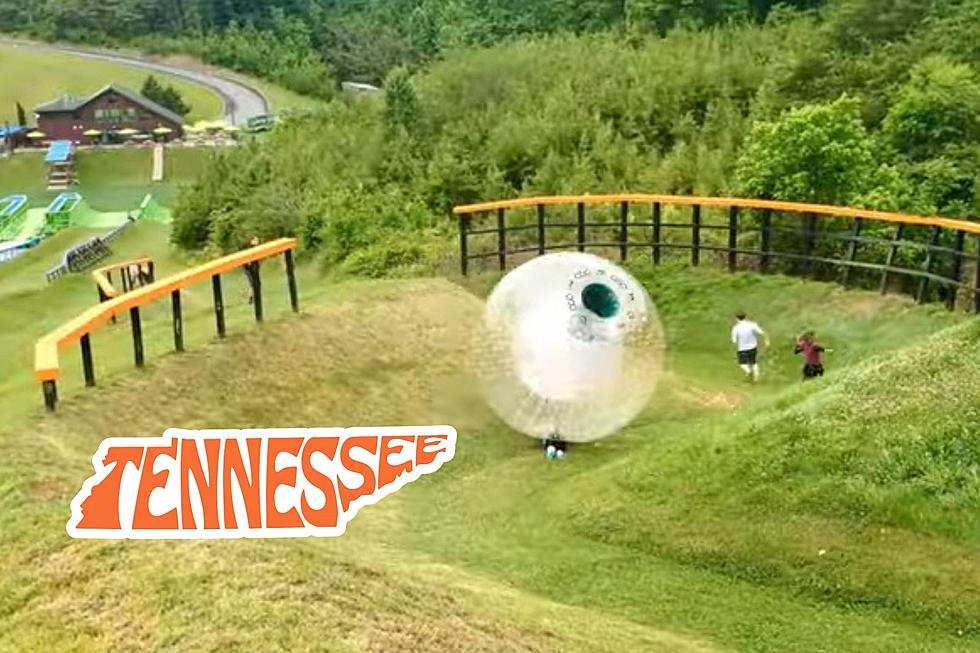 This Epic Smoky Mountain Fun Park will Make You Feel Like Indiana Jones
YouTube/Canva
The next time you visit the Gatlinburg and Pigeon Forge area and are looking for something exciting to do, you might want to stop by the Outdoor Gravity Park.
Do you remember that scene from Indiana Jones and the Raiders of the Lost Ark where Indy has to run for his life to escape being run over by a massive boulder? Even if you haven't seen the movie, you know what scene I am talking about. It's only one of the most iconic scenes in movie history.
Yeah, THAT scene! Are we on the same page now? Well, fun fact for you...did you know that there's a place in Pigeon Forge, Tennessee that will allow you and your friends to escape a giant "bolder" much like Indy did?
Outdoor Gravity Park's Zorb Tracks
Outdoor Gravity Park in Pigeon Forge is the home to the only zorbing park in the united states. What is a zorbing park, you ask? Zorbing was invented in New Zealand, and essentially it is where you roll down a hill in a giant 11-foot inflatable ball with up to 3 people.
According to Outdoor Gravity Park:
3 different experiences- a fast track, an extreme track, and a combination track! Roll on over, and see why zorbing is the top thrill in the Smokies! Bring a swim suit and a towel- you will get soaking wet!
RED: Our newest and most popular adventure. Up to three people can roll in this one-of-a-kind experience like no other zorbing track in the world!
PURPLE: If you have a need for speed, this is the zorbing track for you. A total of three people can roll and you will definitely experience being a little out of control as you speed down our 1000+ ft. hill.
ORANGE: This zigzag course is so extreme you must ride solo! If you are up for an extreme adventure this is a must do! A previous track must be ridden first to enjoy this gem!
That looks fun, right? But wait...it gets even better. You can be a part of the Running of the Balls, which is where you will really feel like Indiana Jones. Running of the Balls is where you test yourself to see if you can outrun the zorb down the foothills of a mountain.
Join the viral sensation at the only zorbing park in the USA- Running of the Balls! Run away from an 11 foot orb chasing you down a 1,000 foot track! All proceeds go to Sevier County Food Ministries! Running shoes and booking in advances is required to participate!
Running of the Balls only happens in May and September, but if you're going to be in the area during that time, you definitely want to sign up. You can learn more about Outdoor Gravity Park and see what else they have to offer on your next trip to the Smoky Mountains by clicking here.
The Ultimate Smoky Mountain Vacation
Some of my favorite vacations have been to go spend time in Gatlinburg, and soaking in those Smoky Mountains. Here's the must-see sights and must-do activities so you get the most out of your next Gatlinburg vacation!
A Unique Tennessee Getaway, The Smoky Mountain Pirate Ship
Located on Douglas Lake in Tennessee, sits a rather unconventional houseboat. What makes this houseboat unconventional is it's been modeled to look like a pirate ship, complete with masts, skeletons, portholes, and more! If you're wanting a Smoky Mountain getaway like no other, this is certainly a good option. See the
full VRBO listing, here.
Forget a Cabin, You Can Stay in a Smoky Mountain Castle Near Gatlinburg
This Airbnb will definitely make you feel like Smoky Mountain royalty!