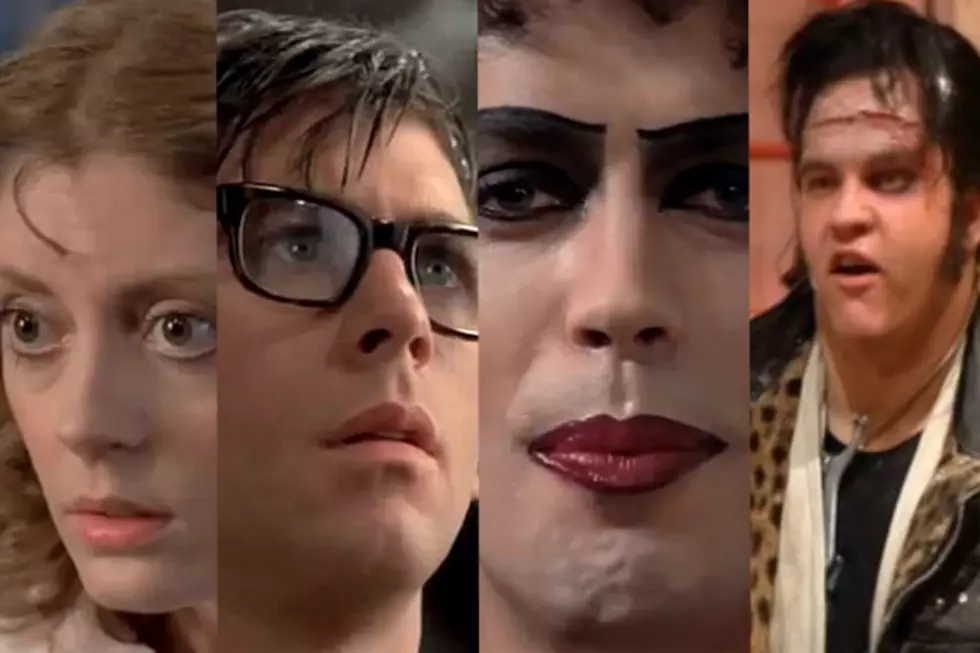 The Cast of The Rocky Horror Picture Show – Then and Now
(YouTube)
The annual showing of the Rocky Horror Picture Show is coming up on Friday, September 21st at 11pm inside The Centre in Downtown Evansville. The campy cult classic (try saying that five times fast) featured a cast of relative unknowns at the time, a few of which have gone on to have successful careers in the world of entertainment. Here's what they're up to these days.
Tim Curry - Dr. Frank-N-Furter
Then: The English born actor got his start in theater performing with the Royal Shakespeare Company, and the Royal Court Theatre where he created the role of the transvestite "doctor" for theater versions of the production.
Now: Curry has kept himself busy as an actor over the 35+ years since the release of Rocky Horror with bit parts in shows like Monk, Criminal Minds, and Will & Grace while appearing in a few B-list movies, straight to DVD releases, and made-for-TV movies and mini-series including the role of the evil clown Pennywise in Stephen King's It. 
Most of Curry's work since Rocky Horror have taken place inside a sound booth as he's been the voice of a long list of characters in a variety animated series and video games including the role of Nigel Thornberry in the Nickelodeon series, The Wild Thornberry's. More recently, he's lent his talents to Disney's Phineas & Ferb, and Randy Cunningham: 9th Grade Ninja as well as Young Justice and Star Wars: The Clone Wars on Cartoon Network.
__________________________________________________________________________________________
Susan Sarandon - Janet Weiss
Then: The at-the-time 28-year-old had already appeared in an number of TV series and made-for-TV movies before landing the role of innocent Janet Weiss who becomes mesmerized by the activities inside Frank-N-Furter's house of oddities in Rocky Horror. 
Now: Sarandon went on to become a big name in Hollywood, starring along side Geena Davis in Thelma & Louise, and acquiring five Oscar nominations along the way, one of them resulting in a Best Actress win for her role in the 1995 film, Dead Man Walking co-starring Sean Penn. She currently has eight projects either completed and awaiting release, or in post-production, scheduled for release in 2014.
She also remains active as a political and human rights activist.
__________________________________________________________________________________________
Barry Bostwick - Brad Majors
Then: Like his co-star, Tim Curry, California native, Barry Bostwick got his start on the stage, having been nominated for a Tony Award for his role in the 1972 production of Grease before transitioning to film in the early 1970's while continuing to work in theater. His role in Rocky Horror gave him one of the more memorable and quoted phrases of the film thanks to the song, "Dammit, Janet".
Now: After Horror, Bostwick made several one time appearances on TV shows, and made-for-TV movies before landing the role of bumbling mayor Randall Winston in the Michael J. Fox series, Spin City from 1996-2002. In 2010 he appeared in a Rocky Horror-themed episode of Glee, and most recently the Disney Channel made-for-TV movie, Teen Beach Movie. He's currently filming a straight-to-DVD sequel to The Scorpion King franchise, and has is named attached to a film called Helen Keller vs. Nightwolves which is currently in pre-production according to IMDB.
__________________________________________________________________________________________
Meatloaf - Eddie
Then: Born in Texas, Meat Loaf (real name - Marvin Lee Aday) moved to the bright lights and big city that is Los Angeles to follow his dreams acting and singing. His role as Eddie in Rocky Horror was his first film role after a few appearances in on-stage musicals and performing in Los Angeles area bands.
Now: While a majority of his acting gigs since Horror have been roles in movies few people have heard of, or films that haven't done much at the box office, arguably his most popular role (outside of Rocky Horror) came in the mind-twisting film, Fight Club starring Brad Pitt and Edward Norton where he played the hapless Robert "Bob" Paulson, a man described by Norton's character as having "b---h t--s", who ends up dying during one of the fights. (Sorry to spoil it for you if you haven't seen the movie, but come on, it's 14 years old. If you haven't seen it yet, you're not going to.)
Loaf's biggest claim to fame came two years after the release of Rocky Horror when he and lyricist Jim Steinman released the rock opera album, Bat Out of Hell which spawned the classic rock hit, "Paradise by the Dashboard Light", and sold 35 million copies worldwide.
Tickets for The Rocky Horror Picture Show are available now at The Centre box office for $6.00 in advance, $8.00 day of the show. "Survival kits" that contain rice, newspaper, water pistols, rubber gloves, confetti, toilet paper, toast, and playing cards are also available while supplies last for $4.00 in advance, $5.00 day of the show.