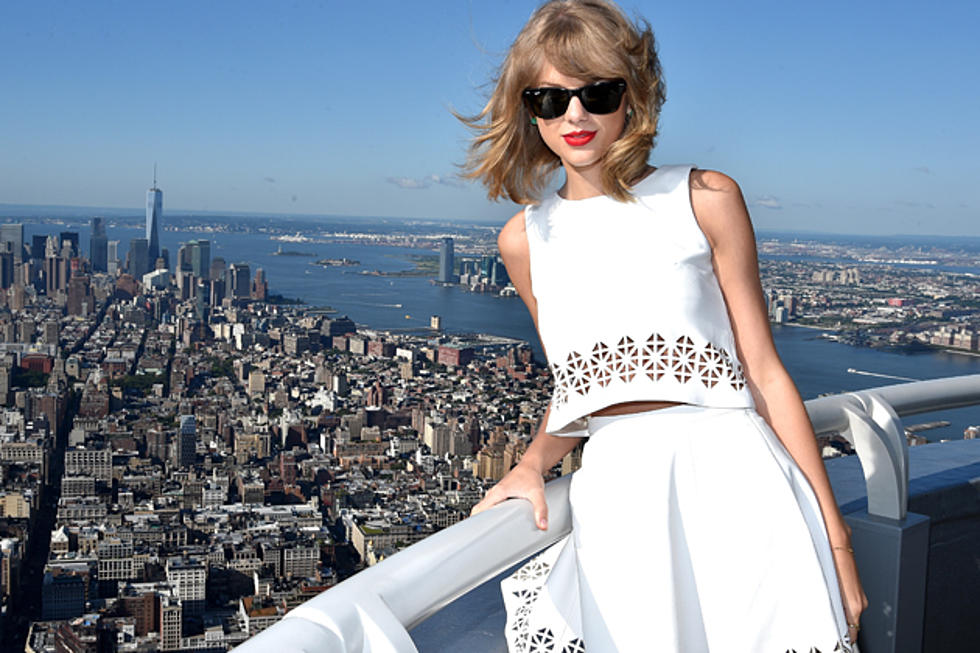 Taylor Swift, '1989': Everything We Know So Far
Dimitrios Kambouris, Getty Images
Maybe none of this directly influenced Taylor Swift's new album, '1989,' but it does set the scene. "I started delving into the late '80s, and what I found was that it was apparently a time of limitless potential," Taylor said during the Aug. 18 livestream heard 'round the world that revealed the title, date, first single and general inspiration behind her 2014 release.
Madonna's 'Like a Prayer' and 'Express Yourself' charted on the Top 40 in 1989 -- and pop music from that year's Madonna, along with Phil Collins and Annie Lennox, caught Taylor's attention. She was born on Dec. 13, 1989, and maxed out at two-weeks-old that year, so it's safe to say she discovered the diverse sounds of the late '80s a little later in life. (Fun fact: The No. 1 song of 1989  -- says Billboard -- was Chicago's 'Look Away.')
Leading up to its Oct. 27 release date, Taylor's dropped clues here and there as to what else to expect from '1989.'
But since "the only way to hear 1989 in full is to borrow Swift's iPhone, which is white and silver and covered in kitten stickers," according to Rolling Stone, she hasn't exactly let the cat out of the bag just yet. That RS cover story profile continues, "There are 13 songs in all, plus a handful of bonus tracks, filed under the unbreakable code name 'Sailor Twips.' (She will only play them over headphones, because of wiretaps)."
With that visual in mind, here's a cheat sheet at everything we do know about Taylor Swift's '1989' so far, and a few things we're guessing about it, all derived from a little detective work: mainly Googling and scouring Tumblr and Twitter for every interview or quote she or anyone she knows has ever given about the new album. Note to Taylor Swift: That last sentence might sound creepy, but you can rest assured that no wiretaps were involved while researching this article. Just a lot of love.
"The idea that you can do what you want, be who you want, wear what you want, love what you want -- bright colors, bold chances, rebellion. The idea of that was so inspiring to me," Taylor, speaking of '80s culture, continued during her album announcement livestream.
"In thinking about that, and thinking about how this new album is a bit of a rebirth ... I've never really made these kinds of changes before," she said.
Combine that vision with Taylor Swift's birth year, and you've got the title '1989.'
Here's some fast facts to memorize about the '1989' album release -- when to get the album, who worked on it with Taylor and more:
Release date: Oct. 27, 2014
Deluxe edition of '1989,' available only at Target, features three bonus songs and three of Taylor's songwriting voice memos, documenting the early creation of those songs
Each copy of the album contains one of five collectible sets of 13 exclusive photo prints
Confirmed collaborators include Max Martin, Shellback, fun.'s Jack Antonoff and Ryan Tedder. Diane Warren revealed she worked with Taylor on a song in this video interview, though time will tell if that tune makes it onto '1989.' On the unconfirmed side, Ali Payami (who co-wrote one of Lea Michele's album tracks, 'Thousand Needles') and Imogen Heap reportedly wrote with Taylor, too
This is Taylor's first "official" pop album, and it was executive produced by Taylor and Max Martin
You could point out that Taylor's last album, 'Red,' was pretty darn pop, and you'd be right.
It's been a natural shift for her, and dubbing '1989' an "official" pop album is more about marking a change in the business of Taylor Swift. No country radio, no country awards shows. Instead, '1989' is basically her coming out party to celebrate straight-up pop domination. "At a certain point, if you chase two rabbits, you lose them both," Taylor explained to Rolling Stone. So far, so good: Her first single from '1989' shot up to No. 1 on the Top 40 chart in its first week of release.
'1989' Track Listing and Stories Behind the Songs
Taylor Swift has confirmed these song details:
'All You Had to Do Was Stay': about a guy she dated who wouldn't commit; likely inspired by her most recent ex, Harry Styles.
'Bad Blood': an angry song about another female artist (unnamed, but widely speculated to be Katy Perry). "She did something so horrible, I was like, 'Oh, we're just straight-up enemies.' And it wasn't even about a guy! It had to do with business. She basically tried to sabotage an entire arena tour. She tried to hire a bunch of people out from under me," Taylor dished to Rolling Stone. She added, "But there's a reason there are not any overt call-outs in that song. My intent was not to create some gossip-fest. I wanted people to apply it to a situation where they felt betrayed in their own lives."
'I Know Places': co-written with Ryan Tedder, features piano -- and that's about all we know so far.
'I Wish You Would': about an ex-boyfriend who purchased a house only two blocks from hers. Again, this one's likely inspired by Harry.
'Out of the Woods': another song about a relationship, inspired by a snow mobile ride with an ex (probably Harry) that ended in such a scary way that she saw her life flash right in front of her. It's co-written by Jack Antonoff. "Every day was a struggle. Forget making plans for life -- we were just trying to make it to next week," Taylor told Rolling Stone. Lyrics include: "Remember when you hit the brakes too soon / Twenty stitches in a hospital room."
'Style': according to Rolling Stone, "a sexy Miami Vice-sounding throwback about a guy with slicked-back hair and a white T-shirt and a girl in a tight little skirt." Take your guesses about who sparked the idea for this song!
'Wildest Dreams': about romance, but not in the way you're used to hearing about it from Taylor. "I think the way I used to approach relationships was very idealistic. I used to go into them thinking, 'Maybe this is the one -- we'll get married and have a family, this could be forever,'" she said in Rolling Stone. "Whereas now I go in thinking, 'How long do we have on the clock — before something comes along and puts a wrench in it, or your publicist calls and says this isn't a good idea?'"
And, of course, there's the lead single 'Shake It Off' (which we'll get to in the next section of this guide).
Plus, she's named one of the deluxe edition bonus tracks: 'You Are Love.' The song, co-written with Jack Antonoff, has a 'Secret Garden' Springsteen feel to it (listen to that classic track, which was featured on the 'Jerry Maguire' soundtrack, here), and it will likely be Jack and girlfriend Lena Dunham's wedding song one day -- so it's got to be a ballad.
What else? We can only assume there will also be a track called '1989.' She's included a title track on her last three albums.
Meanwhile, track five will likely be an introspective ballad, a look back at love gone wrong. For proof, see past track fives: 'Cold as You' on 2006's 'Taylor Swift,' 'White Horse' on 2008's 'Fearless,' 'Dear John' on 2010's 'Speak Now' and 'All Too Well' on 2012's 'Red' (arguably the best of this bunch, but she might top that this time around).
Another prediction: The final song on the album will be one that ends on a high note, a glimmer-of-hope anthem of sorts. On a scale of "happy" to "heartbreaking," closing tracks 'Our Song,' 'Change,' 'Long Live' and 'Begin Again' all land on the positive side of the spectrum.
The First Single, 'Shake It Off'
The lyrics of 'Shake It Off' are pretty straight-forward, but Taylor told the Guardian exactly where they came from: "In the last couple of years I've had to come to terms with the fact that anyone can say anything about me and call TMZ or Radar Online or something, and it will be an international headline. You can either go crazy and let it make you bitter and make you not trust people, and become really secluded or rebellious against the whole system. Or you can just shake it off and figure that as long as you're having more fun than anyone else, what does it matter what anyone else thinks?"
'Shake It Off,' the peppy will-get-you-up-to-dance song produced by Max Martin and Shellback, is the result of that way of thinking. Another tidbit: On 'Good Morning America,' Taylor revealed that she wanted 'Shake It Off' to sound like that high-energy song you'd play at the end of a wedding reception.
Watch Taylor Swift's 'Shake It Off' Video
'1989': The Rebirth of Taylor Swift
The next chapter of Taylor is best told through her own quotes.
"I think my life has changed in ways that have surprised me," Taylor admitted to AM Tonight. "You know, deciding to spend my time in New York, cutting my hair, becoming all of a sudden surrounded by this great group of strong, beautiful, smart women who challenge me and push me forward. Those are all changes in my life, and you know, I think with this album, I try not to do anything too overtly. Like yes my life is consisting of priority on friends right now, but I don't have any song that's like, 'Best Friends Anthem!' ... I really am trying to put these messages across subtlety and tell stories where kind of those aspects of my life are felt."
Though the album details we know about so far hint at plenty of material about a past relationship, Taylor's perspective in telling that kind of story may be changing on '1989.'
"Writing 'Red,' I was 21 and 22 and back then I think my priorities were different. My priorities were: I was very enamored by romance and the idea of that. At 24, at this point, I'm just really like, I just want to be with my friends, and I wanna make music, and I wanna play shows, and I wanna travel the world, and I want to define my life on my own terms," she continued.
The theme of change and and new experiences will clearly be felt on '1989,' which is no surprise, given Taylor is in her 20s and still discovering who she is and what she believes.
In her livestream, she confirmed just that: "Two years gives you enough time to grow and to change, and to, you know, change your priorities. Change where you live, change your hair, change what you believe in, change who you hang out with, what's influencing you, what's inspiring you. And in the process of all of those changes in the last two years, my music changed."
The perspective on '1989' is all about "when you go out into the world and make changes in your life on your own terms," she told the Guardian.
What Taylor Swift's Friends Are Saying About '1989'
Sure, there's a handful of album tracks that are definitely going to reference her last relationship (with Harry Styles), but it sounds like it's mostly friends -- not ex-boyfriends -- who have been influencing her mindset and how she looks back at things as of late. As Taylor told Rolling Stone, "Different phases of your life have different levels of deep, traumatizing heartbreak, and in this period of my life, my heart was not irreparably broken. So it's not as boy-centric of an album, because my life hasn't been boy-centric."
Knowing that, it's interesting to find out what close pals Lorde, Jaime King, Lena Dunham, Ed Sheeran and Karlie Kloss think of '1989.' Start by clicking (or tapping) the photo of Lorde and Taylor below:
More to Come About '1989'
With over a month to go before Taylor Swift's new album will be here, more pieces of the '1989' puzzle are bound to come out -- and we will update this article with any important new details that surface until then.
In the meantime, we'll leave you with a quote from this 2004-era Taylor Swift (via her 'Good Morning America' appearance) that sums up the vibe we're getting from her so far: "You have to not only live your life in spite of people who don't understand you, you have to have more fun than they do."
In the mood to get a better feel for what pop music was like in 1989? Listen to our Best of 1989 playlist on Beats Music here!
Think You Know Taylor Swift (In Her Pre-'1989' Country Reign)? You Might Be Surprised!