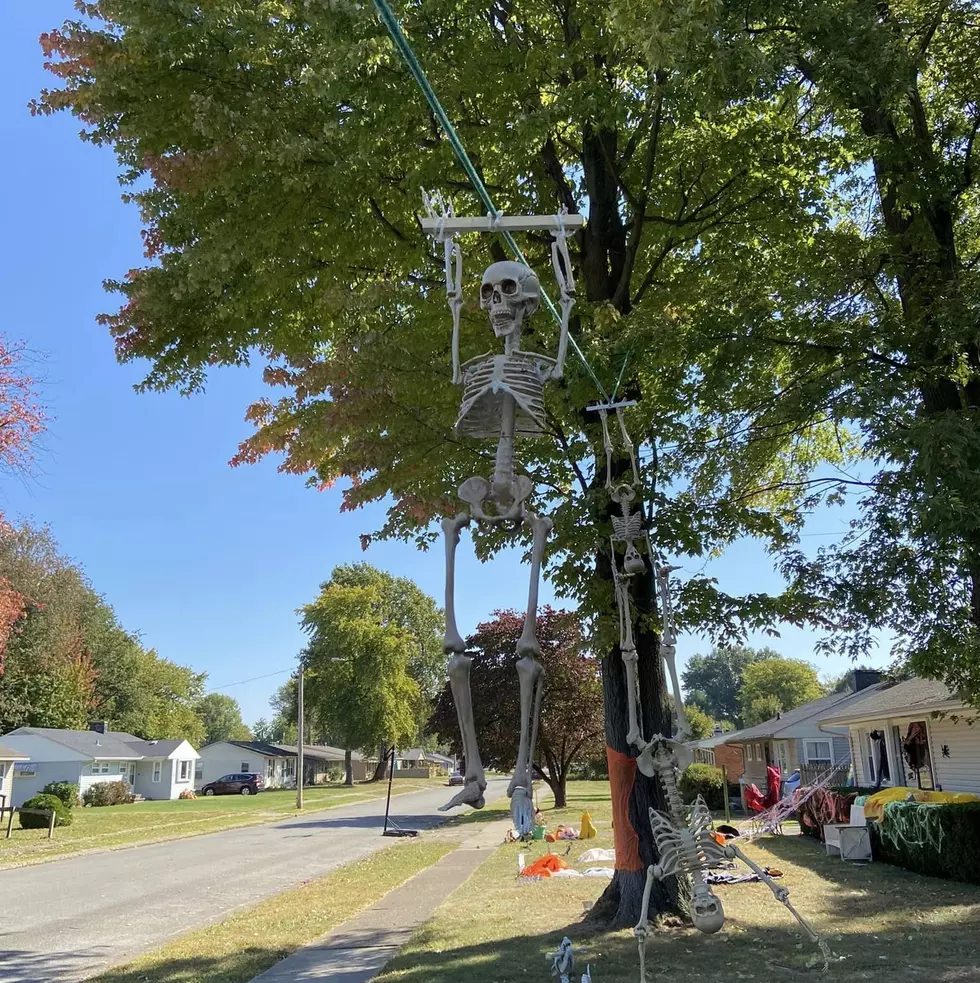 See Hilarious Ziplining Skeletons at an Epic Halloween Display in Owensboro
Mary Midkiff
My friends Mary Midkiff and her dad Dan Reed have always loved Halloween. As a matter of fact, the very first time I ever met Mary was at a Halloween event at U.S. Bank Home Mortgage here in Owensboro, where she used to work. U.S. Bank, historically, celebrates Halloween in a pretty amazing way and I was asked to judge an employee costume costume. Mary freaking rocked it out.  I'm pretty sure she won the contest I judged.  Her love of Halloween is clearly something she inherited from her father.
Dan, who is a well-known and trusted local general contractor, lives at 2110 Wink Court here in Owensboro and his front yard has been taken over by what he calls the "Skeleton Crew."  Throughout the month of October, it's hard to predict exactly what that crew will get into. If you drive by now, you'll see that they've taken up ziplining.
Here's a great panoramic shot at the front yard!
Now, let's take a closer look and really get to the "bare bones" here.  LOL!  That way we can see exactly what's going on.
As you can see, there are skeletons trying to zipline across Dan's yard, but there are a couple of dogs with a bone.
That poor guy on the bottom!  I'm afraid his left arm has been turned into a Pork Chomp.
That guy managed to escape the dogs, but there's something standing (or sitting) in his way at the end of the zipline.
Yep! That's a face plant.
Mary says, "Most of the time, it's him and me that set it up. Brittney (Mary's sister) and our kids help every once in a while too."
Ziplining's not the only mischief Dan's "Skeleton Crew" is getting into this Halloween season. A couple of weeks ago, they started quite the "deadly" carpool.
As you can from the pics, little kid skeletons started running over the adult skeletons.
As for the Skeleton Crew, there's no way to predict exactly what they'll get into as we get closer and closer to Halloween.
Every couple of days, you'll just have to drive by Dan's house on Wink Court to see what they're up to!
LOOK: How Halloween has changed in the past 100 years
Stacker
compiled a list of ways that Halloween has changed over the last 100 years, from how we celebrate it on the day to the costumes we wear trick-or-treating. We've included events, inventions, and trends that changed the ways that Halloween was celebrated over time. Many of these traditions were phased out over time. But just like fake blood in a carpet, every bit of Halloween's history left an impression we can see traces of today.